Tie up your laces, get those legs moving and work up a sweat this November to help raise funds for families with sick children, through the Ronald McDonald House Red Wig Challenge.
Inviting you to create your own Red Wig virtual challenge, sign up as an individual or together with your family, workmates or your mates, and choose your preferred form of exercise. Whether that be walking, running, riding or gliding, in the gym or outdoors. Then, join the community, track your progress and challenge yourself to #gothedistance.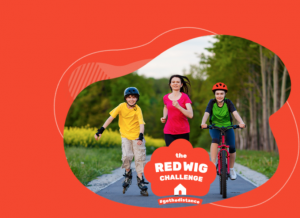 Located in the Centenary Hospital for Women and Children, Ronald McDonald House Canberra gives seriously ill children and their families a comfortable place to stay and peace of mind, while taking some much-needed stress off by providing a supportive environment in the company of other families going through similar experiences. Last year, they raised over $33k to help support 1,285 families and provide 2,744 nights' accommodation to families in need. This year they are aiming even higher, looking to raise at least $50,000 to pay for almost 380 nights of accommodation to support families across the ACT and South East NSW.
Challenge yourself and see how you can make a difference to our families next month.
To sign up or donate visit: https://actfundraising.rmhc.org.au/event/redwig2021/home