Tuesday 19 June, The Canberra Centre played host to an exclusive event focused on providing Canberra growing population of fashion-forward gentlemen with styling tricks, buying advice and the best picks for winter fashion in our Canberra climate. Master of Ceremonies; local favourite Ashley Feraude interviewed James Want of fashion blogger fame from The Versatile Gent and Men's Health Magazine's editor Luke Benedictus on their favourite technical gadgets of the moment and their wardrobe staples.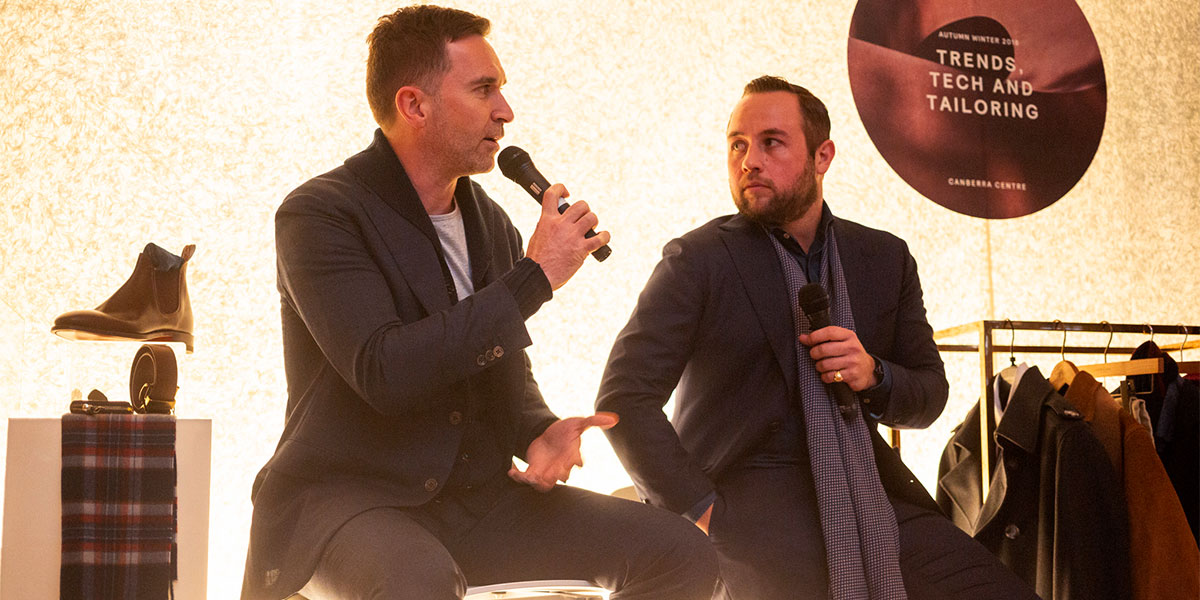 Enter: Chelsea Boots
James advised what many of us can already adhere to, the Chelsea boot is the footwear dujour of 2018. Available in black to meet your formal occasion needs and in tones of tan and brown for a wider array of occasions. Able to be paired with denim, day or night or teamed with tailored trousers from nine to five Monday to Friday. James offered up the advice "When it comes to fashion its worth spending more on quality items that are versatile and will take you through season to season and truly express your personal style," – at which point he gestured towards yours truly (me) rocking a signature leather biker jacket worth every penny.
A more expensive piece usually equates to a better quality product will last you longer than cheaper brands. James' personal brand pick R.M Williams even offer a resoling service for the lads who pound the pavement and heed the advice that the Chelsea boot can truly be worn anyplace, anytime. R. M. Williams recently opened up a new boutique in the Canberra Centre and exhibit excellent customer service which is worth checking out, if only to gather some inspiration for online shopping at a later date.
HEshops
The Gardener Full Welt Boot in black shade described as a flawless execution of form and function are crafted from a single piece of cowhide and convey a more fashion-forward image.
The Chinchilla I'd recommend in Cognac are hand painted with Burnish dye to deliver shades of brown while no two pairs are exactly the same. Paired perfectly with a tweed blazer and denim jeans these boots would carry you from the office out to dinner, no change of outfit required.
The 90-minute session took place at the sleek and modern hot spot Raku.  The Japanese restaurant paired immaculate sushi rolls and the tastiest oysters with fresh sake and malt whiskeys. All in attendance whether bloggers, influencers or just gents with taste were in agreeance that the true standout of the event was the venue. Because every man knows; there's no beating great food – not even a great pair of boots.