The 2020 Canberra MS Walk Run + Roll sets off from Rond Terrace Sunday 29 March. Takes a scenic route around the beautiful Lake Burley Griffin past the iconic sites of Canberra, now in it's 10th year in the capital city.
The rewarding day is in recognition of the multiple sclerosis (MS) Community, celebrating the diversity of its fantastic participants.
The run kicks off at 8:30am, and the walk + roll kicks off at 10:30am. Distances include 5km, 10km, and 14.4km. Dogs on leads are welcome to join the walk + roll.
Take the time to read about Paula's story below and get involved! Register here.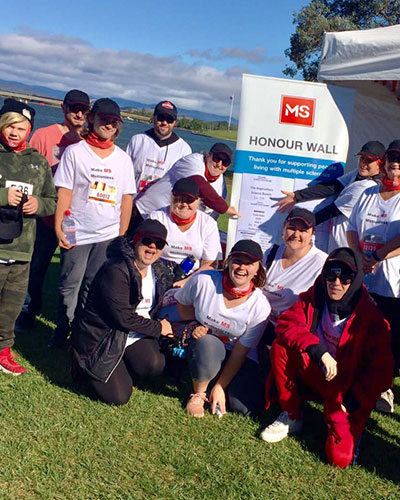 Paula's Story
One morning in early 2018, Paula awoke with a numb sensation at the tips of her fingers. Like many of us do, she brushed it off and went on with her day. After ignoring it for a few weeks, the numbness persisted, and she made the decision to see her GP. After several initial consultations the decision was made to step up the tests.
"The Doctor said to me, "Let's send you for an MRI." He'd mentioned MS, but with no real emphasis on it, so I thought nothing of it," said Paula.
When the MRI confirmed the Doctor's suspicions, she immediately booked in to see a neurologist. In the short time between late February and early May, Paula was diagnosed with MS.
Paula explains that she feels quite lucky that she was diagnosed right away.
"My advice to people: don't let things go. If you think there is something wrong, go see your doctor. I had no idea there was anything wrong."
Paula's Neurologist directed her to the MS Website and MS Connect for information and support regarding her diagnosis.
MS Connect is a free service that provides information, support and links to services for people living with multiple sclerosis, as well as for their family members, friends and carers.
"I knew nothing about MS, so I did the Newly Diagnosed Telelink and a few webinars. I recommend anyone newly diagnosed should take advantage of MS Connect, they won't put the phone down until they have made sure they have helped you out," said Paula.
Since her diagnosis, Paula decided to scale back her workload as Customer Service Manager for a number of audiologist clinics in the ACT and the Riverina.
"My job had a lot of travel and meetings, so I had to step back. Having MS is like having a second job of just having to look after yourself."
Part of stepping back was taking an active role in her wellbeing and mental health by seeking out activities that challenge and keep her motivated, such as the MS Walk Run Roll.
"It was actually around the anniversary of my diagnosis last year when I found this event with MS… I thought the only thing I can really do is raise money to support people like me living with MS.".
Paula registered for the 2019 Canberra MS Walk Run + Roll and entered her team 'Make MS Motionless'.
"I put a post on Facebook and within an hour I was getting emails to tell me we were a top fundraiser!"
Walking 4 to 5 km daily, it is no surprise to see that Paula and her team, 'Make MS Motionless', are back again this year for the Canberra MS Walk Run + Roll and are already on track to be one of the top fundraisers again."
For Paula's loved ones, the MS Walk Run + Roll is a great opportunity to support her and to raise much needed funds for MS Connect to continue providing support to people like Paula.
The MS Walk Run + Roll and other MS events raise vital funds that enable services like MS Connect, the Telelink program and more to be provided directly to people living with multiple sclerosis.
Get moving with the community in Canberra on Sunday 29 March, to help support people like Paula on their MS journey from diagnosis to being able to live well with MS.
If you enter before midnight 14 March, you'll go into the draw to win dinner for two at Civic's Akiba worth $200!
visit: www.mswalk.org.au/canberra