As we get back to work and into routine, there is no better time to establish some healthy habits and kick start your goals. 
Whether you're looking for group-based fitness, new friends or renewed mental clarity, there are so many groups, gyms and activities out in the capital for you to dip your toes into. 
EIGHTY8 Fitness
If your goal sounds something like: 'train like an athlete' ,'remain committed' 'join a like-minded health/fitness community 
Goodbye macho, grunting, sweaty, smelly gyms. Hello boutique, chic and just oh-so-cool Eighty8 fitness.  
Catch the future of fitness at Eighty8 with strength, conditioning, HIIT, mobility and reformer Pilates classes and programs, expertly designed around progress; benchmarking you against yourself… because the best fitness goals go beyond aesthetics. 
You'll find in-house nutritionists, trainers and physios who work to change the way you think, move, fuel and recharge your body, while the high vibes of a motivated, inspiring fitness community are certainly contagious. You'll feel right at home and welcomed no matter your fitness level.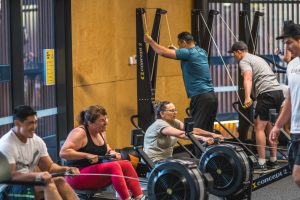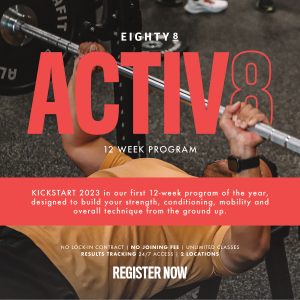 The next 12-week structured program 'ACTIV8' kicks off in early Feb and is the perfect opportunity to take that first step. They say it takes 21 days to make a habit, and 90 days to make it a part of your lifestyle. 
Give it a crack and claim your 1 week free trial by emailing [email protected] or heading to their website. 
Canberra Dog Walks
If your goal sounds something like: 'get outside more', 'take fluffy on more walks', 'get 10,000 steps a day'  
If blasting music and a bustling gym buzz is not up your alley, but those solo walks are becoming a bore, mix it up and join a dog walking group! 
Canberra Dog Walks group takes pups and their owners on a variety of scenic walks that are equally as exciting for humans as they are for your pooch. Usually strolling between 3-6km throughout the week, the group makes the most of off-leash areas and occasional doggie-lake swim spots before settling into a dog-friendly café for a post-walkies cuppa.  
A bunch of cute dogs, animal-loving owners, gorgeous views and a coffee after? You'll be hitting those 10,000 steps in no time. Check out their upcoming walks here.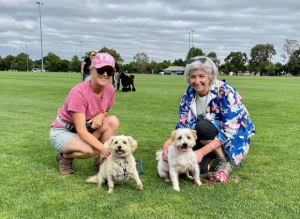 Walk With Me
If your goal sounds something like: 'have more open conversations', 'make deeper connections', ' engage in mindful movement', 'make new friends' 
If you've been around Lake Burley Griffin on a Sunday morning, you may have seen a crowd of enthusiastic and chatty walkers strolling around. The walking group, 'Walk With Me' was born on the backburn of lockdown by founder Zak Pino, offering an environment free from comparison, competition and judgement with enjoyment based purely on movement and connection. 
A simple walk and talk has so many health benefits, mentally and physically. "It's an easy way to connect with cool new people or reconnect with people you already know, and forces you to exercise – two birds, one stone," Zak says. 
Pop on your walking shoes, rock up, share the load and make some new friends all while getting your steps in, Sunday 9:30am by the flags at The Lake. Learn more about WWM on Instagram or Facebook .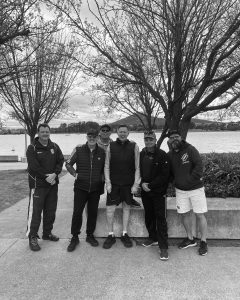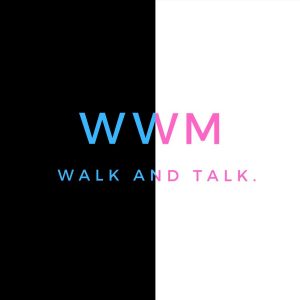 Canberra Runners
If your goal sounds something like: 'run 3x a week', 'complete a 5km race', 'don't snooze the alarm'  
It's pretty demotivating running that same lap around the block or staring at the treadmill screen, while the sheer independence of a jog can make it a difficult task to commit to. That's where running groups come in handy. 
Canberra Runners is the capital's largest running organisation and offers events and activities for runners of all ages and abilities. The group offers a variety of training programs, taking you on tracks and trails you would have never found otherwise. 
Nothing makes a run go by quicker than having a chat and as for staying committed… it's harder to snooze the alarm when people are expecting you. Revel in those post-run endorphins and join them for their Sunday morning brekkies afterwards.
Kicking off in early February, Canberra Runners has 2 training programs to get you ready for the Canberra Times Marathon Festival (5.4km or 10km fun run) or the Canberra Runners Half Marathon (21.1km).
GroundUP
If your goal sounds something like: 'move more', 'improve overall wellbeing' , 'take better care of my body'  
Leave that misconception that exercise has to be gruelling, painful and anxiety-inducing in 2022. Groundup Studio by ClubLime has reshaped the boutique studio experience with an emphasis on mind-body connection and 'rebuilding yourself from the ground up'. 
With Pilates (reformer and mat), flow, hot flow and mellow yoga as well as barre classes (a ballet-inspired high-intensity workout), there is no surprise this training style is renowned among the Supermodels of the world.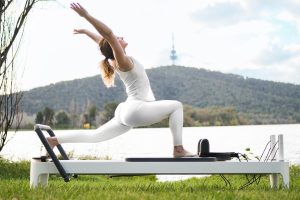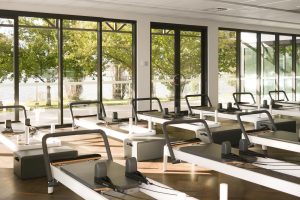 With modern, sophisticated and inclusive studios in Belconnen and Yarralumla, you'll be stronger, more toned and energized in no time. As a sister gym of ClubLime and HIIT Republic, you can either purchase a GroundUp pass or add it to your Lime membership. 
Give these a crack! And if it's not for you… try another option! Once you find a type of movement you love, not only will you be fitter and stronger, but your overall well-being, productivity and happiness will flourish.
Let's do this 2023!