Memory Walk & Jog
Dementia Australia's popular Memory Walk & Jog event is returning to Canberra on Sunday 24 February 2019, with a starting line on the foreshore of Lake Burley Griffin, Barrine Drive.
The Memory Walk & Jog raises much-needed funds to support the work of Dementia Australia, which provides invaluable support, education and resources for people living with dementia in Australia, their carers, families and friends.
The Canberra event will kick-start the 2019 Memory Walk & Jog season, and all funds raised will benefit Dementia Australia services in the ACT. This year, participants can choose to take part in a 2km, 5km or 10km walk, jog or run, in hopes of reaching the $140,000 fundraising target.
There will be prizes for the top fundraisers, as well as raffles, plenty of entertainment, food stalls, jumping castle and a special guest appearance from Memory Walk & Jog mascot, Al the Elephant.
Registrations are now open for all Memory Walk & Jog events at www.memorywalk.com.au. The first 500 people to register for the Canberra event will receive a free t-shirt, and the first 1,000 people to register across all events will get a free pedometer.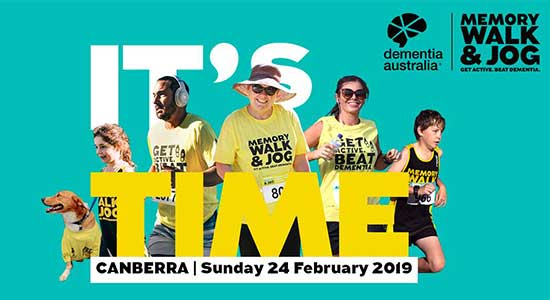 Melanoma March
Ready to find a cure, not-for-profit organisation Melanoma Institute Australia is marching its way across the country, uniting Australians with its biggest Melanoma March event in history. The family friendly event will be visiting Canberra on Sunday 24 March at Weston Park.
Melanoma March is in its eighth year and is now Melanoma Institute Australia's major annual fundraising campaign to support melanoma research. In each location, the March is a special event which brings together the whole melanoma community to raise awareness and funds for melanoma research.
Last year over 7,000 people from every state and territory supported their local Melanoma March and 2019 is hoping to be even bigger. All funds raised will go towards crucial research dedicated to finding a cure for melanoma.
visit: canberra.melanomamarch.org.au
call: 02 9436 2111
email: [email protected]