On Saturday, September 9, the new Capital Brewing Co. brewery and tap room, at Dairy Road District in Fyshwick, opened its doors to the public. We sat down with director and co-founder, Laurence Kain, to find out a little more about Capital Brewing Co. and its new space.
Capital Brewing Co. is an independently owned Canberra brewery, formed by close mates who 'froth on delicious brews, surfing waves, and good vibes'. The company launched just over 12 months ago, and has been brewing their tasty beers in various Sydney breweries, until now.
"The team is Tom and I, who come from a background of pubs and bars; and Sam and Rich Coombes, who run Batlow Cider," Laurence explains.
"Tom and I set up Canberra's first bar to be serving independent Aussie craft on tap, and we were buying a fair load of Batlow Cider. After a few sessions having beers and surfing waves, everyone became mates and started discussing how rad it would be to open a brewery!
"Nick Hislop then came on board to run operations, and Wade Hurley came over from San Diego to run the brewhouse. Wade was previously brewing at Coronado Brewing Co. and Green Flash, two of San Diego's premier craft producers. Once everyone was together it just kind of went from there!"
Work on the Dairy Road site began late last year, and the team at Capital Brewing Co. has been in full swing getting the space ready for this Saturday's opening.
"We've put a lot of effort into our tap room. We wanted to make a super rad place for people to come and chill, bring their kids, dog and mates, and get a real solid vibe on," says Laurence.
"Our production has been running for around six weeks, and we have some really special tap room-only brews to share with everyone. At opening, there will be nine beers on tap. We have two new ones on the way, but we couldn't keep up with the demand for our cans, and ran out of production space to brew them for opening."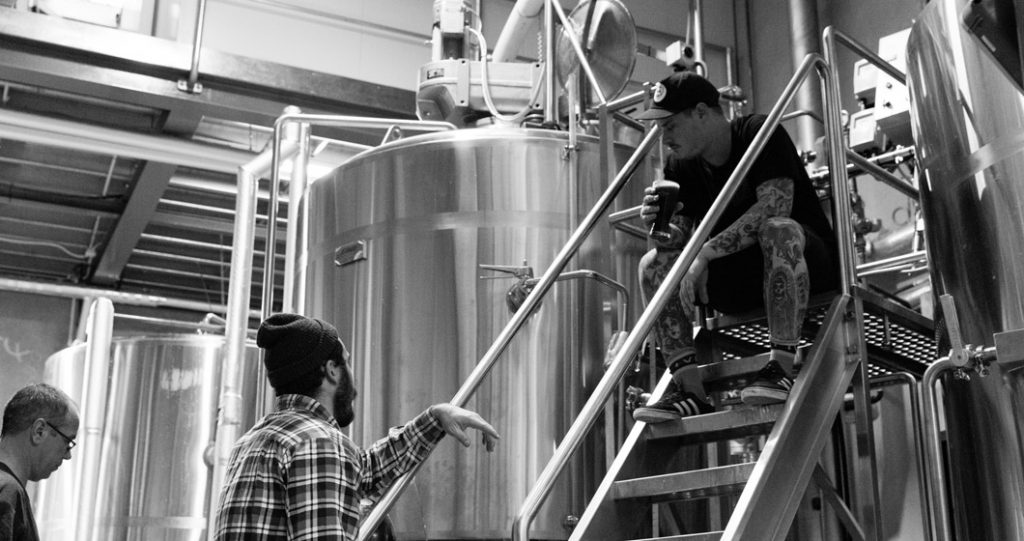 The team at Capital Brewing Co. have big plans for this Saturday's launch.
"Basically, we are going to do what we do best – tear the roof off!" laughs Laurence.
"We have some awesome bands playing like Slow Turismo, East Row Rabble, and The Cashews. We'll have kid's entertainment, free brewery tours from 12pm-5pm, lawn games, and, of course, Brodburger."
Anyone who's been to Braddon's The Hamlet over the past couple of weeks would have noticed that the Brodburger van has disappeared from its usual spot. The van has been
moved out to the Capital Brewing Co. site, and the team will be serving up their juicy burgers from midday on September 9.
We asked Laurence if he's excited about working alongside Brodburger at the new site.
"Hell yeah we are!" says Laurence.
"These guys are super good mates of ours, so it's really cool to have their original van here on site. There's nothing better on this earth than Brodburger and beer!"
The Capital Brewing Co. brewery and tap room will be part of Fyshwick's new Dairy Road District, being developed by Molonglo Group.
"We think it's going to be really, really cool!" says Laurence.
"Molongo Group are total visionaries, just look at what they did with NewActon. There's already an awesome community of like-minded businesses here, and it's growing every day."
A bunch of cool businesses are set to move into the space soon, including Barrio Collective Coffee, who are initially opening a new roastery, as well as a small coffee bar down the track.
We spoke to Duncan, from Barrio Collective, about the new venture, and the development of the Dairy Road precinct, who believed that Dairy Road District is a great development that's re-purposing an area of the city that was previously unknown to a lot of Canberrans.
"There's a lot happening in the city at the moment, from new makers and producers to existing ones that are really starting to establish themselves. The Dairy Road precinct is a reflection of this. It shows that there is enough going on to support such a development," says Duncan.
"This kind of development, support and encouragement of local industry is not isolated to Dairy Road, it's happening all over the city, and that's really exciting."