The adrenaline-charged new series, Australian Ninja Warrior, will debut this Sunday 9 July at 7pm on Channel Nine.
Australian athletes have been watching and waiting, training for the day that Ninja Warrior makes it to our shores. Now that day has arrived.
For 250 ordinary mums and dads, doctors, tradies, everyday heroes, athletes – even celebrities – the wait is finally over and Australia's supreme competitors will gather in the quest for one goal: to claim the crown of Australia's first Ninja Warrior.
There are three locals proudly waving the flag for the nation's capital on the show, including two tough-as-hell Canberra women, Jenna Douros and Zoe Featonby.
Jenna is a local star in our eyes, and a health and fitness inspiration to thousands of Australians through her social media channels, with more than 30,000 followers across Instagram and Facebook.
"I have been a follower of the show for so many years and it's an absolutely incredible feeling to be a part of the very first season of Ninja Warrior in Australia. That in itself is so amazing – my life is made!" Jenna laughs.
"I felt like everything around me just went dull, I didn't take in what was happening around me and I was just very quiet and focused on what was in front of me. I was determined to get through it because you don't get this kind of opportunity often and I wanted to do myself proud.
"It was me versus me out there. I wasn't competing against anyone else."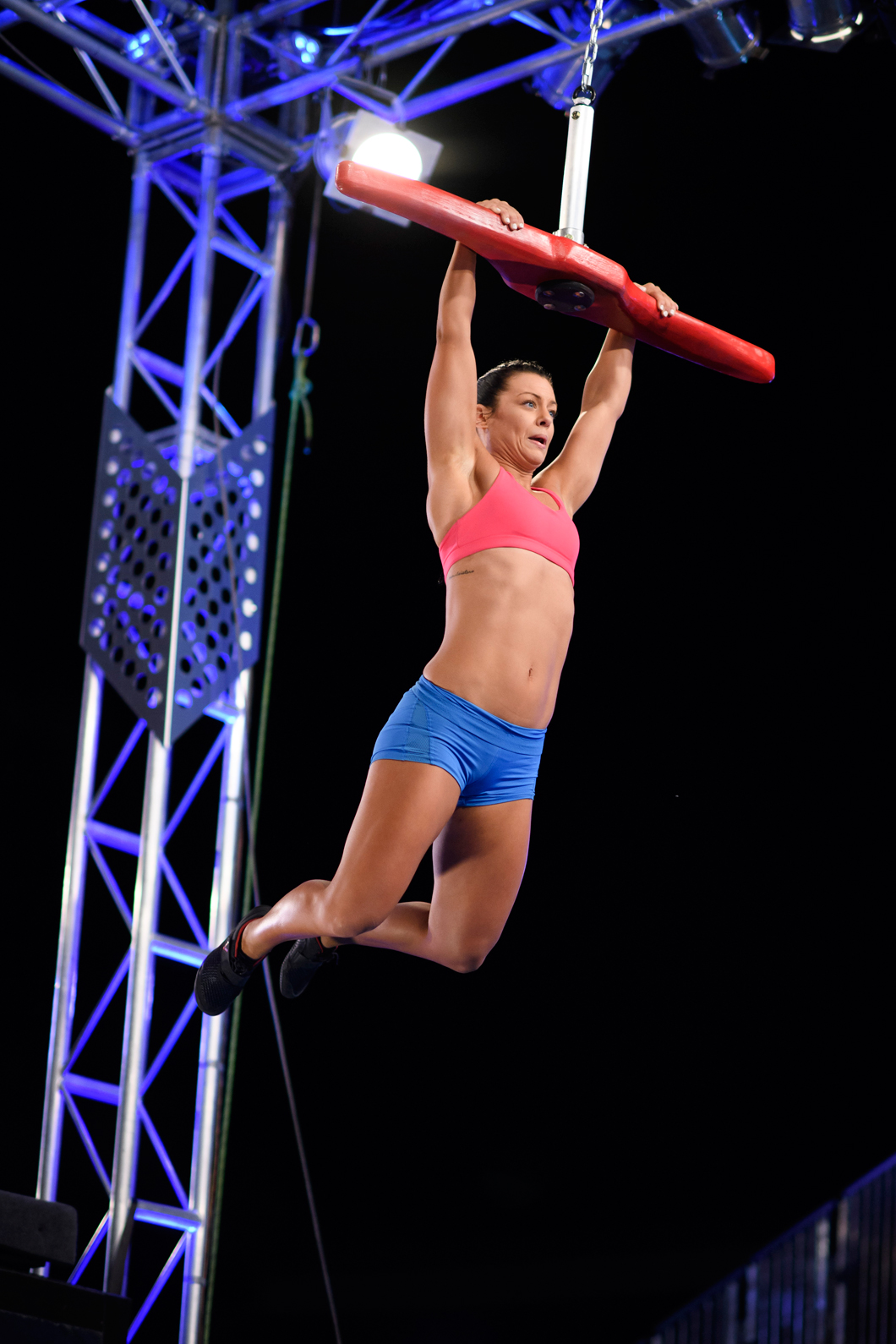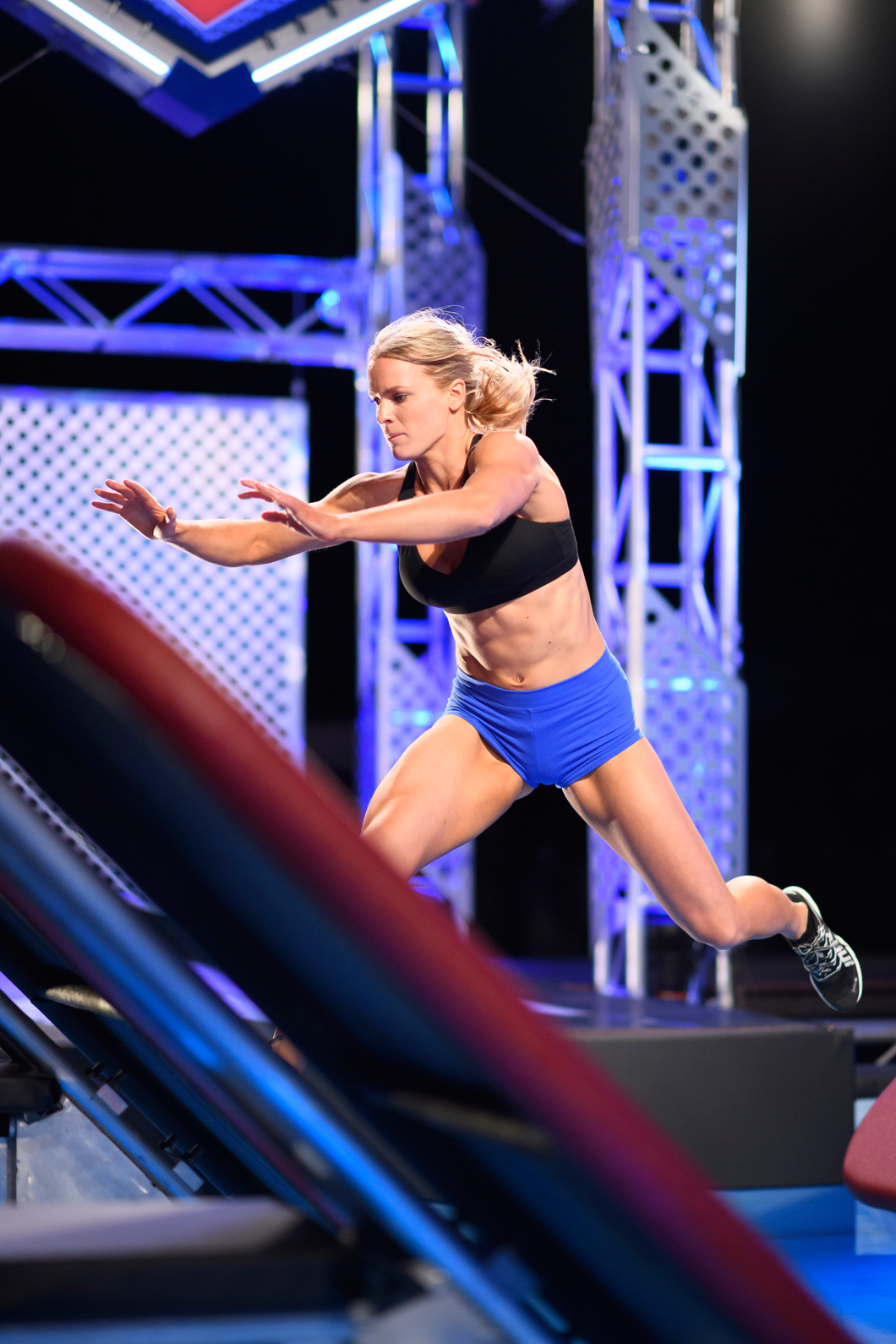 Zoe's story, among the many inspirational stories of Ninja Warrior contestants, is one of utmost endurance, persistence and perseverance.  At the age of 15, surgeons removed a rib and deflated her lung to insert a titanium rod and five screws into her spine as a result of severe scoliosis.  Since then, Zoe has not only come through the experience but is now in the best shape she's ever been.
"It was an amazing experience to meet all of the other contestants, who were all so inspiring in their own right," she says.
"Everyone came from such different backgrounds – Olympians, gymnasts, personal trainers, pole dancers and more. It was really cool seeing people from all walks of life come together and the comradery of it all. We were a big Ninja family, everyone felt each other's pain and joy throughout the course.
"It's a huge adrenaline rush and one of the most surreal experiences of my life – the crowd chanting your name, your big introduction, the spotlights and stage, you're looking at the course and it's so daunting yet so amazing. I had my boyfriend and parents there beside me, and my brother running alongside the course as well, it was a pretty special feeling and something I'd never forget."
This diverse range of competitors will line up to take their shot at the most difficult obstacle course in the world, with hosts Rebecca Maddern, Ben Fordham and Freddie Flintoff calling their every move on Ninja Island.
"Ninja Warrior is the toughest obstacle course in the world and now it's in Australia. Over the coming weeks we'll see which of Australia's strongest, fastest, lithest, most dexterous athletes can take on – and beat – this mountain of steel that has risen out of Ninja Island," Nine's Head of Content, Production and Development, Adrian Swift, says.
"Men and women have come from every corner of Australia and they're all desperate to take on the course and become Australia's very first Ninja Warrior."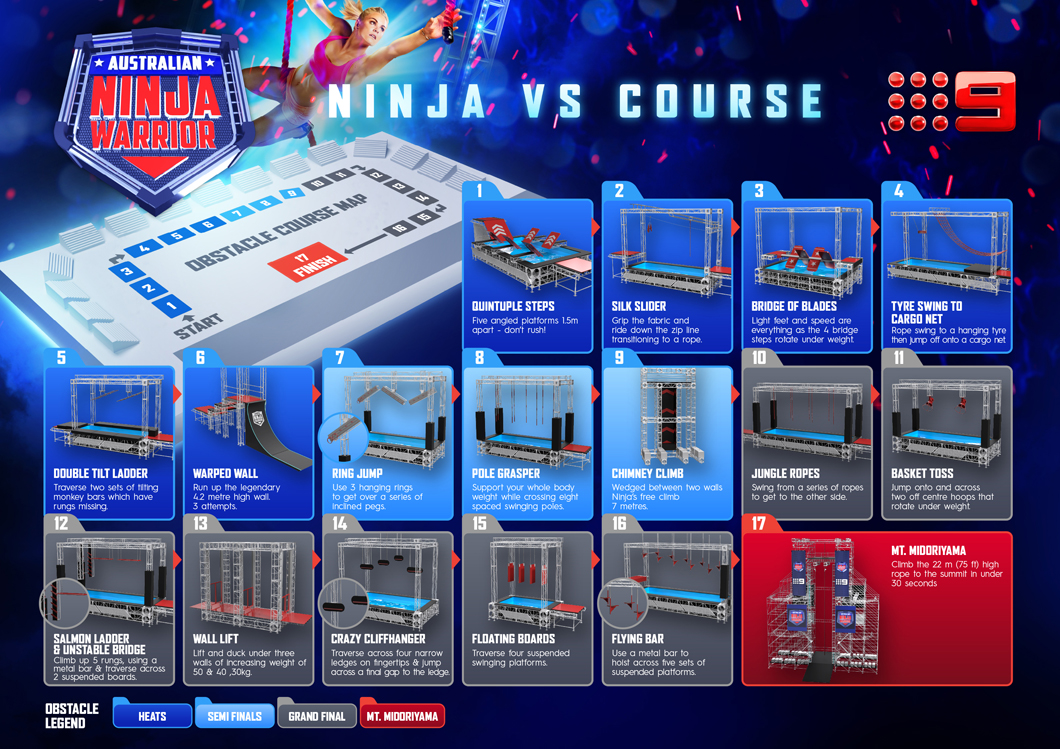 Ninja Warrior, a smash-hit, worldwide phenomenon that has aired for 31 seasons globally, will offer a gripping mix of heart-pounding action and inspiring back stories when these everyday heroes push themselves beyond their physical and emotional limits to claim the title.
Since its inception in 1997, thousands of athletes in over 20 countries have tried but only seven people worldwide have managed to conquer the course.
It's an explosive start as episode one features six character-building obstacles: The Quintuple Steps, Silk Slider, Bridge of Blades, Tyre Swing to Cargo Net, Double Tilt Ladder, and the infamous Warped Wall.
Hang on tight when some rise but most fall in their quest to conquer Mt Midoriyama on this mind-blowing obstacle course and be crowned the first Australian Ninja Warrior.
Ninja Warrior, Australia
Airs Sunday 9 July at 7pm on Channel Nine.