Here Naomi Watts wears Cartier Magicien Collection necklace and earrings, Cartier Royal Collection ring and Panthère de Cartier clutch bag with Preen dress and Aquazzura shoes. (Photo by Cole Bennetts/Getty Images)
I am no Arts writer – but do you need to be one to admire jewels more beautiful than those seen alongside the genie's lamp in the Cave of Wonders?  I can't help but draw parallels to that unforgettable scene from Aladdin where he stumbles upon a cave filled with treasures when I step into Cartier: The Exhibition at the National Gallery of Australia.
After reading rave-reviews I still wasn't convinced the exhibition would hook me in. I feel like a market girl out of my depth – and price bracket.  As someone who perpetually spends dollars on clothes and shoes, sparkles were yet to steal my heart – or my pay cheque.  Nonetheless, I had to see what all the bling was about.
More than 300 exquisite diamonds, emeralds and precious stones, loaned from royal families and celebrities shipped to the capital to give us hoi polloi a taste of how the aristocrats and socialites used Cartier as a position of power. And just like that, one eye-lock with the first halo tiara on display had the crowning touch to convert me – at that moment I would sell my soul for one of those glittering pieces of art.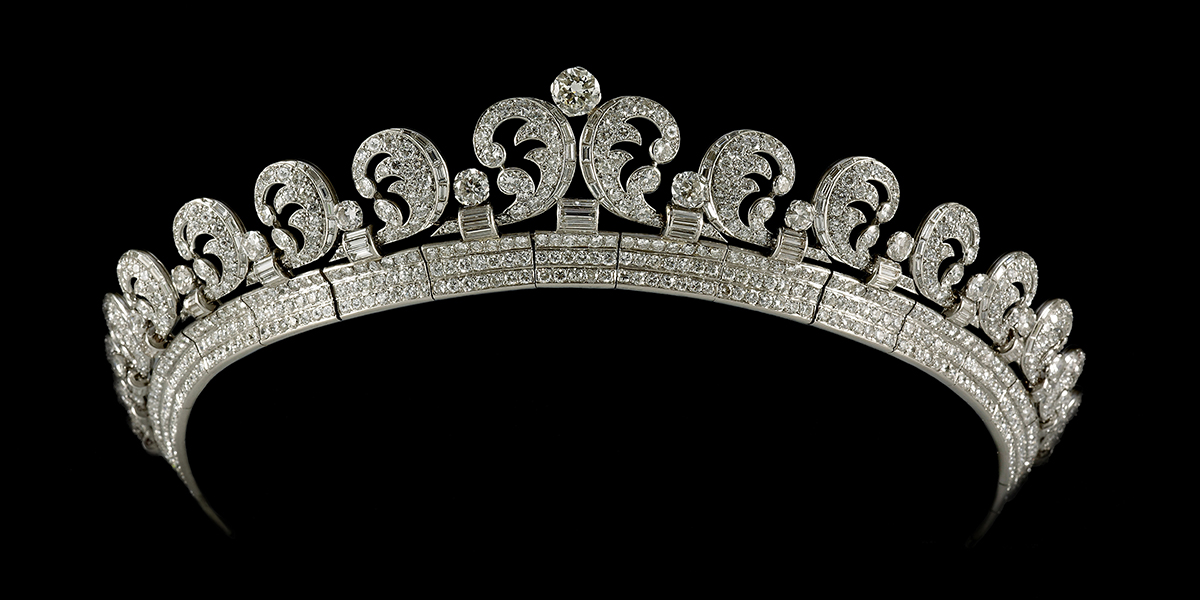 Cartier London, Halo tiara 1936 platinum, diamonds 3 x 18 cm
lent by Her Majesty Queen Elizabeth II
Royal Collection Trust/All Rights Reserved
On display is a fair share of diamonds and pearls worn by A-listers. Notable creations such as Grace Kelly's engagement ring, Elizabeth Taylor's ruby and diamond necklace, not to mention a royal touch with Her Majesty the Queen's tiara, loaned to Catherine Middleton on her wedding day.
Among the beautiful and charismatic women in Cartier who glistened while they walked was Dame Nellie Melba.  While us millennials associate followers and likes as an indicator of success, Melba showed off her Cartier pieces to the press as proof of her affluent career.
I mistakenly thought it was all the diamonds that gave me that twinkle in the eye, until a 478-carat sapphire caught me dead in my slingbacks.
So much for a statement piece (singular), this pendant was battling it out for most luxurious accessory alongside Queen Maria of Romania's diamond and sapphire Cartier tiara. A gift from her husband King Ferdinand – no doubt a spouse worth swiping right for.
After the war, the zeitgeist of women was in full swing, returning to normalcy wasn't an option. The clientele who epitomised glitz and glamour were now scandalous flapper girls on the market for vanity cases, lipstick holders and embellished cigarette cases which kicked off as a roaring 20s trend when women pushed the boundaries and applied makeup publicly at dance halls.
I wouldn't mind living in the decade of high-speed excitement, slinky dresses, and the glamorous spectacle of Cartier. Non-stop bootlegging whilst carting around rocks on more than just your ring finger sounds like a better workout than F45.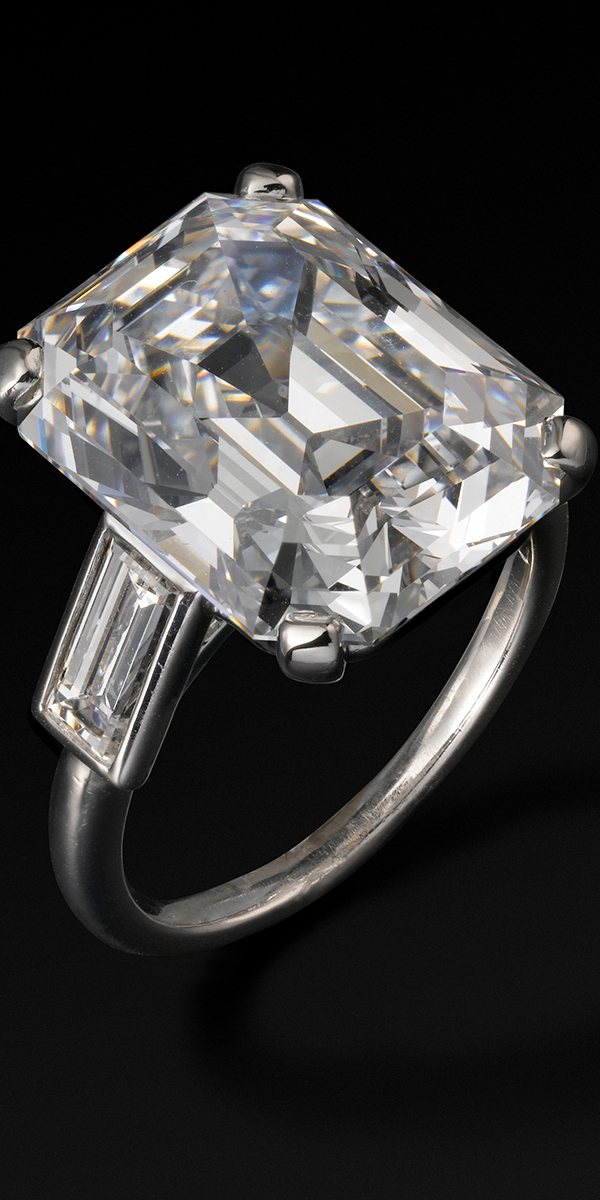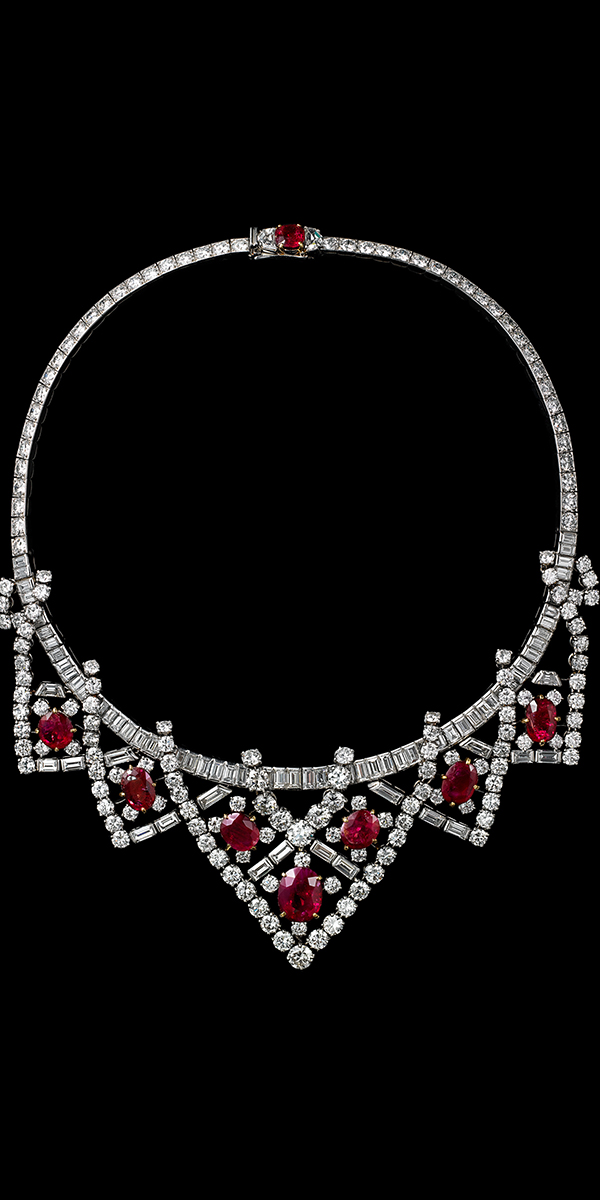 Cartier Paris, Engagement ring 1956 platinum, diamonds 2.3 x 1.6 x 1.1 cm
Photo: Vincent Wulveryck
© Princely Palace of Monaco
Cartier Paris, Necklace 1951, altered 1953 platinum, gold, diamonds, Burmese rubies 37.5 cm (length)
Cartier Collection, © Cartier
Photo: Vincent Wulveryck
Provenance: Elizabeth Taylor
Overlapping with case after case of jaw-dropping creations is the history of the 20th century and Cartier's role in pioneering art deco style; they adapted designs to suit a changing society. The iconic House took global cues and used traditional styles by Ancient Egypt, China, Japan, India and the Islamic world, to adapt their pieces into elaborate, distinctive designs to feed their clientele's foreign fascination.
Though, if you haven't attended to follow Cartier through the ages, at a minimum you can expect to experience the ultimate window shop – but more fun because you know no one else in the room can afford the immeasurable collection of jewels either!
For those looking to extend this lavish affair, QT Canberra are giving guests the opportunity to make a Cartier Watch valued at $3,700 their own. Book Cartier The Exhibition Package to stay the night in one of the designer QT rooms with your Cartier tickets ready on arrival, parking on the house, and a breakfast spread for two.
Now I see why diamonds are a girl's best friend!