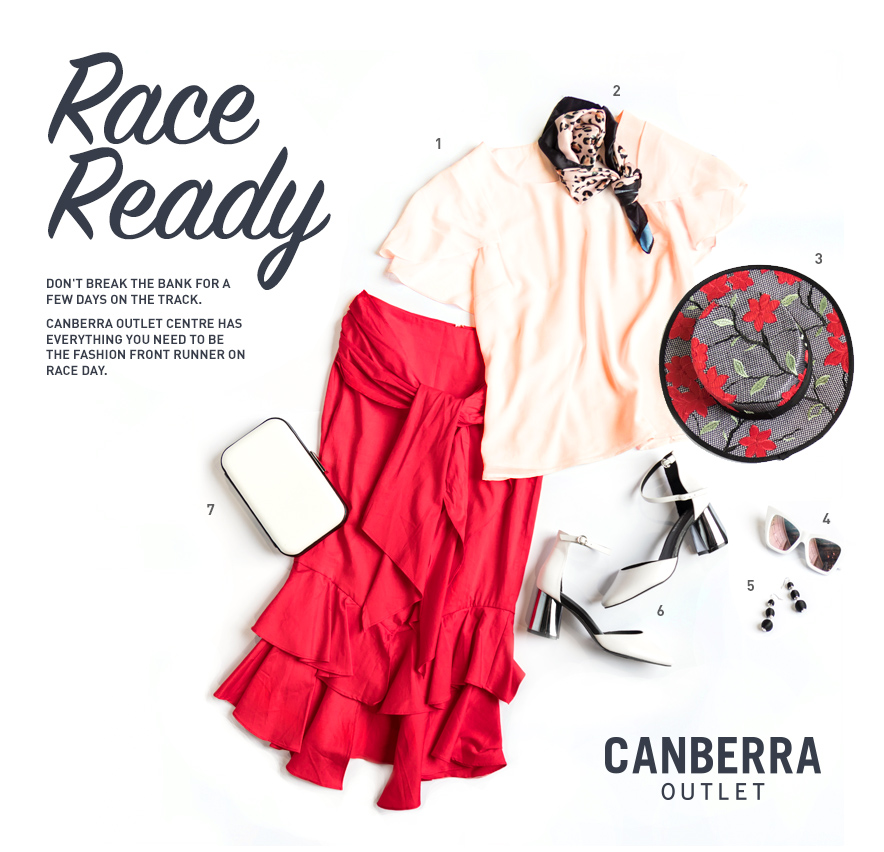 1) TK MAXX Clutch, $34.95; 2) TK MAXX Sunglasses, $12; 3) TK MAXX Hat, $49.95; 4) JACQUI E, Khloe Chiffon Blouse, $69.95; 5) JACQUI E, Triple Sphere Earrings, $5.00; 6) Portmans, Rumba Ruffle Skirt, $39.95; 7) Portmans, Leopard Squarescarf, $19.95; 8) JO MERCER, Carlie Mid Heels, $59.95
Head-to-toe Looks at Canberra Outlet Centre
Heading to the tracks or having a few champagnes in front of a big screen somewhere? You'll need cute race-wear attire regardless. As for the gents, don't punt on a last minute outfit! Head into Canberra Outlet Centre to get everything you need to be looking like a stallion. Millinery is always key when attending a race day event, then work your outfit from the head down. Canberra Outlet Centre can complete your look with clothing, accessories and shoes all under the one roof.
Hairhouse Warehouse shares what's trending for race season
This spring racing all the girls will be wearing their hair slicked back into a chic ponytail. If the pony tail sits low enough pair with a hat instead of fascinator. To achieve this look we recommended prepping your hair with Paul Mitchell hot off the press thermal protection, using a halo straightener, and setting it with nak fixation finishing spray so your hairdo stays in tact on the windy race course. All available from Hairhouse Warehouse at Canberra Outlet Centre. If styling your own hair isn't your thing, Hairhouse Warehouse is open from 10am-6pm, call  6112 6360 to book in and let the experts do their thing.
Canberra Outlet Centre is open 7 – days 10am-6pm, 337 Canberra Ave, Fyshwick.
Visit them online here.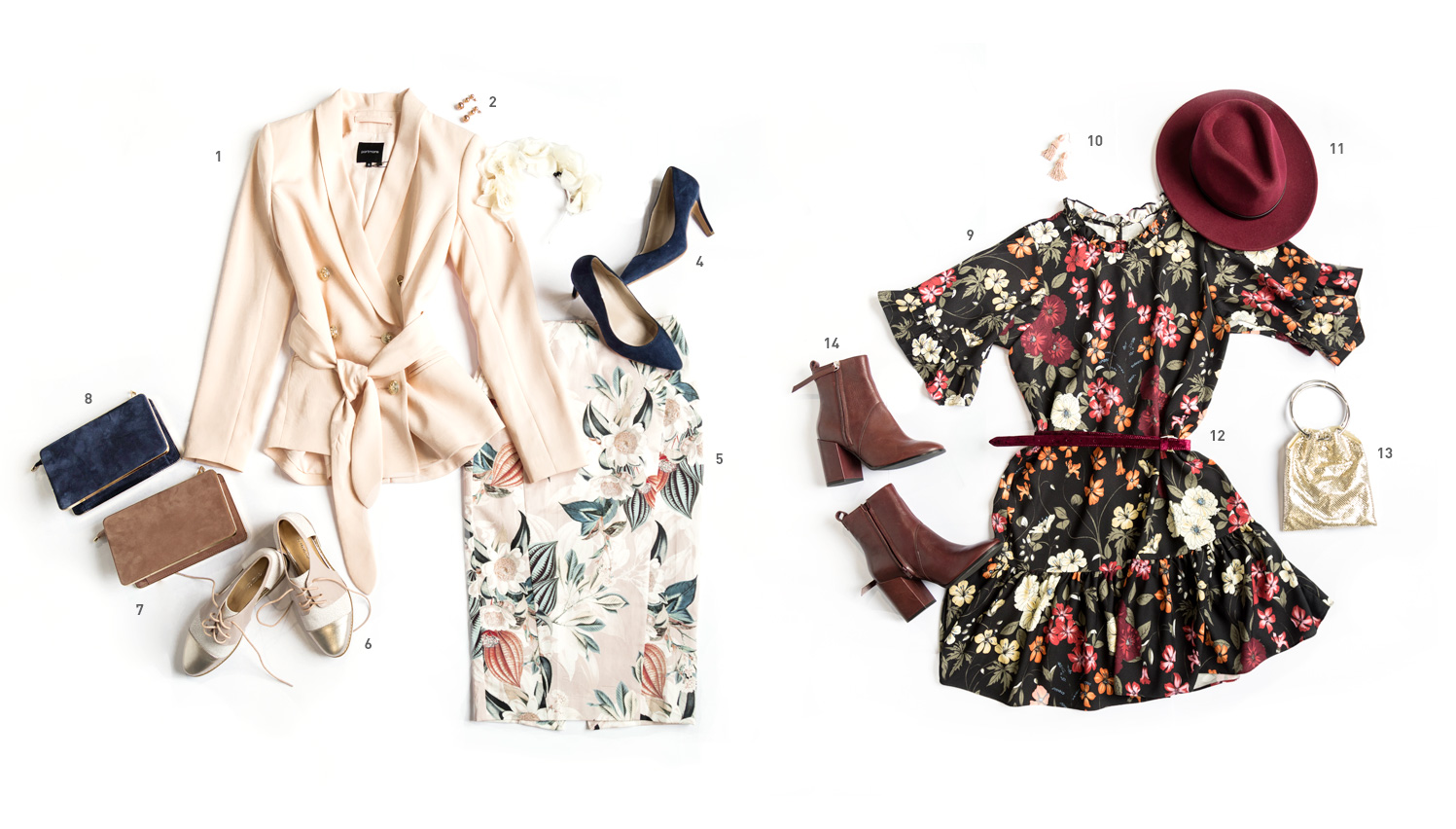 1) Portmans, Double Breasted Jacket, $139.95; 2) JACQUI E, Gold Drop Earrings, $5.00; 3) TK MAXX Fascinator, $29.95; 4) JO MERCER, Nigela Heel, $159.95; 5) Portmans, Botanical Pencil Skirt, $89.95; 6) JO MERCER, Nude Laceups, $99.95; 7) JO MERCER, Clara Blush Clutch, $139.95; 8) JO MERCER, Clara Navy Clutch, $139.95; 9) Cue, Veronika Maine Dress, $77.70; 10) JACQUI E, Tassel Earring, $7.95; 11) Parliament, Jorge Nikita Fedora, $39.95; 12) Cue, Veronika Maine Belt, $26.70; 13) TK MAXX, Clutch, $24.95; 14) JO MERCER, Northern Boot, $99.95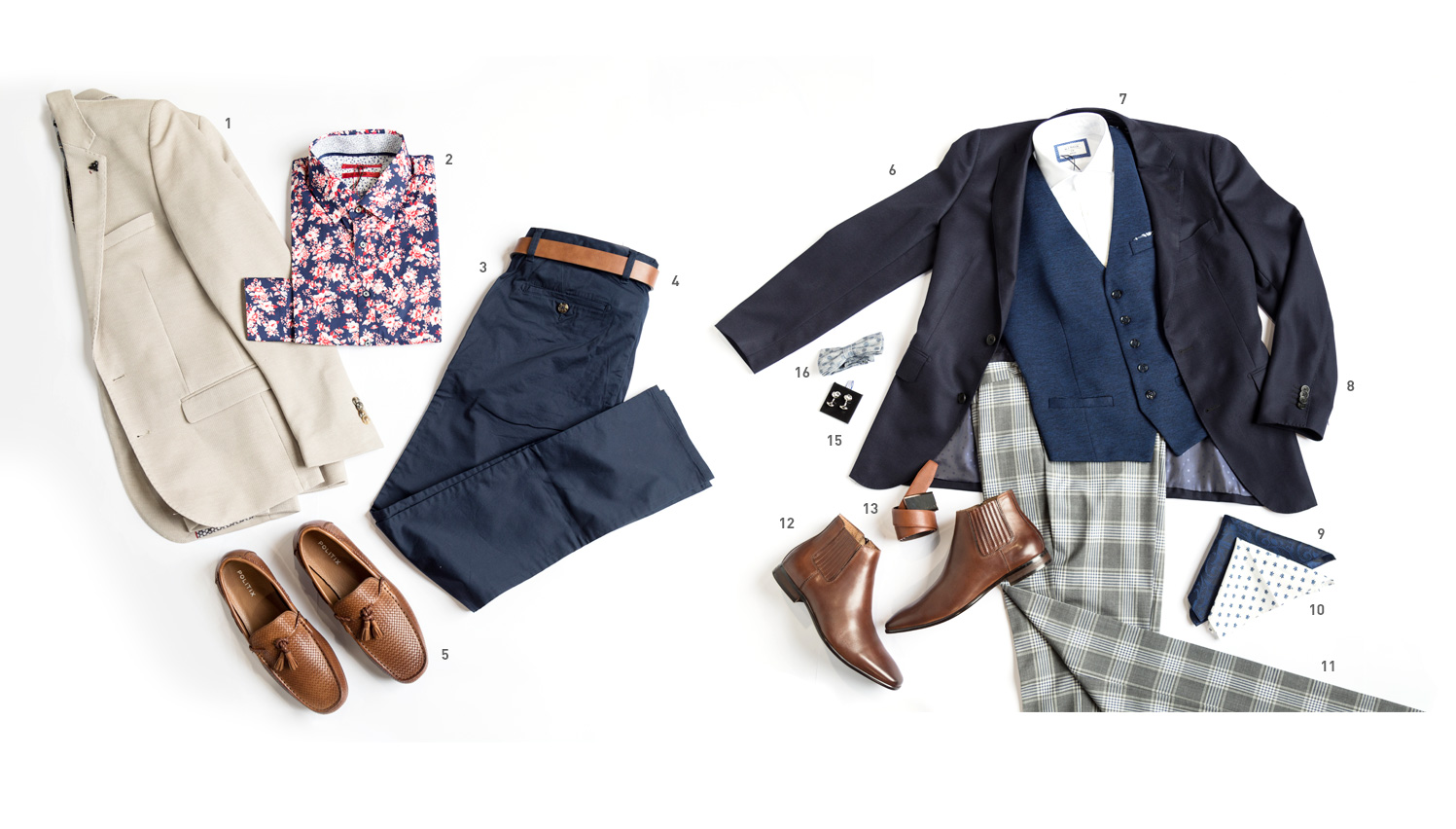 1) POLITIX, Wheat Blazer, $269; 2) POLITIX, Navy/Red Shirt, $149; 3) POLITIX, Marine Chino, $149; 4) POLITIX, Cognac Shoes, $199; 5) MJ BALE, Collier Jacket, $99; 6) MJ BALE, Parlour White Shirt, $109.95; 7) POLITIX, Navy Vest, $139; 8) MJ BALE, Hathan Hankie, $15; 9) POLITIX, Navy Pocket Square, $49; 10) MJ BALE, Leouzio Trouser, $129; 11) POLITIX, Cognac Boots, $249; 12) POLITIX, Dark Tan Belt, $89; 13) MJ BALE, Knot Cufflink, $99.95; 14) MJ BALE, Celso Bow Tie, $49