I was lucky enough to be at Canberra Centre when it hosted a live Skype Q&A with supermodel-turned-business-woman Miranda Kerr in the newly opened Monaro Mall. It was the first Skype interview/ Q&A ever held at Canberra Centre and the first which Miranda herself has participated in.
Now, I know what you're thinking: "How could a Skype Q&A be anywhere near worth going to as the real thing?" In fact, apart from a few minor hiccups, more to do with the internet than anything else, the whole thing went off without a hitch. There were no uncomfortable lag times or screen freezes, and the picture was clear.
I would definitely consider going to another Skype Q&A because I think it has the benefits of engaging live with international celebs who might not otherwise be able to come to Canberra or Australia. Miranda's reason for not travelling home to Australia? She is pregnant with her second child and has been travelling as little as possible.
We arrived in the special area of the Monaro Mall set aside for events like interviews and masterclasses, across from Endota Spa. The space was decorated with beautiful flowers, platters abundant with fruit and veggies, products from Miranda's skincare line KORA, and of course rose quartz, which is a well-documented Miranda-favourite.
We settled into our seats and were given an introduction to Miranda and KORA by the host of the Q&A, before the supermodel herself appeared on screen in a beautiful red dress and settled into her own comfy-looking armchair, far across the world in Los Angeles. Miranda could see and hear the audience very well, which made it feel much more natural and almost like she was physically in the room.
The Q&A covered skin care, health and wellbeing, work, and motherhood. Miranda spoke openly and honestly throughout the interview, telling stories about her recent wedding day and her son, Flynn.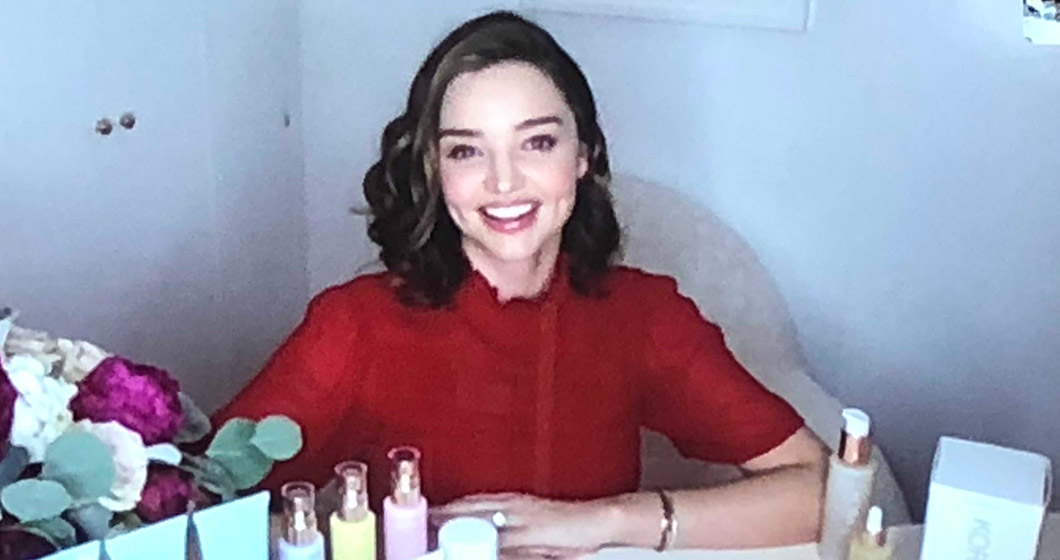 Members of the audience had submitted their questions via Instagram a few days prior to the Q&A, and before Miranda 'arrived' we were given a chance to chat to the host about any additional questions we had.
The three questions/answers I found most interesting and enlightening were:
Did your skincare routine change in the lead up to your wedding day, and if so how?
Miranda told us that face massages became her favourite thing in the lead up to and on the day of her wedding. She likes to give them to herself using her KORA Noni Glow Face Oil, which hydrates the skin and fills it with nutrients. Face massages boost blood flow and wake up the collagen in your face so that your skin looks plump and healthy. She told us how you can do this yourself after a shower using a face oil and gently massaging all over your face with your fingers moving in small circles.
What is the 80/20 rule?
I've read articles where Miranda talks about her 80/20 rule and she explained it further in this Q&A. She told us how whenever she's tried to deprive herself of something, she immediately craves it. Uhh, same!
Miranda decided that her philosophy would be to eat healthily 80% of the time, and indulge 20% of the time. This lets her enjoy things she is craving, without feeling bad for eating 'unhealthy' foods. After all, no one can be 100% healthy, 100% of the time. I like Miranda's approach because it is pretty achievable in our own lives and reminds us that even supermodels need to treat themselves. What does Miranda eat in that 20%? Usually French fries and crispy fried chicken.
How has your approach to exercise changed over the years, and specifically with pregnancy?
As a former Victoria's Secret model, Miranda used to work out for several hours a day, and believed that anything less than one hour was useless. Today, however, she has the mindset of exercising at least 20 minutes per day. She believes this makes exercise more achievable and finds she is more likely to work out when she knows it's only 20 minutes out of her busy day instead of an hour or more. Now that she's pregnant with baby number two, she's slowed down a lot in terms of exercise and tries to listen to her body, and have more rest days. When feeling motivated, her exercises of choice include yoga, Pilates, swimming, walking – and, like most mums, dancing around the house with Flynn.
Miranda gifted each guest with a bag of KORA goodies, which included a sample of the new Noni Glow Face Oil – which I can't wait to give myself that face massage with – and a box of affirmation cards from Miranda's book Treasure Yourself. Miranda is a big believer in the power of affirmations and whenever she is feeling particularly busy and overwhelmed, she likes to take ten minutes out of her day to reset with an affirmation and short meditation. I thought this was a really important message and reminder to make sure we are setting aside time for self-care every day.
After chatting for an hour, I realised that it's no wonder Miranda Kerr is a much-loved Aussie who we are proud to call our own. The Q&A was a perfect way to spend a Sunday lunchtime, and I'm looking forward to who will be hosted by Canberra Centre in the future.