By far the best thing about being an adult is doing the things you weren't allowed to do as a child. I don't mean things that seem super cool when you're little but are kind of boring, like driving a car or buying whatever you like at the supermarket. I mean the things that your parents would probably still want to stop you from doing if they could.
For example, I get immense joy from eating ice cream straight out of the tub, because it's something that I wasn't allowed to do when I was little. For Melbourne siblings Alex, Chris, and Jess Reece, it's licking the spoon of the cookie dough mix, something they loved doing as children. Unfortunately, as children, they were only allowed to lick the spoon, not eat the whole bowl as they would have liked. That is, until now.
Those three children grew up into three adults who reminisced on the times spent baking together and sneaking a few extra spoonsful of cookie dough. And then an idea struck: What if, you could just have a whole tub of cookie dough all to yourselves? Why not create a cookie dough that is specifically for eating straight out of the tub? No raw eggs to make you sick, and no baking required? Hooray! The Cookie Doh Co. was born, and now there is such a thing as delicious cookie dough that you're allowed, no, encouraged to eat straight out of the tub.
Lucky for me, I got to unleash my inner child and taste test some of the doughs. A couple of weeks ago, possibly one of the best packages I've ever received arrived at the front of my house. Inside were the flavours currently made by Cookie Doh Co. – choc chip, triple choc chip, raspberry and white chocolate, cookies and cream, and apple and cinnamon.
I immediately loved the packaging which is colourful and fun and made me feel like a child again with excitement about what was inside the tubs. There was also a recipe card for a triple choc milkshake which I knew I would definitely need to try as part of my experiments. While all the flavours are yummy, my favourites are the classic choc chip, triple choc and cookies and cream.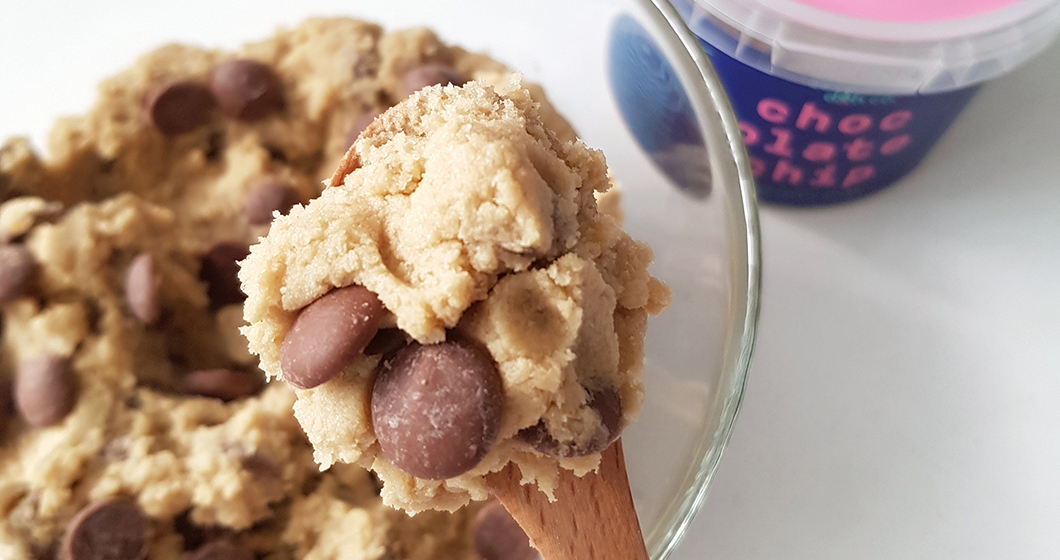 Along with the tubs came a warning… 'it ain't healthy'! But, in the words of Donna Meagle and Tom Haverford – treat yo' self. A couple of spoonfuls straight from the tub are just what you need to satisfy a sweet tooth. I kept the tubs of cookie dough in the fridge when not eating them, but found they are best enjoyed at room temperature. Some ideas I tried included crumbling it over ice cream (yum), cookie dough ball snacks (favourite part of my work day), eating it straight from the tub (duh), and of course the triple chocolate milkshake which was probably my best decision last weekend.
Overall, I think Cookie Doh Co is a fun company, with a great product. While Cookie Doh Co is available in some stores in Melbourne, the primary place to get your hands on some is online. They deliver to over 6000 metro postcodes across Australia for a flat rate of $10. The cookie dough arrives ready to eat and enjoy. It gives us all an opportunity to make our inner child proud of the adult we've become – one who not only has cookie dough delivered to their doorstep but eats it straight out of the tub too.
Website: https://www.cookiedoh.co/