Ever heard the saying 'no pants no worries,'? Well imagine getting through life being naked every day – then you'd really be stress-free. By naked we, of course, mean Naked Pressed Juice Co – the latest cold-pressed juice craze about to hit Canberra shelves. They have stripped down to a bare minimum by combining 100% raw fresh fruit and vegetables; completely free from toxins and artificial sugars.  In essence, they are completely naked. Cold-pressed juice is the finest method and ultimately the most effective way to deliver phytonutrients, micronutrients, and minerals straight to your body – as evidenced we weren't lying when we said you'd be stress-free.
Local founder Mat Sacksady starts his day off in a suit working IT for the public service, then strips down to a singlet and shorts after hours where he is a personal trainer, and what's his get-up by night you ask? Well, one must assume he is naked and pressing fresh juices.
"When I had my first cold pressed juice I was hooked! The benefits of 100 percent vegetables consumed in liquid form means people who find it hard to eat their daily vegetables and fruits or don't have the time have an easier solution. Instead of keeping track of how much veg you've had each day you can drink a cold-pressed juice with all the solutions the body needs. We know how important it is to fuel our bodies with the good stuff that's why we're bringing naked into family homes," Mat says.
Mat has been in the fitness industry for five years working as a PT and fitness instructor. He experimented with juicing at home, developing his own personal fave flavours and recipes. Mat then researched various beneficial vegetables and fruits and mixed and matched to get the exact right flavours. He came up with the following concoctions:
Paging Dr. Greens for digestion, hydration and power:
One to keep the Dr. away – Paging Dr Greens gets your insides going. Bursting with all the best greens, this green goddess will have you wanting more. Containing spinach, cucumber, celery, kale, parsley, lemon, lime and coconut water for some natural sweetening this one really packs a punch and will fuel your body for life itself.
Peach Bums for inflammation, boost and relief:
Who doesn't want a peach bum? It is equally packed with flavour as it is with benefits. Containing mandarin, carrot, peach and turmeric, this glass of goodness helps fight inflammation, assists with healthy digestion and tastes darrrn delicious. Chug one of these if you're looking for that extra kick. Whether it be a sleepless night with the kids or a dragging arvo at work, it is the go-to juice when you need something to pick you up and keep trucking.
Wake up Jeff for digestion, performance and balance:
Morning or afternoon, Wake Up Jeff doesn't discriminate. This juice will fill you with all the nutrients you need to keep performing, containing beetroot, carrot, mandarin, ginger, blackberry, and lime –this mix is the definition of boost. An all-rounder filled with loads of flavor, this beauty assists in boosting performance, preventing constipation, reducing inflammation and feeding our bodies with the important things to keep us healthy.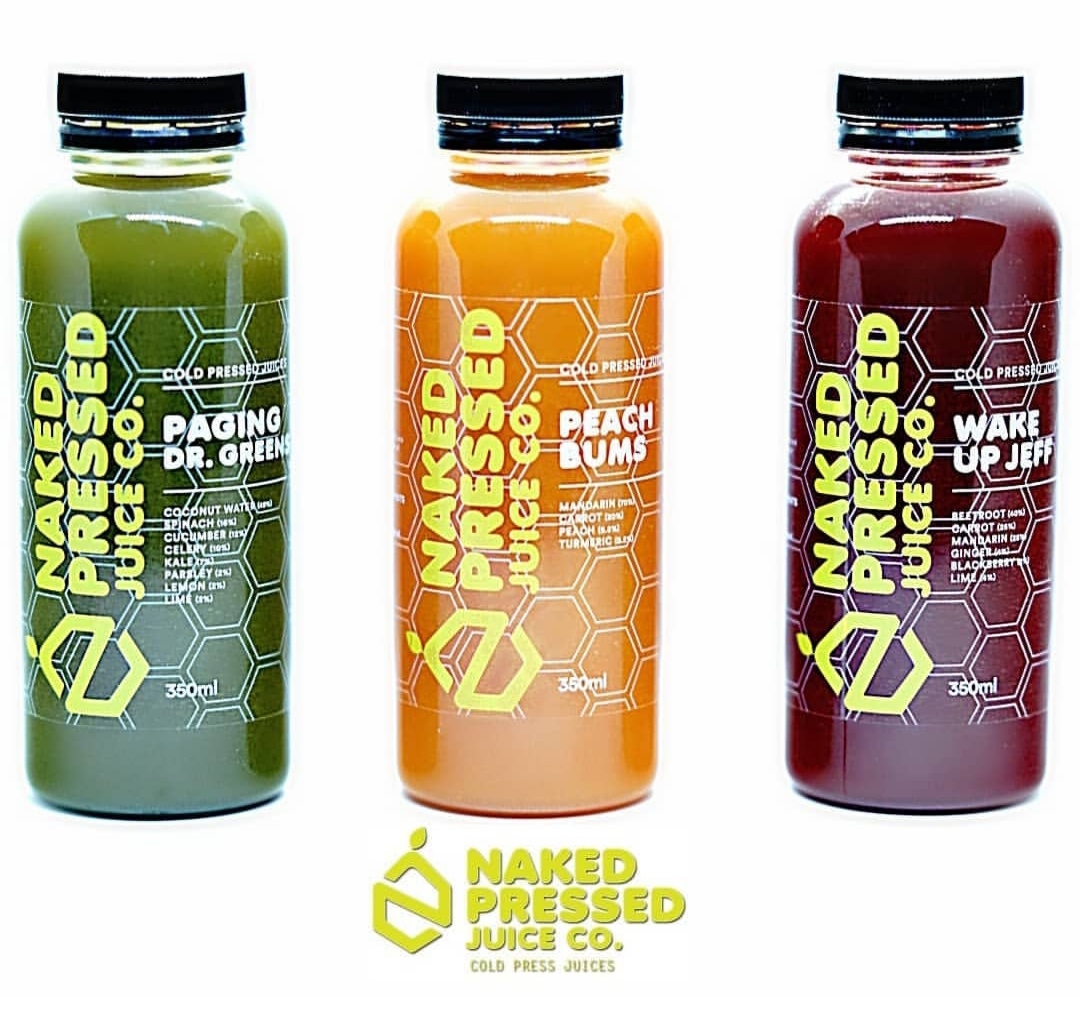 The above three flavours will be released to local cafes around town after Naked Pressed Juice Co have their official launch June 30 at The Forage where we can expect an exclusive flavour plus wellness shots – in case we need extra energy to walk around snacking.
Use this Discount Code LETSGETNAKEY2018 to receive 10% off your first order HERE