No matter what style or preference, we all wear denim. And while we see different shape and colour styles come and go from fashion trends, denim always holds a special spot in our wardrobes. Therefore finding the right fit for you, is the key to decoding denim.
Boyfriend Jeans
Slouchy, baggy and relaxed. The perfect pair should have an oversized fit and look just that little bit too big. If you have a petite frame, look for a style that's tapered at the leg to avoid feeling swamped.  
Skinny Jeans
Skinny jeans are the body-hugging fit that acts like a second skin of denim. Tapered close to the body, a skinny style follows the line of the thigh and calves down the ankle. Typically found with a high rise or mid rise cut.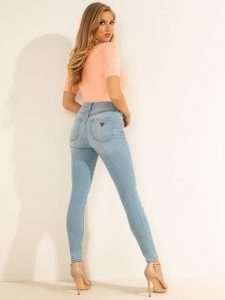 Straight Leg
With a snug fit on the thigh and a loose yet streamlined silhouette that runs straight down from the waist to the ankle, this classic denim style is now coveted – replacing the skinny for the supreme fashion girl option for a casual take on smart casual. 
Mom Jeans 
Long back pockets, a baggy fit around the zipper and an ultra high waist – this was the denim style favoured by mums in the 80s and 90s – Think Rachel in friends. In recent years the mom jean has become one of fashion's most-wanted styles.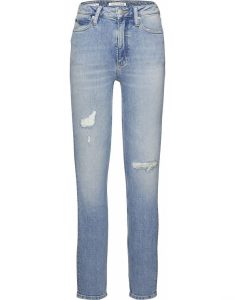 Cropped 
Typically your jeans graze the ankle, a cropped cut takes the hem up a few inches, sitting low on the calf. Perfect for those of us that are on the shorter side (insert arm up emoji)  Playing with your proportions, opting for a cropped fit is the fastest way to elevate your day-to-day denim look. 
Wide-leg Jeans
Wide leg jeans are cut wide throughout the leg, beginning to flare around the mid-thigh and then continuing down to a wide leg opening. This style elongates your legs and give the perception of height, perfect paired with heels for a chic modern look.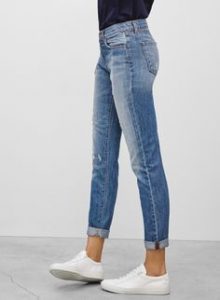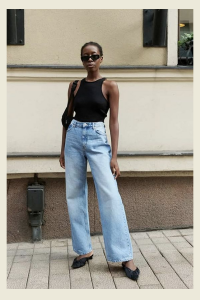 Stylish looks like these don't have to break the bank either, find all these items and more at Canberra Outlet. For more fashion tips & tricks on how to style denim, check out what our G&T Time stylists had to say on this week's episode.