Krystal Hurst is an extraordinary Canberra-based artist, who grew up on the mid-North Coast. A talented jewellery maker, her NATSIAA artwork is inspired by her grandmother and ancestors before her, as she worked to create a piece that would make her feel strong and proud of woken in her family.
Krystal is a rising star receiving a second nomination two years running at the most prestigious Indigenous art awards. Krystal is the only finalist to be representing the ACT at the Telstra National Aboriginal & Torres Strait Islander Art Awards. 
Her NATSIAA artwork showcases the very best in Australian Indigenous art by contemporary artists. Krystal wanted to remind her 'mob' who they were and who they were connected to.
The layered pippy shells are threaded with seaweed beads to represents the many generations of Worimi women and the continuation of their knowledge and strength passed on to the younger generation.
"I wanted people to know, see and hear the many stories of her people through my shell necklace, jewels speaking beyond the ocean".
It has been a busy year for Krystal. She has facilitated her first weaving workshop at the National Gallery of Australia, conducted Aboriginal jewellery workshops at National Museum of Australia and presented work at First Draft Gallery in Sydney and Emerging Contemporaries Exhibition at Craft  in Canberra. Undoubtedly deserving of the win at this years awards hosted in Darwin, Krystal has another milestone to add to her rewarding year.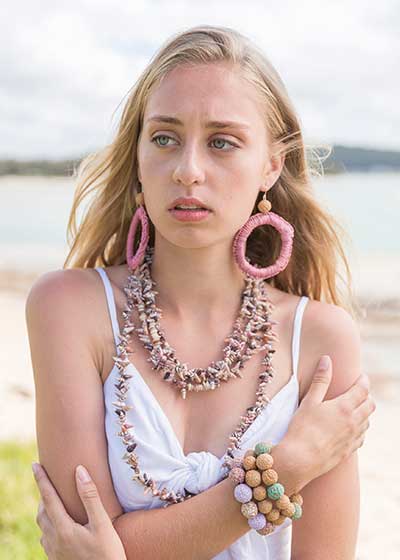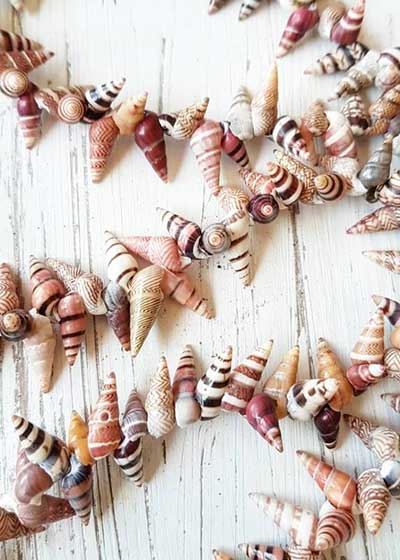 Q&A: Telstra NATSIAA finalist artist Krystal Hurst
What have been the things you are most proud of in your arts practice in the last year?
Being a Telstra NATISAA finalist two years in a row is definitely one of my biggest achievements so far and has given me the confidence to dedicate my energy to developing my arts practice further.  
What inspires you most in your practice?
My main inspiration derives from my Country, family and memories growing up in Taree and the Great Lakes region. I'm intrigued with the power adornment has in speaking about identity, connection, colonialism and what this looks like in a contemporary context.
What do you hope people love most about your jewellery?
I think people love that Indigenous artists and designers are making their mark in the fashion and arts space. The ability to wear Indigenous art that tells a story or has an important message to create change. I think, it shows the impact arts and jewellery has in Australia and around the globe. If my jewellery has the ability to do that, then that's what I love most about what I do.
What were you trying to achieve with your NATSIAA artwork?
Over the past few years I have been reflecting on my mother, grandmothers and the amazing women in my life who have made such an impact, but does Australia know their names? For me it was about honouring them to show that I am thankful and in debt to the struggles they endured for me to have the opportunities they didn't. I've always admired their strength, love and humour through adversity. So  I wanted to honour them, through my artwork.
What was the process for creating your NATSIAA artwork?
I've had the idea of this work in mind for over a year and I reflected a lot about the saltwater and Koori Matriarchs from our community. My Aunty Vicki Grieves told me stories about how she'd collect banded kelp shells with Aunty Mae Simon. I also have memories collecting these shells when I was a wonai (child) with my mum around Forster and Manning Point, near Taree. To me these shells represent our connection to the sea and each other as well as our collective resilience due to colonialism. When I was young as a family, we'd always go out to Manning Point and Crowdy Beach to gather pippies to cook up. So with all these elements these stories and memories are weaved together to create a powerful piece to honour them.
What does the next 6 months look like for you with your art practice /what's the next step?
I'm working on a few exciting projects, some are collaborations with Indigenous artists and designers to co-create jewellery collections together. In collaboration with Mamiwatta Collections, we'll be live streaming a fashion show as part of Sydney Craft Week in October. I've also been successful in obtaining an arts ACT grant that will support my arts development in contemporary jewellery to explore sovereignty, identity and colonisation. This project is also supported by the ANU Jewellery & Object School of Art and Design, Jewellery artist, Melinda Young and the Indigenous Jewellery Project. 
Winners will be announced in a special online ceremony hosted by Brooke Boney, live 6pm at www.natsiaa.com.au where you can also vote for your favourite artists in the People's Choice awards. Krystal Hurst will have artwork featured at the MAGNT gallery in Darwin, exhibition opening 8 August.