Aside from the weather warming up and the pretty sight of the early blooms, the best thing about spring is the changing menu's which help you recuperate from a few too many winter warmers. Interlude Espresso Bar have mastered a crisp, colourful and tasty take on a new spring menu which aims to bring the freshest products forward for their everyday eaters.
With a strong focus on their regulars, this new menu has been designed with dietary appropriate dishes in mind without increasing price or compromising flavour. Most menu items are vegetarian/ vegan with the option to add meats.
If you're just popping in for a quick coffee break, the Armenian style Knafeh will catch your attention. Using kataifi pasty soaked in orange blossom, layered in a honey pistachio blend.
We went in for a stickybeak at the new menu where we may have eaten a little too much and spent a lot of time Instagramming the vibrant spring menu.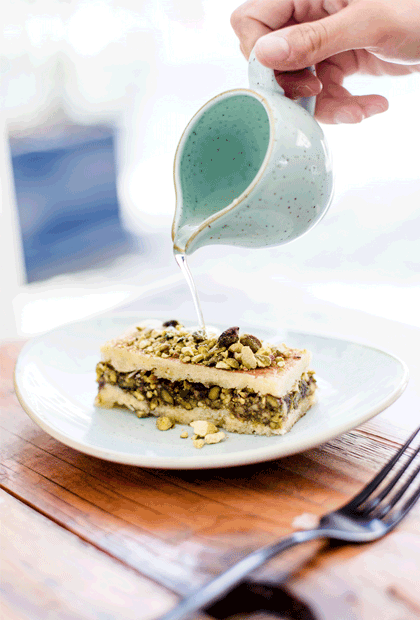 The Pulled Pork Benedict is smothered with a chilli hollandaise which was a nice surprise for its rich taste and spring orange colour. They call the cut of meat the Boston butt (an area between the shoulder and neck) which not only melts in your mouth, but also makes a fun #hashtag. The house made hollandaise is unlike anything you'll find around the city. The secret to it is the addition of juice from their pickled chillies plus Sriracha and creamy butter. Accompanied by sautéed Tuscan kale and poached eggs on dark rye, this dish was hard to finish!
The spring twist to the Smashed Avo has a tartness crunch to it with the addition of in-season pomegranate to give the avo added flavour. Feta and za'atar (possibly the perfect combination) are crumbled over the top of the poached eggs with a side of watercress.  The leafy green contrasts well against the dark rye.
The house made Zucchini Dumplings are a light creamy texture with a crisp shell. First the zucchini is salted and passed through a batter before being deep fried with carrot, herbs and garlic, then laid to rest on sautéed Tuscan kale and watercress. A pop of purple makes this dish standout, using house made Sauerkraut (pickled cabbage).
If you're looking for a breakfast which screams spring, the Chia Pudding – which may I add is vegan – is the perfect pick. It comes to the table almost too beautiful to eat. Chia soaked for a few days in a mix of almond milk, mango juice and maple promise a world of flavour. On top you'll find Interlude granola, a blend of pistachios, almonds, cashews, peanuts, and sesame with a granola glaze. Perfectly sliced fruit is the finishing touch to this refreshing choice, the type of fruit varies from week-to-week based on in-season recommendations by their local fruit supplier Go Troppo.
To accompany the new menu, a variety of smoothies, shakes and fresh juices are available. The burgers have been slightly adapted to suit the season as well as some new salads including a vegan levant kale salad, zucchini noodle salad and vego Caesar – expect an Interlude take on the classic, set to go down a treat over a lazy lunch upon their outdoor seating.