The great outdoor – it's not for everyone, however the first time the Naked Cubby Collective showed up in my newsfeed I remember thinking 'I could do that.' And physically, yes, I could do that, but getting a booking was another story. A stunning backdrop of Mount Majura Vineyard with the guarantee of great food and wine – where do I sign up? Since its launch in April 2018 the minimalist tent (named after winemaker Edgar) has been booked out every single weekend! I was beginning to accept that one would never stargaze under the fig trees.
Until this week that it is, The Naked Cubby Collective has launched its second tent at Mount Majura Vineyard (known as Frank the new winemaker) and the entire experience seems surreal. Initially I enjoyed the idea of luxe camping without the stress of running out of supplies (wine to put it bluntly); but since then I can appreciate that this could possibly be the ideal way to take in the Canberra wine region.
Both cubbies feature a king bed from Sealy, luxury linen, solar-powered fridges and lights, books, board games and a breakfast hamper. Guests have the option between 'Simple' or 'Schmick' packages, the difference being that 'Schmick' incorporates a wine tasting, bottle of Mount Majura Vineyard wine and dinner hamper from Schmicnics.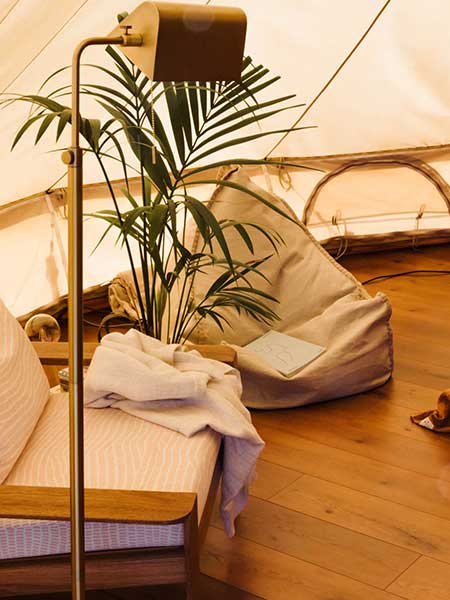 Being compelled by the tranquillity and dining on the picturesque picnic table alongside a fruit orchard and The Truffle Farm are all givens with this epic experience, but visitors also have the opportunity to indulge in vineyard experiences with winemaker Frank.
"Our first cubby emphasised the concept of staying 'naked'; stripping back and switching off during your stay," says co-founder Erin Wilson. "While both cubbies are a collection of local designers and producers, like Curious Tales and Schmicnics, we've designed Frank with an increased focus on the vineyard and its incredible wine."
While Edgar is perched at the top of the vineyard and has cosy vibes, Frank sits at the base of the slope with views up the vines and is earthy and moody. Choosing between the two will be toughest love triangle you've ever experienced. Regardless which way you go both choices are secluded and offer privacy making these tents the ideal date location.
"Our first cubby has illuminated the demand for exciting experiences in the Canberra wine region, from both tourists and local Canberrans. Our team has already started work behind the scenes on where the next cubby location might be," Erin says.
Frank is now open for bookings Frank is available Wednesday, Friday, Saturday and Sunday nights, as well as other nights upon special request. Check-in is at 2 pm and check-out at 10 am, with late checkouts also available.
Don't forget to Nominate for Singled Out, Canberra's first reality dating series.