Imagine this: you've just arrived at the most picturesque place on earth, you make your way down the long winding cobblestone streets lined with Tuscan style homes and shopfronts in all different shades of terracotta. You continue past the row of delish smelling beachfront restaurants to the pebble-covered shore of arguably the most instagramable beach in the whole entire world scattered with brightly coloured umbrellas and day beds. You dip your feet in the Tyrrhenian Sea and take in the serenity. Simultaneously you spin around and literally have to pinch yourself. Squeal. Then pinch yourself again. While you look at the sweeping cliffsides that is the magical seaside town of Positano, Italy. I struggled for adjectives while writing this column. What words could possibly describe that scene in all its glory? When I looked up at the view I had none. No Seriously, my mouth was left wide open, I think I almost drooled and shed a few happy tears down my cheek. After much analysis, the only way to truly describe this experience is #gobsmacked.
Now imagine that you had no idea that one of your bffs from Canberra was going to be in the exact same holiday spot as you, all the way on the other side of the world! And that she would organise for you and your gal-gang to go on the most memorable dinner date ever. Well, it was a reality for me and this is how that day went down.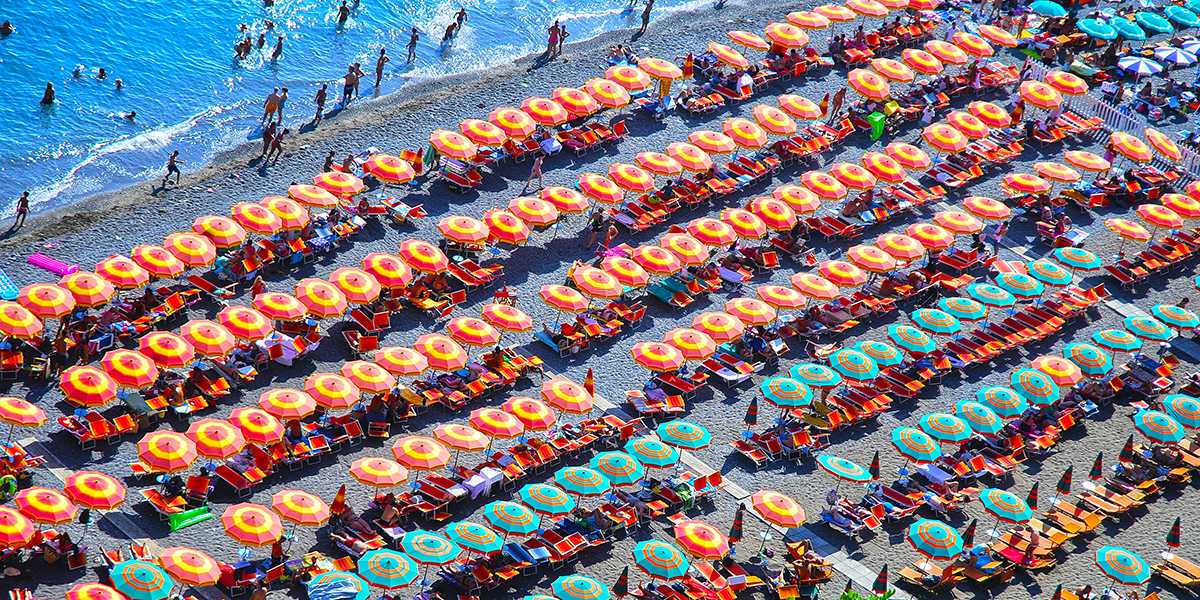 I awoke in paradise to a traditional Italian breaky ready and waiting courtesy of my amazing family run hotel; scaled the cliff down to the beach; embraced the suns out buns out mentality for 4-5 hours while listing to tunes and continually turning to my left to ask my friends if this was "real life" because wtf I still couldn't get over my surroundings and the fact that I was finally at the destination I'd dreamt of visiting since forever. I grabbed a limone (lemon) gelato which was served to me in the carved-out lemon it was made from – what will they think of next – before commencing the cliff climb up 237 stairs back to my hotel. A nap was in order before getting ready to visit Ristorante La Tagliata for a dinner that was unknowingly about to be the best of my life.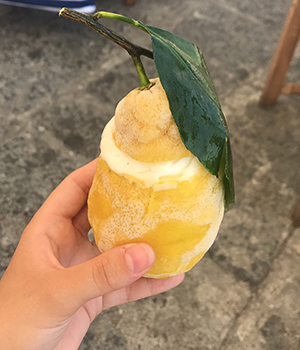 Four best gal pals and I made our way to the entrance of Ristorante La Tagliata after being transported from our hotel to the top of the cliff courtesy of the restaurant. We walked through an arch which revealed to us the view we were about to soak up for the next two and half hours all while we devoured four courses of Italiano deliciousness. I won't try to explain what we saw. I'll just leave you with the photo's below to admire the scene from when we first arrived to moments later when the sun had set.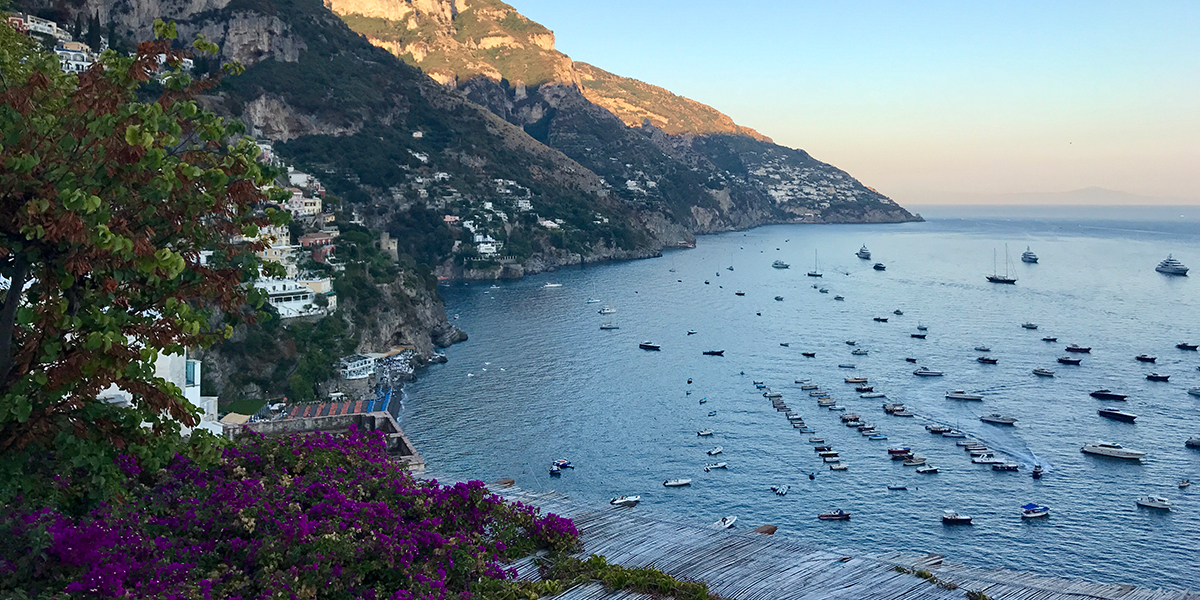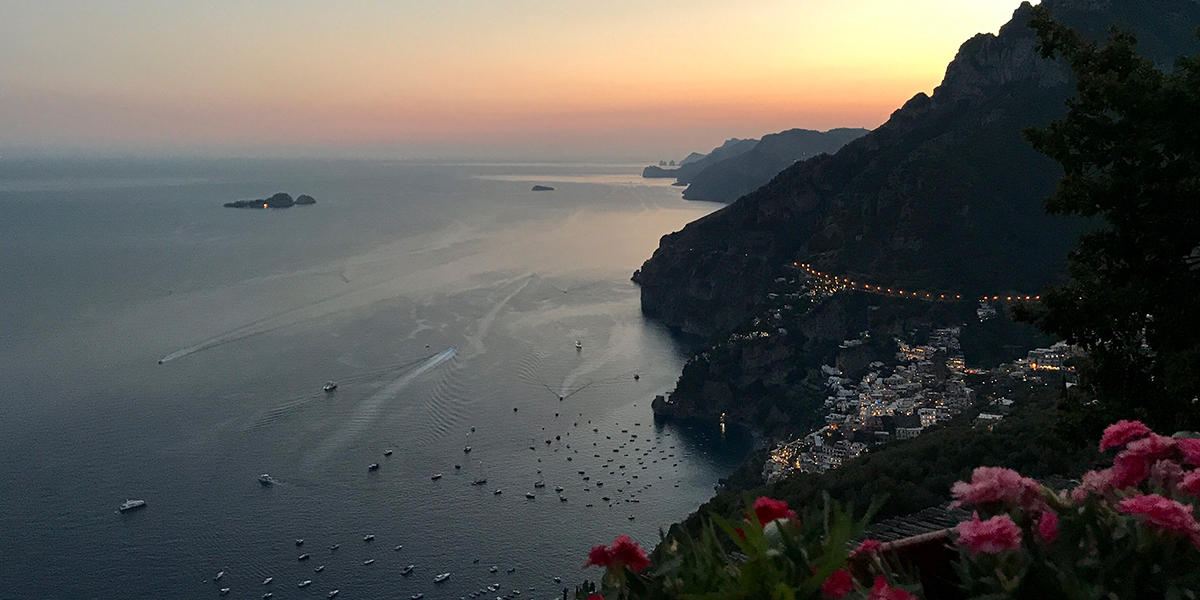 First up, antipasti platter goals with fresh tomatoes, basil, mozzarella and homemade salami. Course two was five different types of pasta including my all-time fave a red sauce gnocchi that (hate to say) gave my own Nonna a run for her money. Next was eight different types of meat and how could I forget the hand-cut potato chips.
Dessert was a selection of Italian cakes. Think the creamiest tiramisu you've ever tasted with a spot-on alcohol to coffee ratio.
What made this experience so special was that everything was handmade and prepped on site. The restaurant was perched above a family home where everyone in the fam participated in cooking and serving over two seatings each night! Every single piece of produce was organic and grown in the terraces that adjoined the restaurant and all the cheeses and meats were made on the premises. Even the wine was stomped from the grapes growing in the vines that covered those terraces. All for just $60 Aussie dollars each. Oh, and you got a lift home after a few too many wines and an epic food coma.
The night ends with the executive chef (aka Nonna) entering the restaurant taking a bow, blowing a few kisses and standard Ital-granny spec telling you to 'mangiare, mangiare' (eat more). 
If you don't visit Positano (and post bulk insta pics) at least once in your lifetime did you even really live?
I hope you enjoyed your Monday escape.