While we all hope for the winning ticket, rocking up to race day with a winning look is equally as satisfying. Whether you are planning on entering the Canberra Outlet Fashion's on the Field or just want a head-turning number, we chat to resident expert and stylist Sofia Polak (@sofiapolakstyle) on finding the perfect Autumn racing outfit, ahead of the 2019 John McGrath Auto Group Black Opal Stakes, Sunday 10 March. Sofia shares how to push the fashion boundaries, where to add those finishing touches, and trackside tips and tricks to keep us vogueish all day long at Thoroughbred Park. 
What are the 2019 trends males should be looking to dress to?
Linen has been a strong trend throughout spring summer so I except to see it come through in men's race wear, as well as lighter colours in suits and accessories. A floral print will also be a trend coming into the Autumn racing season, particularly for ties, pocket squares and shirts.
All guys planning on attending the John McGrath Auto Group Black Opal Stakes race day this year, must absolutely incorporate accessories into their outfit such as watches, pocket squares, flower pins, ties, bow ties, suspenders, binoculars, umbrellas, and of course a hat. Hats will be highly regarded by the Canberra Outlet Fashions on the Field judging panel and forms part of a traditional racewear look.
What trends will shape Autumn racing for women?
Ladies racewear is my favourite style genre as it's a complete head-to-toe look. This season Lady-like dressing will continue to be a big trend and perfect for a day at the races, think ankle length hems, statement sleeves, covered shoulders and high collars. Romance is also a trend perfectly suited for Autumn racing so consider floral prints, frills, lace, blush tones and a pop of red. In contrast, make a statement trackside by going bold, go for yellow, orange red, animal print and over the top shoulders or sleeves.
In terms of headwear hints of Australiana and natural fibres have been the go-to for fashionistas in the know. Elaborate crowns and wide brim boater style hats will be the popular choices this racing season and also the classic beret will make a comeback.
Accessories are just as important for women and can be clever way to incorporate fashion trends. All details of a racewear outfit must be carefully considered and polished and that includes hair and makeup.
Should we be sticking to age-old traditions or can we break the rules?
Whether you decide to stick to traditional racewear or make a statement by breaking the rules it must reflect your personality as nothing makes more of a statement than being true to your style and having fun with your look. However, if you are entering the Canberra Outlet fashion on the fields you must abide to traditional racewear – covered shoulders, a minimum knee-length hem and closed toe shoes – but it's how you make this look your own that will set you apart and catch the attention of the judging panel.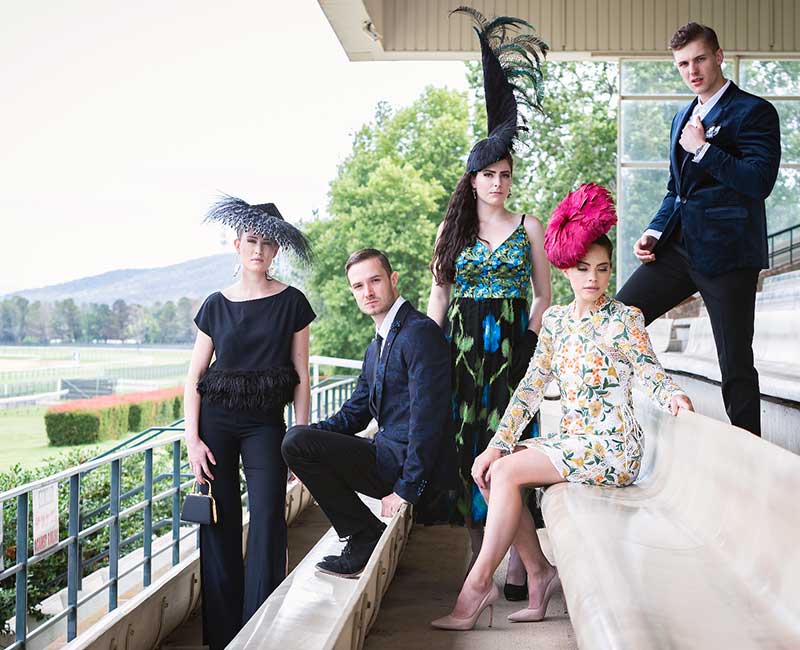 Hat or fascinators in 2019?
Hats, hatinators and crowns. In the last few years the emphasis on elaborate head wear has grown and embraced by fashionistas for both autumn and spring racing carnivals.
Is there a way to comfortable racewear dress? 
Absolutely! You should never wear something you are not comfortable in especially to the races. It's a day of fun, socialising and perhaps a sneaky punt or two so the last thing you want is feeling uncomfortable in what you are wearing.
Whatever trend you wish to follow make sure the dress or ensemble you go for fits you well and reflects your individual style. Consider tailoring to make the dress work best for you and your body shape or to fix if there is something about the dress that you know will annoy you on the day.
When it comes to head wear make sure it is fitted properly by the milliner or secure tightly with lots of bobby pins.
And of course, opt for comfortable shoes! There are plenty of midi-heels or block heels which will complement any race day outfit. No one wants to be the girl that takes her shoes off on the race track.
What should we splurge on and where should we try and save money? 
It depends on what you want the feature of your look to be. My advice would be to splurge on either the dress or the headwear, and for racewear, I would recommend you splurge on headwear and get something special at least once. It'll be worth with it especially if you are entering the Canberra Outlet Fashions on the Field.
Once you have splurged on your headpiece, shopping out of season is a great way to save money on your dress and shoes to complete your look.
Also, you don't have to buy a whole new outfit, shop your own wardrobe for statement jewellery and other accessories and don't be afraid to get creative – such as updating a clutch or bag you already own with a vintage broach or headscarf.
What's the most notable fashion difference between autumn and spring carnival dressing? 
You must dress for the season so even if you are opting for a floral print, make sure you choose a thicker fabric, a long hem or a long sleeve and consider accessorising with gloves.
In autumn, avoid flowy strappy dresses, low back and neck lines, short hemlines, straw hats, and of course strappy shoes.
As for headwear opt for leather, felts, wool and avoid sinamay fascinators and straw hats.
Details
Gates open: 11.30am
Local racing commences: 1pm
Under 18s: Free (accompanied by parent or guardian)
Parking:  $5 to parking attendants from Rotary who will donate the parking fee to a charity of their choice.
Tickets: Early Bird $20 – $25
Student: $5 (Student ID needs to be provided at door)
Members: GA inclusive
Aged pensioners: $5