Welcome to the first instalment of the Suburban Series. This week we're exploring an inner South favourite, Deakin. This beautiful old suburb is located in South Canberra and plays home to the iconic Australian Mint and official residence of the Prime Minister. The development of Deakin began in the 1920s, and now has a popular group of cafes, restaurants and businesses.
You're guaranteed to find a snap of the attractive dishes and flamboyant smoothies from Doubleshot on a brunchy Instagram account or a friend's social media feed. Located in the red brick extension of the original Deakin shops, patrons can choose to enjoy the sunshine amongst large pots of greenery, or inside the cool industrial fit out.
Inside is a fabulous feature wall of stacked wood with a neon sign that glows 'I wake up wanting to kiss you'. Which is fitting, because once you have tried their incredible all day menu of french toast, hotcakes, chimichanga, smashed pea fritters, katsu chicken burger and acai bowls…. you will want to kiss the foodie gods!
We highly recommend their famous peanut butter smoothie or one of the many raw vegan delights living in the cake fridge! Open 6.30am-5pm weekdays, and 7am-4pm weekends. Need a location for an event? They're also available for private functions.
View this post on Instagram
View this post on Instagram
This authentic pizzeria is another creation from the people who brought you Urban Pantry and their next-door neighbour, Doubleshot! They're passionate about eating, celebrating and socialising with friends. The pure essence of Italian cuisine!
On their hearty menu you will find classic woodfired pizzas, handmade pastas and antipasti such as truffle arancini, calamari fritti, braised veal and pork meatballs, and just good ol' meat, cheese and olives. Finish off with a crème brulee, bombolini (warm doughnuts filled with chocolate) or some zingy gelato. They have a great kids menu too, which will cater to the needs of little bambinos.
Open every day for lunch 12pm-3pm, and dinner from 5pm until the eating and festivities finish!
The all-rounder. Open for breakfast, lunch and afternoon tea, you will always find this humble and well-loved café full of people. A fresh sandwich and salad bar allows the staff to whip up almost any combo your heart desires.
They make a range of rolls and pastry items from scratch every day – an early start for the committed staff! Everything is prepared and baked in store to guarantee the ultimate freshness, golden edges and divine bake house aromas.
Locally sourced, high quality ingredients are used as much as possible, which is probably why they won Canberra's best vanilla slice. What more of an excuse do you need to visit? Open weekdays 7am-6pm and Saturday 8am-1.30pm. Closed Sunday.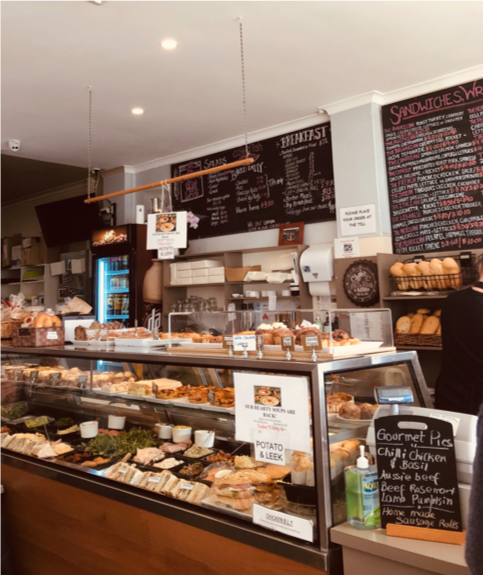 View this post on Instagram
Shoe love is true love…or so Sissa Sorella thinks so. Opened in 2018, the feminine boutique offers a carefully curated selection of women's shoes and accessories. Nestled between Doubleshot and Locale, it's the perfect location for a spot of shopping on a full belly.
As soon as you walk in, a wall of shoes greet you, which is bound to get the heart racing for the shoe addicts. Pink velvet chairs and a plush green sofa add to the high-end vibe of the store (and a great place to sit while you try on the many fabulous shoes).
They have recently stocked the indulgent non-alcoholic mixer from Seedlip, one of the world's first distilled non-alcoholic drinks. Seedlip claim they have solved the dilemma of 'what to drink, when you're not drinking'.  Perfect with soda water, or as a mixer for gin or vodka, it's bound to be a crowd favourite during Summer.
The label design of the bottles are so funky they would stand out on any shelf! They have three options in store; Garden 108 (herbal), Spice 94 (aromatic) and Grove 42 (citrus).
The sophisticated styling, polished concrete floor, natural wood elements and gold features mean that just having a quick peep inside is a delight in itself.
Open every day, you can check out their website for operating hours.
*Keep an eye out for more locations coming soon. There are plenty waiting to be discovered in the suburbs of Canberra!