The Meating Room in Weston isn't new to us here at OutInCanberra, but we definitely don't mind revisiting a venue when we get word that there is a smoked Rib Burger that's got all the locals talking.
A hunk of cape grim short rib as well as a beef patty and Pialligo bacon – don't try this burger if you get the meat sweats. To combat the meat, American cheese and slaw make up the rest of the epic creation. It's served with a side of salt and vinegar pringles so you don't fill up on fries! This burger is exclusive to the 'Up in Smoke Thursday' nights, probably because it takes the entire day to prepare!  For those hungry enough to take on this burger, it will set you back $30 and does require a strong jaw but nonetheless deserves a spot on the bucket list.
While we came because of the hype buzzing around this bad ass burger, we stayed to try the breakfast and lunch menu.
Imagine a big fat house made rosti on a burger with not one but two of our favourite meats – bacon and chorizo. Well at the Meating Room this option is a reality, plus two eggs, cheese and relish make it the perfect Brekkie Burger. It smells like breakfast and it tastes like heaven. Another hearty option is the Big Breakfast; eggs, Pialligo bacon, pork sausage, grilled tomato, mushrooms and rosti on sourdough. It has all the big brekkie essentials except the quality is a notch above the rest. Whether you lean towards a healthy or cheeky brunch option, a common dominator among the two is that they will both be incredibly filling – you get your money's worth here.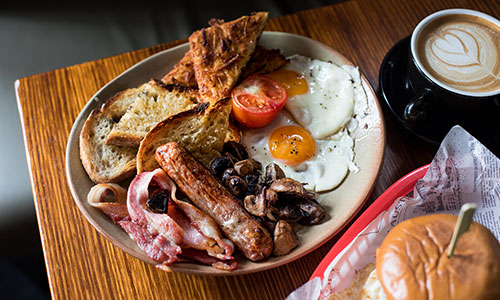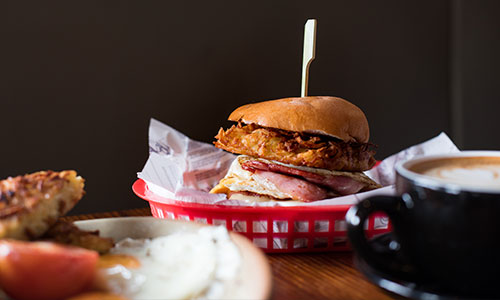 If you're feeling a topped toast, you'll have a hard time deciding between the Caprese Avocado and the Mushroom Asparagus on toasted multigrain. Avo, tomato, bocconcini, mixed seeds with a poached egg and balsamic reduction is one I could breakfast repeat each day, the Caprese is filling and nourishing. For the mushi fans, wild mushrooms with asparagus, spinach and goats cheese – by this stage I swear I had eaten five different cheeses.
Among all your classic options is the most refreshing Acai Bowl. A Berry smoothie bowl with house made granola, peanut butter and seasonal fruits – a dish you'd expect on Lonsdale Street. I acted like this was the first time I'd tried it but truthfully Meating Room is my local and I have been known to grab one take away on the weekends.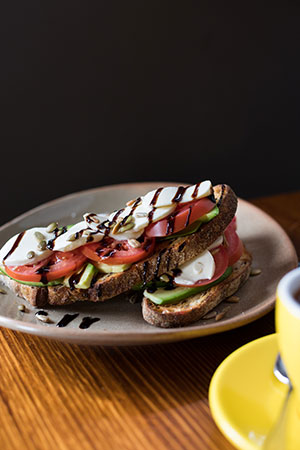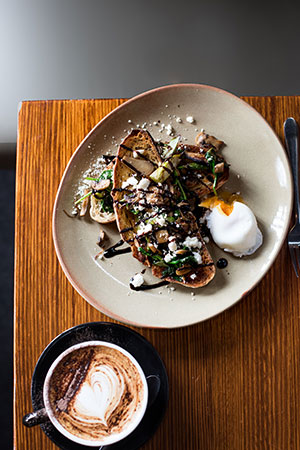 Moving on to the lunch/ dinner menu it is evident the restaurant aims to rehash the idea of bringing people together, having a feed and sipping on a much-needed end of day drink. Each day of the week boasts different specials and live music is a hit towards the end of the week.
For something light go for the Sweet Potato and Goats Cheese Salad, it is super healthy and tasty filled with chickpeas, kale, rocket, slithered almonds, onion and a lemon and pepper dressing.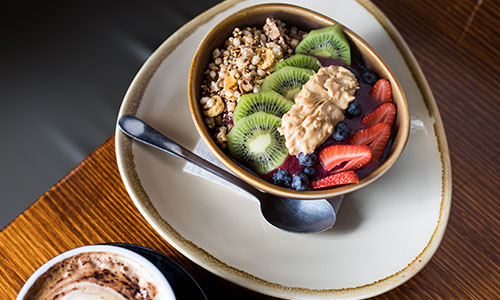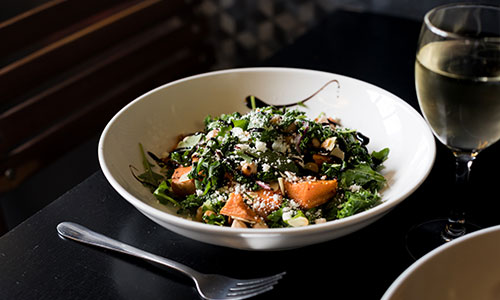 The larger plates are perfect for weekday dinners and the casual atmosphere means you don't feel bad coming here most days of the week. The Pork and Salmon remind me of a Sunday night roast worthy dish. Generous servings of protein, potato either baked or mashed and veg way better than mum can do it. My colleague suggested this would be the perfect place to stick to your gym eating goals #gains. The pork came with a few surprises – like the sweet bout of poached apple! A pork cutlet pan seared on roast garlic & leek smash, sautéed veg, poached apple and rosemary jus. As for the salmon the skin was crispy, the fillet was large and juicy and you'll want to be dipping the roast kipfler potatoes in the salsa verde.
Behind the bar you'll find a craft beer selection – always with a local option – because that's just the Meating Room, they encapsulate everything it means to be a trusty local.
45 Liardet St, Weston