Canberra's first Spartan City Sprint is approaching on 26 October and we're getting ready to run, jump, climb and swing through some of the best obstacles in the world. To help us mentally prepare we have Spartan Master Trainer Richard Williams on the line to give us insights into the wide world of Spartan training, or the Spartan lifestyle as they call it. A well-rounded approach to health and fitness – the mental transformation in this muddy way of life sounds equally as rewarding as the physical.
Catch Richard's tips and tricks to maintain a fitness routine, how to train like a weapon and most importantly tips for participating in race day. It may just make you fight the urge to sit down at the telly and get training!
What lead you to becoming a Spartan Master Trainer?
Spartan is above all a massive community of amazing people all looking to literally overcome every obstacle in their lives. This naturally means that there's a lot of psychology involved in the training side of things. Being a Spartan Master Trainer means you have to be able to teach functional training, running, and psychology and mindset strategies all in one. The challenge appealed to the obstacle racer in me! It also means you attract some of the most incredibly determined people, and see them make the most amazing transformations from people who doubt themselves in a group workout, to Spartans who drag themselves through mud, rain, heat and/or hurricanes for 50kms to shape who they are.
What's your most loved and most hated exercise?
My favourite exercises revolve more around the functional! Drills like rope climbs, parkour techniques and generally climbing over things and jumping around. I also enjoy a lot of running! It's meditative and really helps clear the mind and refocus your motivation.
I find the Spartan in me loves most exercises, as I'm always eager to learn new techniques from any discipline, and relish anything which is a challenge, which pretty much sums up just about all tough training!
Since we're all about the food, what's your ultimate breakfast?
Protein pancakes with fruit and maple syrup and a great coffee.
And favourite post workout snack?
Anything within reach.
What would one of your typical sessions look like?
My training is so varied it's unbelievable! Besides being a Spartan Master Trainer, I'm also a professional Stunt Actor. A lot of my own training involves acrobatics, fight choreography, and "stunt skills" involving falling down stairs, jumping off things and throwing other stunties around. When it comes to my strength training I'm a real nerd, programming is a favourite past time of mine so building and testing strength or movement programs for my clients is a favourite. Then structured run training involving intervals, long distance and threshold runs are a must to get the distance up.
When it comes to Spartan training, it's all about expecting the unexpected. Bucket carries, sand bag runs, swimming, ruck sessions, it all adds up. Once you pack all of that into a program, the "typical" training session for most Spartans seems more like a massive adventure!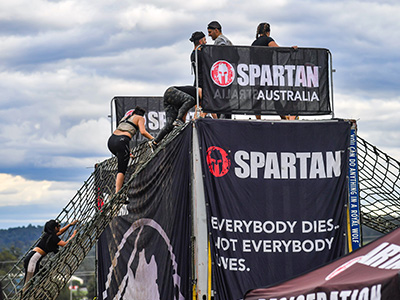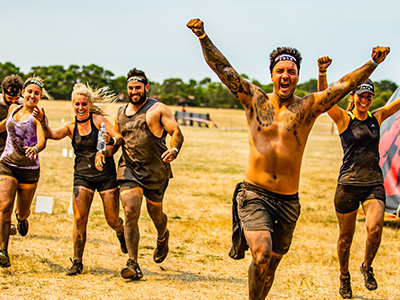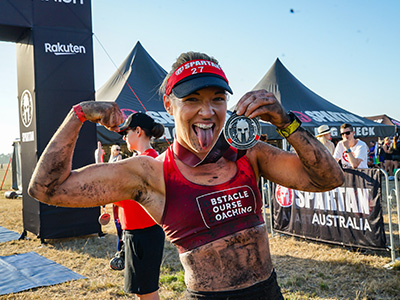 How do you stay motivated?
Motivation comes and goes. it's affected by our day to day lives, our emotions, our friends and family and our work. So I always tell people motivation is overrated! Routine and structure are everything, as well as mindset. You have to build a life around your training, so that if it doesn't happen you're literally left feeling unfulfilled. I also train my clients' minds to seek that moment where they make an excuse to avoid training, and then use that as an opportunity to overcome it! Notice when that part of your brain says "I'm gonna go home and watch a bunch of TV" or "I can't be bothered training today" and immediately stand up, pull the car over, whatever and get out for a run or a body weight session in the nearest park! Eventually that voice learns to shut up.
Do you have any advice before jumping in as a spartan for a day?
Be prepared for it to be a lifestyle. Spartan isn't a bucket list item, it's a lifestyle. When you cross that finish line for your first event, you realise that there's so much more to this community than just the race. If you're looking to start a race, or want to know if you have what it takes, find yourself a Spartan trainer. There's hundreds of us around, and they're some of the most passionate, supportive and incredible coaches you can find. Do a Spartan Race, it'll change your life. I know, because it did for me.
If you haven't bought tickets to the Spartan phenomenon, now is the time to gather your team together (or fly solo) with our 10% off code: OUTINCAN10.
The Details:
What: Spartan City Sprint
When: 26 October
Where: Kings Park, Canberra
Tickets: online here
Registration close 11.59pm 22 October 2019