Anthony Maras' ambitious docudrama re-creates the true story of men and women caught in the 2008 Mumbai attacks. An ordeal that tuned the Indian metropolis into a scene of panic and confusion through a series of coordinated shooting and bombing attacks over three days and nights (November 26 to 29). 
Based on hundreds of hours of firsthand research by Maras and co-writer John Collee, who interviewed survivors and witnesses to accurately retell the events of when 10 members of the Islamic terrorist organisation Lashkar-e-Taiba rained terror upon the population. 
When the terrorists launch their relentlessly brutal wave of attacks, the feeling of sheer panic, fear and desperation is intense – and it doesn't let up for the full two hours of the film. By the time the carnage ends, more than 170 people from over a dozen countries are killed.  
The film opens by introducing the nervous young jihadists preparing to carry out the strikes for which they have been trained by someone known only as "the Bull" back in Pakistan. Maras follows a pair of gunmen into a restroom of the Chhatrapati Shivaji Terminus train station, where they load their weapons before opening fire on the crowded public space, kicking off the terror spree. As the movie goes on, several characters, storylines and perspectives intertwine as the Taj Mahal Palace Hotel becomes the backdrop for the deadly attacks.   
As the world watches on, the terrifying assault on the hotel by four assailants (Amandeep Singh, Suhail Nayyar, Yash Trivedi, Gaurav Paswala), brings together the guest and staff of the luxurious hotel including wealthy new parents David and Zahra (Armie Hammer and Nazanin Boniadi) whose infant baby is stuck upstairs with their nanny Sally (Tilda Cobham-Hervey), Russian businessman Vasil (Jason Isaacs) and newly promoted waiter Arjun (Dev Patel).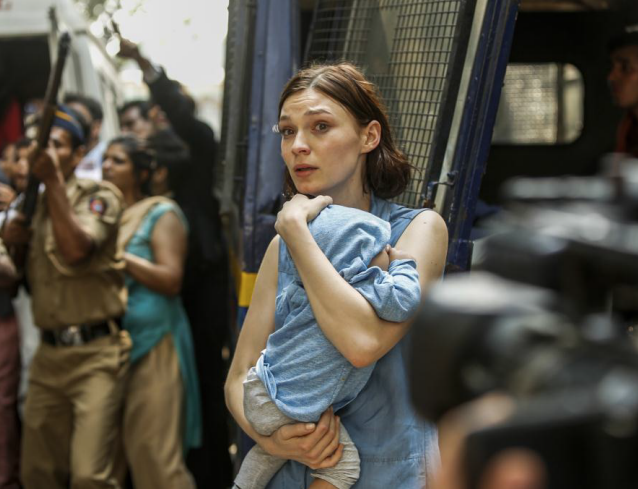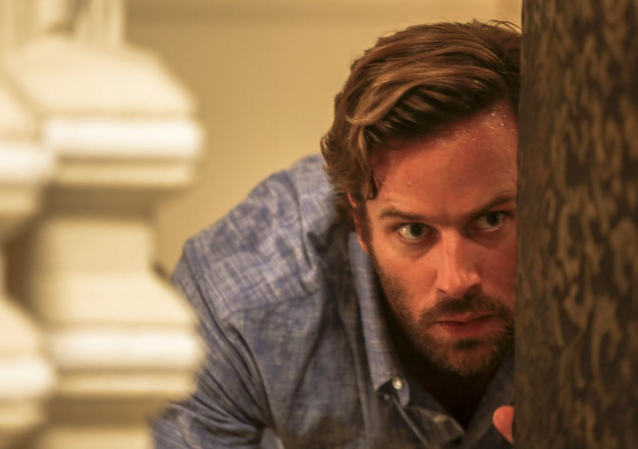 Although the terrorists are callous killers who believe fervently in their mission, glimpses are also offered of their naivety and vulnerability.  Maras points out: 
"The perpetrators were all young men, barely out of their teens, devoid of any formal education, they were prime targets for radicalisation by fundamentalist groups. I'm hoping that audiences come away with a more nuanced understanding of how and why these attacks occur."  
Though this struggle is mostly internalised by the perpetrators it's refreshing to see these deeper issues being addressed.  
For myself, the most powerful moment in the film is when Zahra is held at gunpoint by one of the terrorists. Quietly, she begins to recite a Muslim prayer.  
"That was both physically and emotionally grueling," the actress says. "But I love what it's saying: Extremism breeds extremism, hate begets hate. Here is this woman who with her stillness and her resolve is breaking through evil. She's facing the gunman straight in the eye. And she is overcoming him with the same verses from the Koran that they've both learned but are interpreting in opposite ways. Sometimes it's as simple as showing someone a different path. And that's such a crucial message for audiences today."  
Discussing the scene between Zahra and the gunman, Maras adds, "It was so important to us that the young gunman's story culminates when he comes face-to-face with not just a woman, but a woman of the Islamic faith. He goes into that hotel thinking his mission is just, firmly believing in what he's doing, having a moral code that he lives by. And when she stands up to him and recites the prayer, and he's ordered to kill her anyway — that's when he realises the hypocrisy of his mission. He realises he's been sold a lie."  
Maras continues, "The film holds up a mirror to some of our own biases, especially about how the Islamic faith is too often associated with terror." When amid the siege, an older white woman confronts Arjun out of fear over his turban. He tries to tackle the prejudice by showing her what his religion means and overcomes the moment with kindness and solidarity.  
This kindness and bravery by hotel staff is what struck and moved me throughout the film. It took Indian Special Forces hours to arrive on the scene, during which time, hotel staff were repeatedly forced to decide between the impulse for survival and the far more selfless choice of risking their lives in the hopes of saving others.  Reflected in the number of staff fatalities during the siege (of which half were staff members who had remained to protect their guests). Is a true testament to their extraordinary heroism, ingenuity and self- sacrifice. 
Maras himself remains awestruck by the many examples of bravery to emerge from the attacks. 
"Taj kitten workers stuffed baking trays under their shirts, makeshift bulletproof vests as they tried to lead guest to safety…other members led guest through hidden corridors to safety outside, only to re-enter the hotel and look for more people to save" 
Though it's easy to be overwhelmed by the horror of what occurred at the Taj, the true story is the courage and selflessness displayed amid such a tsunami of violence by guests and staff alike.  A true testament to remarkable individuals.  
I give Hotel Mumbai five stars!