The latest exhibition presented by the Library, in association with the National Centre for Australian Children's Literature, will take you down memory lane as you become reacquainted with old friends and are introduced to new ones from some of Australia's most cherished children's literature.
Looking at the works of great Australian authors and illustrators, Story Time will feature books, manuscripts, illustrations and ephemera from the colonial period through to the present day.
Rediscover stories like Seven Little Australians, The Magic Pudding, The Rainbow Serpent and Where Is the Green Sheep?. Exhibition Curator, Dr Grace Blakeley-Carroll is proud of what the Library has been able to create –
"The exhibition celebrates the exceptional diversity and evolving landscape of children's literature in Australia. We have works by Bronwyn Bancroft, Mem Fox, May Gibbs, Bob Graham, Emily Rodda, Ivan Southall, Shaun Tan, Ethel Turner and others."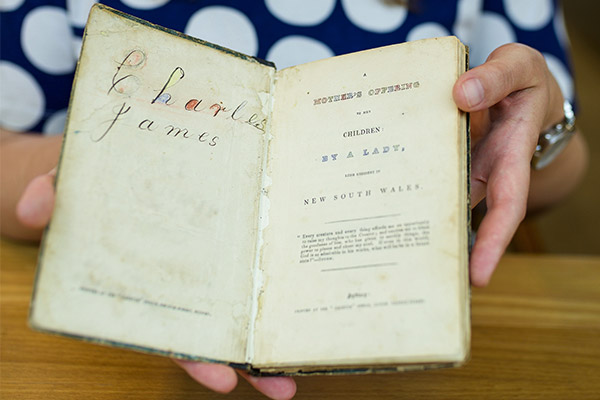 Charlotte Waring Atkinson (Charlotte Barton), A Mother's Offering to Her Children: By a Lady Long Resident in New South Wales, (Sydney: George Evans, Bookseller, 1841), nla.cat-vn777812
"The earliest written and published book we have is from 1841, by an unknown author. Bibliographer Marcie Muir identified her as Charlotte Waring Atkinson (Charlotte Barton), who wrote the book as a dialogue between a mother and her children. During those days it was very common for women to write under a pseudonym or simply provide no name at all." Grace explains.
Not just for visitors familiar with Australian literature, the exhibition will appeal to anyone who has experienced the magic of stories–those young and young at heart!
Grace highlights,
"A major consideration of the exhibition was what it would offer to the community. For many visitors, they will be drawn to the exhibition for the nostalgia factor – to relive memories from their childhood and share new experiences with their own children. For others who may have grown up overseas it will be an opportunity to learn and discover. But for whatever reasons you visit, this exhibition has the power to connect people across all generations."
As well as enjoying classic children's books that have been read and shared over decades, families can also have fun in the exhibition's Playtime section where children can write a short story of their own, watch stories from Story Box Library and more.
Take a nostalgic tour of your childhood at this free exhibition presented by the National Library of Australia and create new memories with loved ones at Story Time. It's an exhibition not to miss.
Join the conversation #StoryTimeNLA
When
22 August 2019 to 9 February 2020,
09:00am-5.00pm
Where
Exhibition Gallery, Ground floor