We visited Braddon Merchant earlier this month, to experience their new spring menu of good, honest food. Showcasing high-quality ingredients that evolve with the seasons, Braddon Merchant's dinner menu reflects effortless sophistication.
Positioned in the heart of Braddon, a bright and modern space on the ground floor of Midnight Hotel, Braddon Merchant is a hidden gem not to be missed. Expect an authentic dining experience featuring fresh, simple Mediterranean dishes and a 150+ bottle award-winning wine list.
Led by Amit Kashyap, who started with the kitchen as senior sous chef when the restaurant opened in September 2019, before recently taking the head chef position, Kashyap has drawn upon his 15 years of restaurant experience – most recently at Sydney's Méjico and La Scala on Jersey – to create the new spring menu.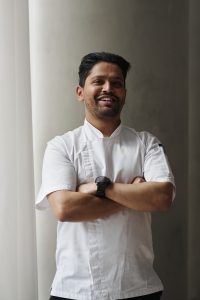 From appetisers through to sweets, Braddon Merchant presents a curated selection of dishes, perfect for both share-style experiences or for enjoying a la carte.
To start, we chose the freshly shucked oysters from Smoky Bay in South Australia, served with a refreshing yuzu kosho, to awaken the palate.
From the small plates, our highlight was the citrus cured scallops with cucumber lime jus, radish, and watercress – an unbeatable dish. Soft and creamy sashimi scallops, met with light and refreshing accompaniments, allow the freshness of the ingredients to speak for themselves. Moving on to a heartier dish, the slow roast pork belly with corn, shallots, yuzu sesame seeds and a beautiful jus drizzled on top makes for a homely and heart-warming choice.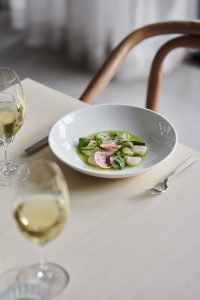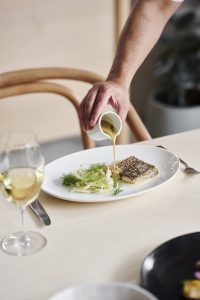 From the large plates, we selected market fish with soubise, fennel and finger lime butter; grilled oyster blade wagyu M4+ steak with chimichurri and charred broccolini; and a side of heirloom tomatoes, beetroot, perilla and yuzu. The rich, tangy sauce that is generously poured over the expertly grilled barramundi adds depth to the dish, while the wagyu isn't overpowered by too many ingredients finishing it off with a fresh chimichurri to add just the right amount of flavour.
Our waiter for the evening, Lachlan Hoyle, pours a 2018 Domaine Rougeot-Dupin Hautes-Cotes des Nuits Pinot Noir (Burgundy, FRA) to pair with the meal.
If you're partial to a sweet treat to conclude your evening, we'd recommend the almond soft chocolate cake with Amaretto liqueur, hazelnut and crème fraîche; and the bay leaf ice cream with pickled rhubarb, nutmeg, cinnamon crumble and bay leaf oil. The perfect note to end on, when paired with your last drop of wine.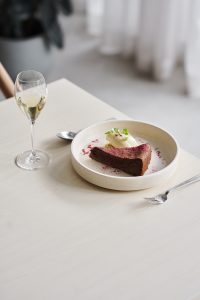 Braddon Merchant's spring dinner menu is now available, Tuesday to Saturday from 5pm. Bookings can be made via https://www.braddonmerchant.com.au/