From barns and cabins, to tree houses and caves, there are all sorts of types of glamping. While each of them is unique and distinct in its own way, you can count on a chance to disconnect from your daily routine and try something new while embracing the great outdoors with the ones you love.
But before planning your next vacation, weekend getaway with the family or a romantic trip with a partner you should know what accommodation style is best for you – cos trust us there are a lot out there! We check out the conventional and the not so conventional world of glamping accommodation on offer at Glamping Hub: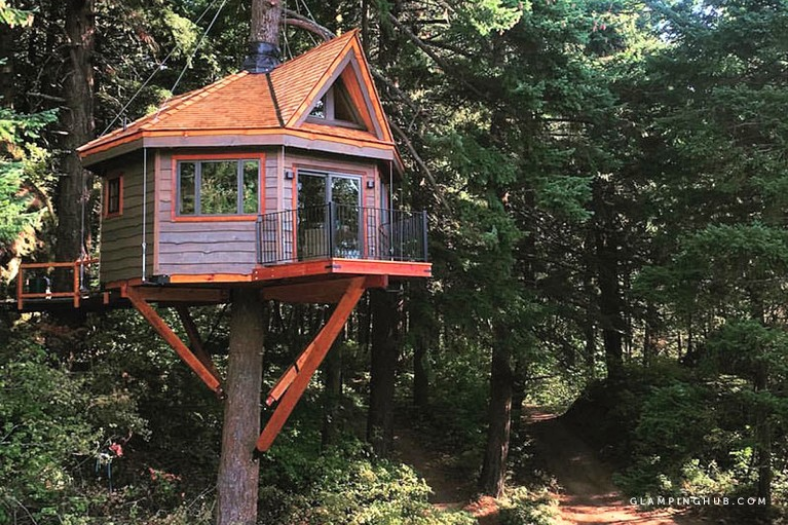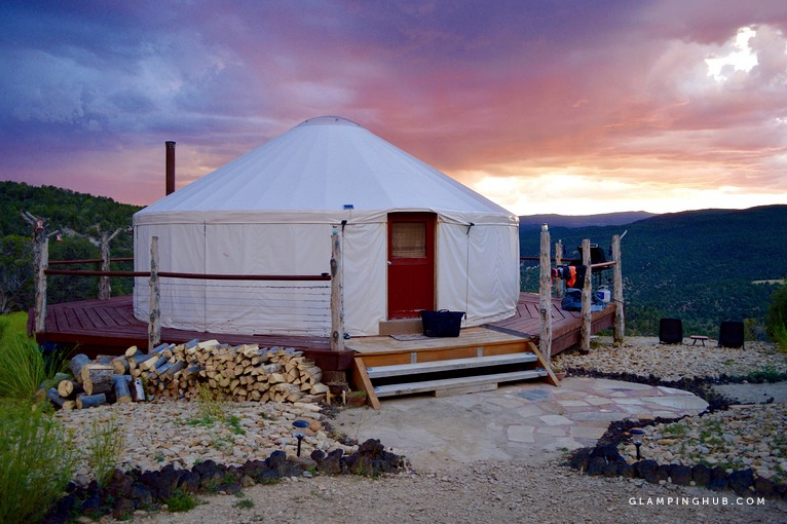 Tree Houses
Built high in the branches, tree houses are spectacular glamping accommodations for family or couple getaways. Cunning craftsmanship keeps these lofty rooms in their place, their interiors are carefully decorated and fully equipped to make your stay as comfortable as in your own home. So even if you have to access climbing ladders and crossing suspended bridges, the rewards for the climb are peace and quiet, fresh canopy air, and spectacular views.
Yurts
First used because of their durability and portability by Mongolian nomads, yurts are one of the more typical glamping accommodations and have become quite popular. Usually secluded in the countryside and perfect for any season, yurts offer a relaxing and comfortable setting from which to explore the great outdoors.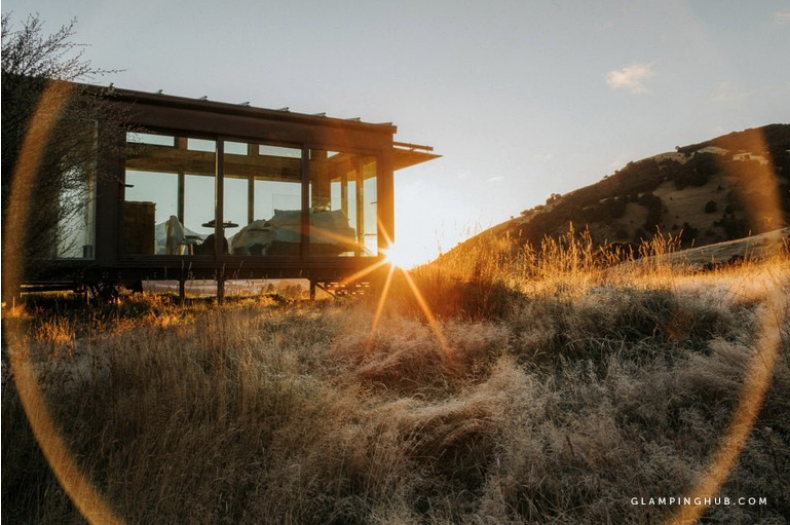 Tipis
The tipi, commonly traced back to the nomadic American Indians, is an ingeniously simple compilation of only a few raw materials. It begins with wooden poles erected in a triangular shape and tied together at the top form the skeleton of the structure. Then a durable fabric – historically animal skins but now typically a weather-resistant canvas or heavy cotton – is wrapped snugly around the poles, leaving only a hole at the top to release smoke, a small door and sometimes a window or two. A central fire would heat the structure in winters. Today, these conical constructions are a warm, spacious and a historical alternative to a modern tent.
Eco-Pods
Eco-pods are the ultimate glamping choice as they are perfectly suited for stylish camping breaks. Built entirely of local, natural or recycled resources, these eco-friendly pods provide excellent protection from wind and rain alike while retaining a cozy and homey feel inside. Their ecological footprint is extremely small compared to other vacation rentals because of their compact size and energy efficient systems. In terms of safety, they are as secure as any other outdoor rental. Whether you're in a remote location or close to urban life, you can't truly tell how amazing these eco-friendly accommodations until you try them for yourself.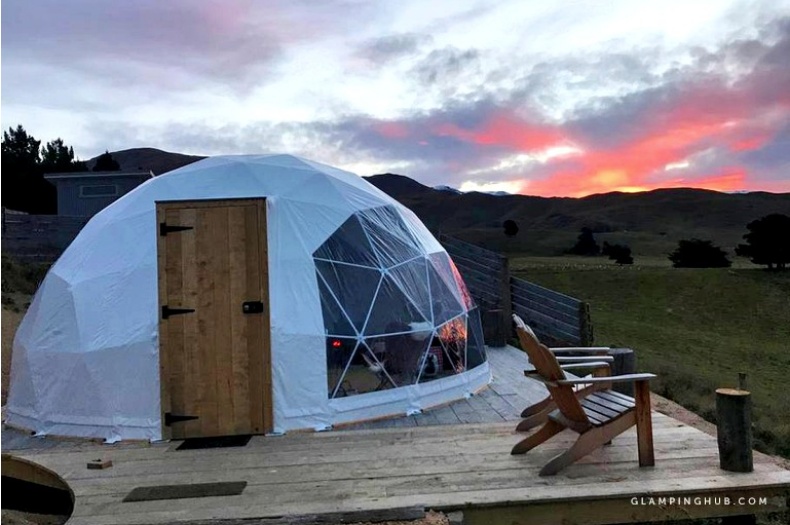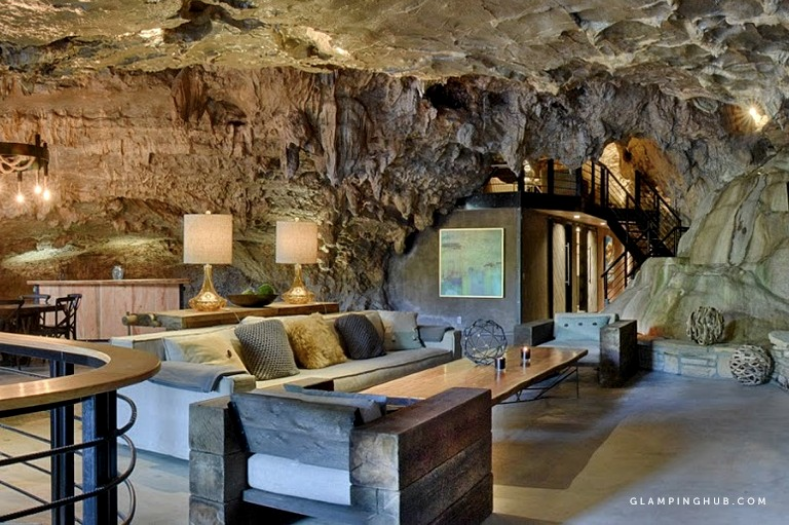 Domes
Domes are modern constructions in which luxury meets nature. Most of them are insulated with extra padding, offering protection from the weather and elements. What makes these structures special is their minimal negative effect on nature and harmonious blending into the natural landscape they are located in. Some of these domes look exactly like bubbles and thanks to their see-through tops, glampers enjoy views of the starry sky, from a comfortable and warm private space.
Caves
It might sound a bit, well, cave-man, to stay in a cave, but these natural underground spaces transport you back to a simpler time without advanced technology. Beds, tables and lanterns are added to create a cozy and comfortable stay. Some have electricity while others may be as primitive as they get, so if you're scared of the dark, these accommodations might be a good one to overcome that fear. Though there are currently no caves listed in Australia on Glamping Hub it's definitely one for the books if you're traveling to Europe!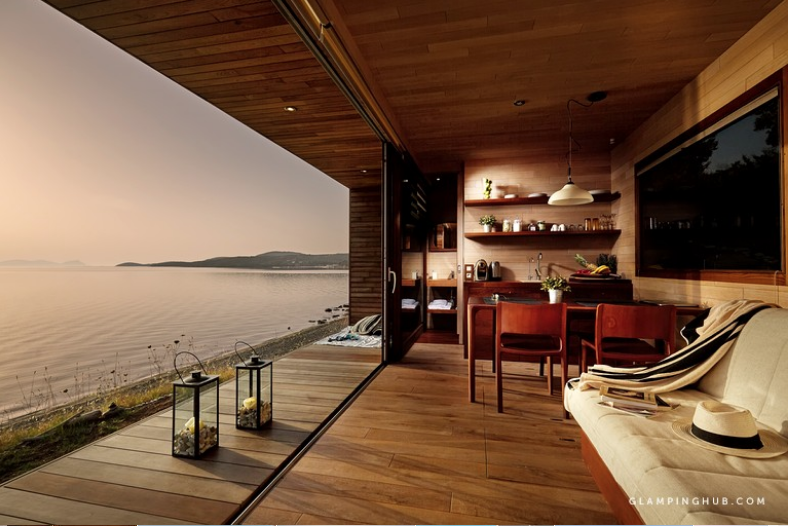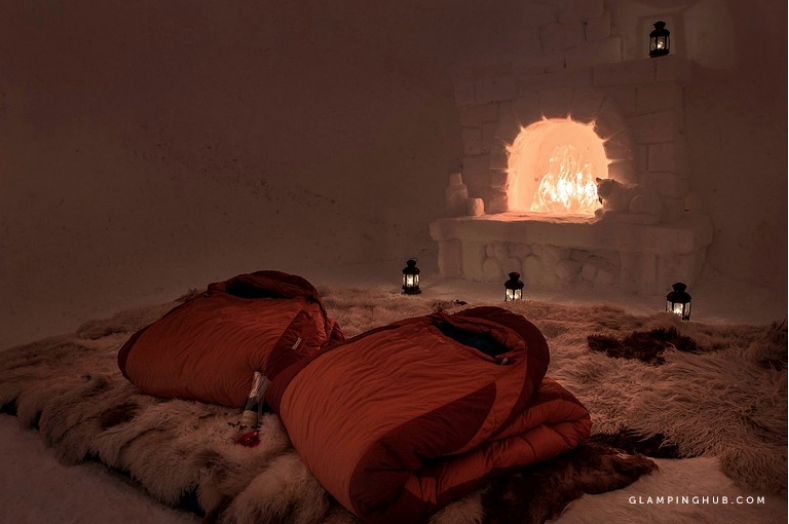 Tiny Houses
Glamping in a tiny house is an experience not to be missed. You would never believe all the luxurious amenities, tasteful decoration and homely atmosphere that fit in this pint-sized cabins. Whether it's a charming tiny house in Texas or a tiny cabin on wheels overlooking the Rocky Mountains, you're bound to fall in love with these unique properties. Check out the selection of tiny houses Glamping Hub has handpicked for you and find your teeny dreamy little house.
Igloos
An igloo is a dome-shaped house, usually built of blocks of solid snow. They were originally built by the Inuit, the indigenous people of the Arctic regions of Greenland, Canada and the United States. They used to use whalebone and hides to insulate their homes. Stay in an igloo and you'll wake up in awe as you take in the panoramic view that is sure to surround you. Despite popular belief, the inside of an igloo is not that cold! Human heat quickly raises the temperature to more than 10°C. If you dress correctly, which is to say the normal clothing you'd wear while skiing, you'll be just fine. Again, there are unfortunately no Igloos available in Australia but could be a great opportunity for the Canberra market!
For your next vacation, break away from the norm and forget that hotel. Check out Glamping Hub and book a trip you'll never forget!