With a mantra reading: "in every cup, in every meal, in every season, in every region, we gather,' it only seems right that your group chat gets together and makes the new Mort St Café in Braddon – Gather – its next quest. You'll find something for the foodie, for the health conscious, for the fussy eater, and the friend still stuck in 2018 who only cares about the foods instagramable nature.
On our visit we arrived at the same time a delivery was due. There was no van backing into a dock with a large food order, instead a woman dropping off a box of handpicked figs from her farm just outside of Canberra. Those figs would soon be used in the Spring Toast, paired with cinnamon mascarpone, strawberries, mint & lime dressing and honey comb – an infinite step up from your regular fruit toast.
At gather you can expect a few things on your table you never imagined a few years ago. Fuelling a gut-friendly upspring of probiotic drinks, including coffee kombucha and kefir, a milk-based drink which promises higher protein and probiotic than kombucha and encapsulates both a tang and fizz flavour profile. The entire drinks menu is made in house including a range of cold-pressed juices and nitro for those less concerned about their culture being out of whack.
A menu which captures the expression of freedom and delivers it straight to your plate. The cafe springs to life with its seasonal, colourful array of breakfast and lunch options.
While healthy options aren't an unfamiliar occurrence in Braddon, Gather owners believe there was a gap in the flooded market to fill. I knew this comment was explanatory of the depths of the Gather offerings, yet I was honed in on the devastating realisation that no one previously offered fish taco's! And now, no one else will need to. A clear standout on the menu, the Blackened Fish Taco's made up of soft corn tortillas, tilapia, cabbage slaw, avocado crema, coriander, jalapeno lime salsa and crispy fried shallots. I for one am guilty of already returning for seconds before I even made time to publish this article.
If the fish taco's foolishly don't spark your interest, the Jerk Chicken San Choy Bau topped with  red grape, pomegranate, peanuts and spiced sauce will win you over. Yes, you're opting for lettuce cups, but I can vouch that they came packed with the kind of jerk you don't tire of.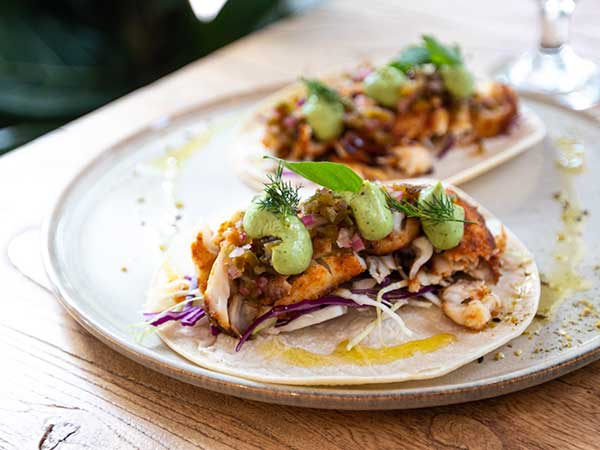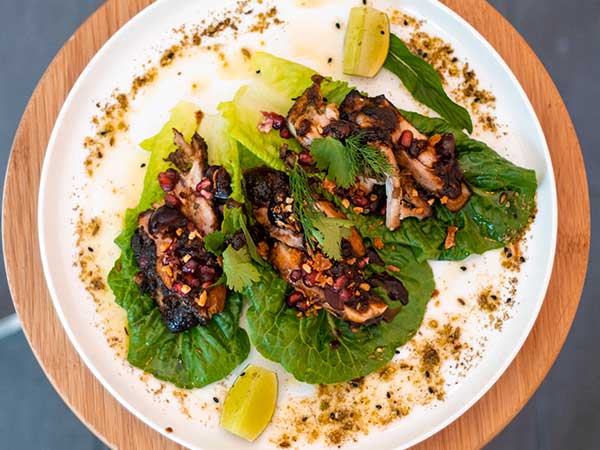 The Wild Mushroom Crepes use Gooda Creek exotic mushrooms on a wholemeal crepe with summer slaw, smoked honey & harissa yoghurt and poached hilltop organic eggs.
And for those clutching at refreshing breakfast options to help overcome this gruelling heat, the Blueberry Apple Pie Smoothie Bowl with cinnamon vanilla poached apple, house made granola, maple baked peaches and a banana popsicle made from coconut yogurt is everything you've been searching for.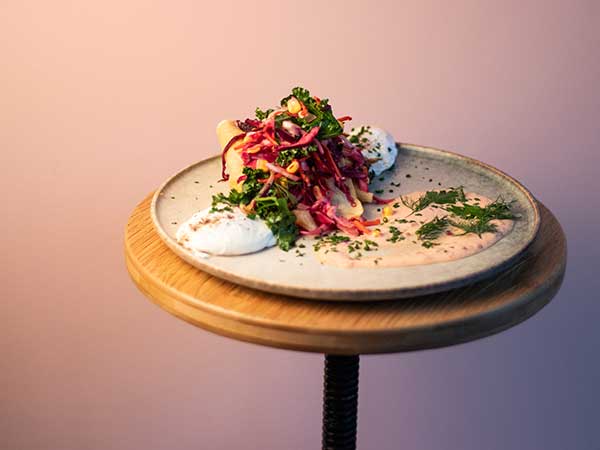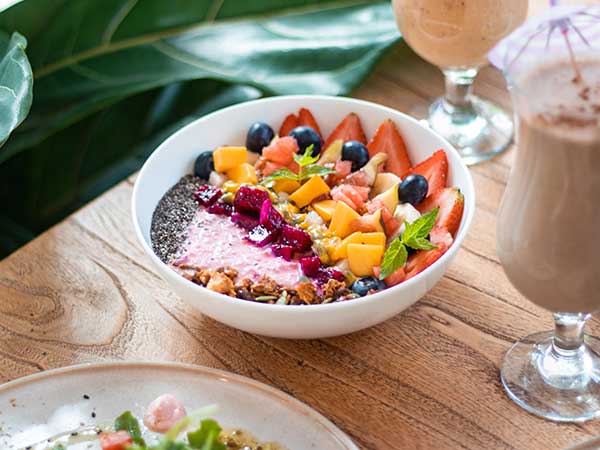 The small space doesn't stop the team from smoking their own Snowy Mountain trout over green tea, culture their own butter, and create an arepa bread, a popular South American corn bread and enticing gluten free option.
Already you can see Gather will be the type of café with a well-established customer base which you'll want to be a part of.  The venue is intimate with hopes of getting to know its customers for both their coffee order and their interests.