Swan & King at the Canberra Rex Hotel has been serving the local community an indulgent fix of high-end cocktails. From mixology masterclasses to decadent snacks, Swan & King has become a local destination fit for royalty. But there are bigger plans yet for the bar with the construction of a hotel restaurant in the space adjacent. The concept is for guests to be transformed on their night out, savour a drink and bite to eat in the charming bar and then escape for an evening of dining in the new restaurant. Skip dessert and opt for a decadent cocktail to finish off your evening.
Like its eccentric namesake, Swan & King was derived from Mad King Ludwig who was known to be a little out of the ordinary. The signature cocktails on the 5th floor are designed to align with this concept. Cocktails blends are centred around more of an American style creation of alcohol where we noticed flavour profiles were more prominent. It's also important to mention there is a rich selection of spirits, so you can expect great quality in every sip and no artificial syrups or salts in sight.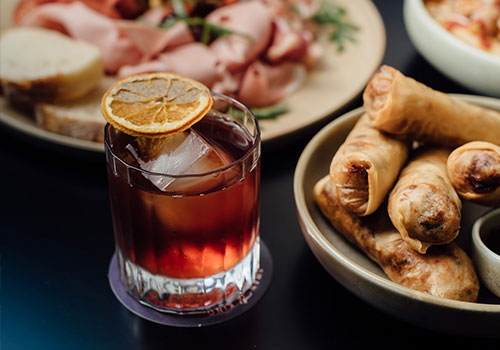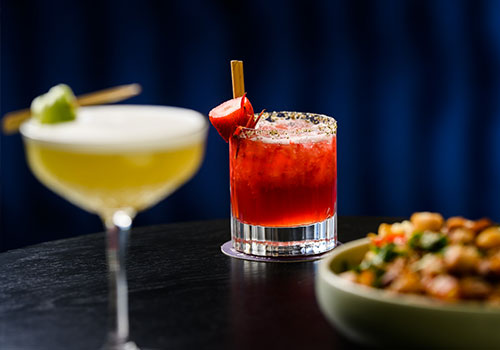 If you want to sting your senses in a delightful way, try The Sting cocktail. It is lime based with gin, Angostura bitters and house-made honey ginger syrup – this one is a good liquid entrée for the evening. On the other spectrum, my all-time favourite, the cocktail I haven't stopped gloating about since I stumbled upon it, the Frost Bite Martini. This drink is an extravagant white chocolate cream which is a foamy texture and goes down way too well – with a zingy passionfruit surprise to follow. I'm not one to pass up dessert but this drink meets my needs on both the drink and dessert level. You can smell the white chocolate coming from a mile away.
At Swan & King you will also find a twist on some of the classics. The Fawkes Negroni is a good example of this, picture an American style traditional Negroni with a gun powder twist. The taste of the house infused gin becomes elevated and complex smoky notes are released.
Another notable choice for its taste and theatrics is the Amaretto Bite. A shot of pomegranate liquor accompanies the drink in a cone which can be unpinned for guests to pour in the liquor themselves. This drink is interactive in energy, simple in its garnishing's and refined in flavour.
The No Name Prince really makes you feel like you're deep into the darkness of the night. Its colour is a rich purple and its flavour is fruity and mysterious, perfect for those who are tempted to embrace the encounter of the unknown. For someone who doesn't mind a drink (or two), I also know how important it is to eat when you enter a night on the cocktails.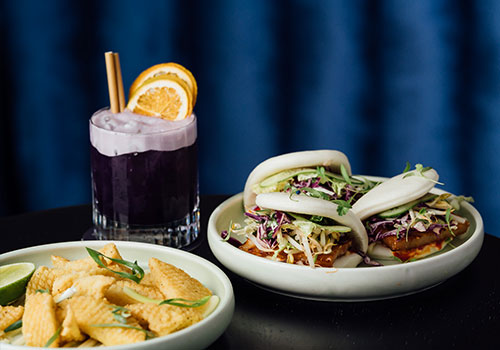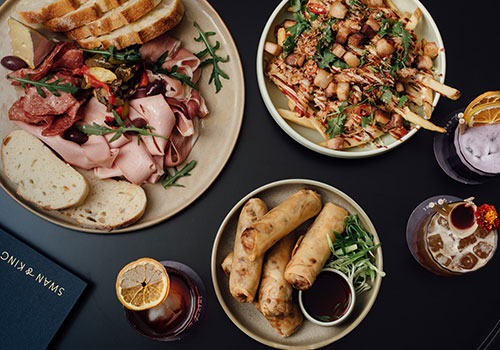 With a big focus on making celebrations supreme, it's no surprise that Swan & King have mastered a crowd-pleasing tasting plate with charcuterie, house bread, cheese and all things loved by everyone. While it's the perfect date night venue, it's also somewhere to bring a group of friends to share mushroom and truffle arancini and fight over the last olive.
The menu has everything you could want on a night out and is not limited to one cuisine, tantalising all tastebuds. Crispy shitake mushroom spring rolls, soft poached hen egg crumbed and served with garlic aioli prosciutto and cured egg yolk, a sweet and spicy satay salad with pickled veggies offset with coconut sauce and the option to add chicken or calamari.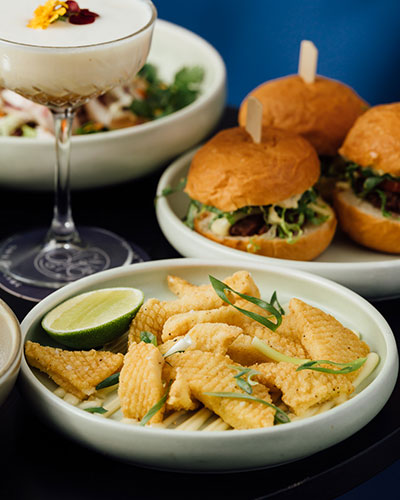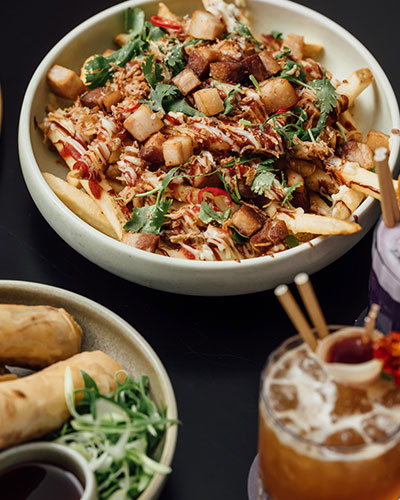 If you're a pork boa lover, you'll want to get to Swan & King and try their version, or perhaps the beef sliders which replicate a mini Big Mac! As for the late-night crowd, the loaded pork belly fries with wok fried pork, hoisin sauce, siracha mayo and crispy shallots are popular. Generally loaded fries have a greasy rep but these ones were fresh and left you wanting more.
Be transformed at Swan & King and let the waiters choose your next drink – you won't be disappointed.
Swan & King at Rex Hotel on Northbourne Av