Entering the world at a generous ten pounds at midday Wednesday 12 September 2018, Lazy-Su's sibling Baby-Su was born. We wondered if she'd consumed the Bao-gers on the menu on her way out, but we were assured her weight was healthy. Though she was a little overdue, thankfully she didn't need to be induced.
When the hoarding came down at the downtown venue on the corner of Moore and Alinga street yesterday, it didn't take long for the venue to fill with overly excited city-goers. The highly anticipated second venue from the founders of Braddon's Lazy -Su, has been brought to life as a fast-paced, more casual diffusion of Japanese-Korean dining. It's fun, playful and friendly creating the kind of atmosphere you'll want to dine in, and the kind of food you'll want to eat more than once a week!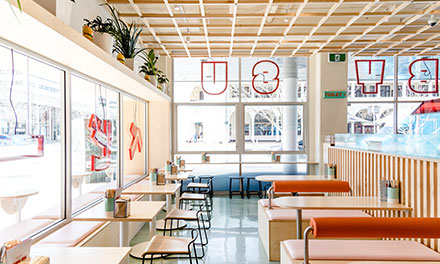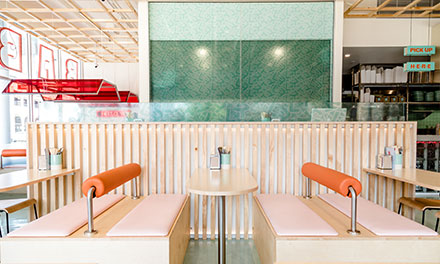 While sticking to the same core ethos of retro-styling  and pop-Asian, Baby-Su still manages to fill a niche of its own accord. You won't find styling like it in Canberra. It's light and bright surrounded by windows looking straight onto the bustling metropolitan street scape.
With more neon than a nightclub, Baby-Su will undoubtedly be the new after hours hang spot.  The team have completed the eatery with a vending machine of drinks and popular Japanese snacks, plus they have a Baby-Su Spotify playlist – I am envisioning a lot of late-night cravings ending up here.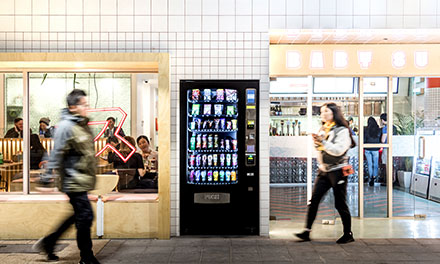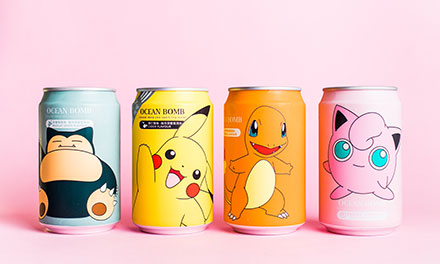 It's order at the counter, grab and go, with the option to sit in. Cute takeaway boxes of their iconic fried chicken, bao-gers which have been designed as larger versions of a bao and healthy rice or noodle bowls including short rib and miso pumpkin  make up the core Baby-Su offerings. And of course, a whole lot of quirky sides including cheesesteak spring rolls, waffle fries and kimchee Mac + Cheese. Their cult vegan following was in mind when creating the menu, assuring inclusive offerings including their version of a meal deal (called Lucky Pack) where you'll find a burger, waffle fries, side and drink combo are all vegan!
Baby-Su is open 7 days, 12pm – 10pm