Photography by Daniella Jukic
Despite admitting my love of matching tracksuits which lasted much too long in yesterday's recap of night one, I was still allowed back inside the media pit at FASHFEST's second night! I came prepared for another fun night and was not disappointed.
Show One opened with a jazzy performance by Soulitude which was really entertaining, before transitioning to the first collection by Melanie Child. This collection was a great nod to 90s grunge and had the best hair and make-up of the show. The models had their eyes done up with different shades of blue which was so striking on the runway. NZ Assemblage Project was notable for the teased hair on each of the models, as well as the funky tie-dyed prints. Trelise Cooper said "hello" to summer with a colourful collection full of interesting prints and flowy dresses. I particularly liked the sleek ponytail which all the models sported. Sabatini had pieces which could definitely be adapted for an 'everyday' look. The last collection, Coop and Cooper, was the standout for me. Apparently, long flowy dresses worn with sneakers are the new thing, and I'm not mad about it! I saw several FASHFEST guests rocking this look and Coop and Cooper reflected the trend perfectly.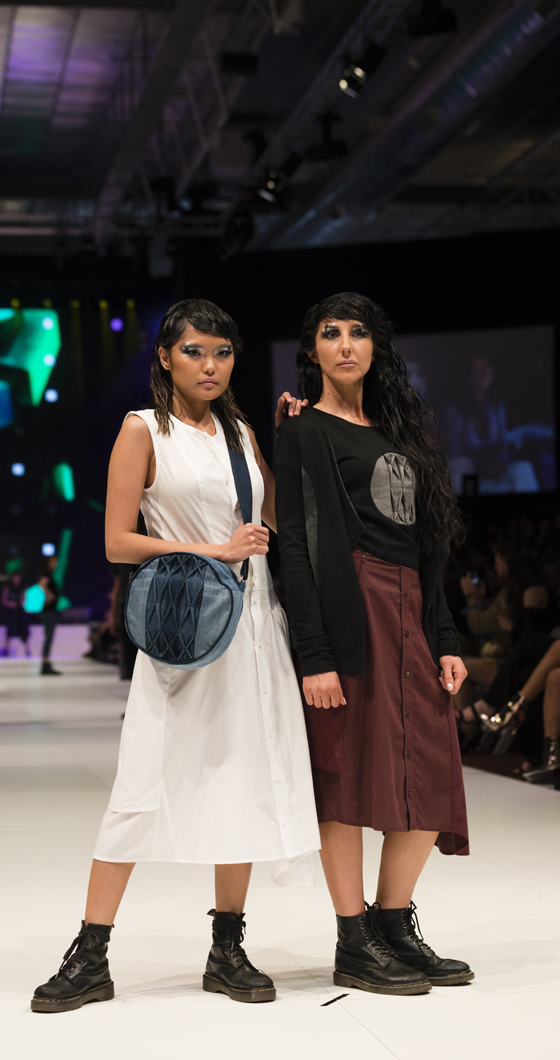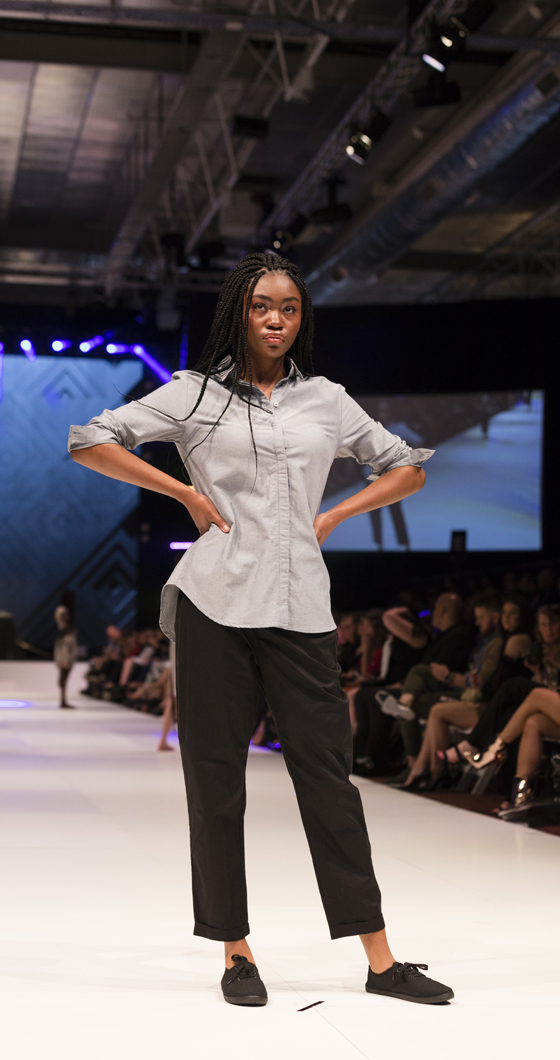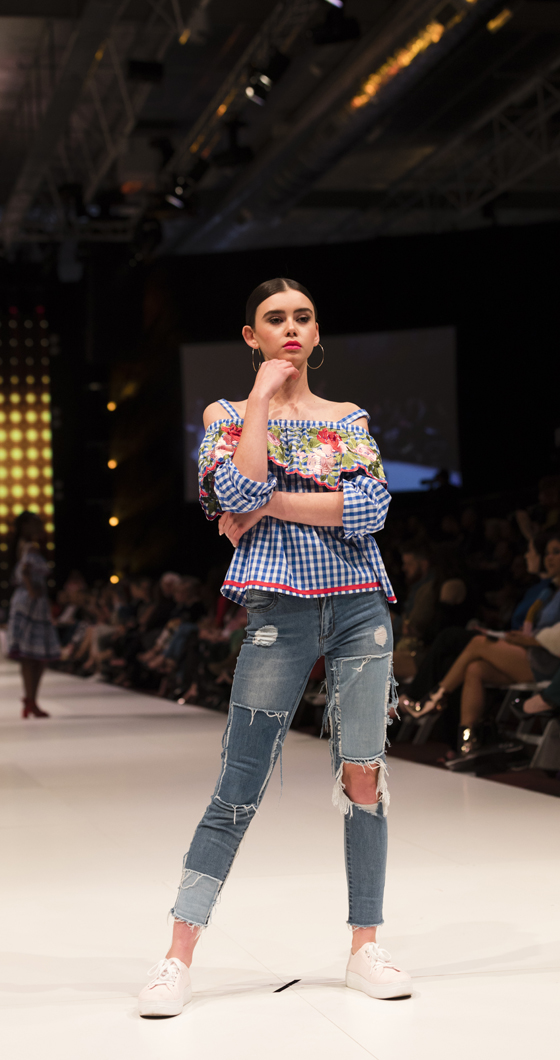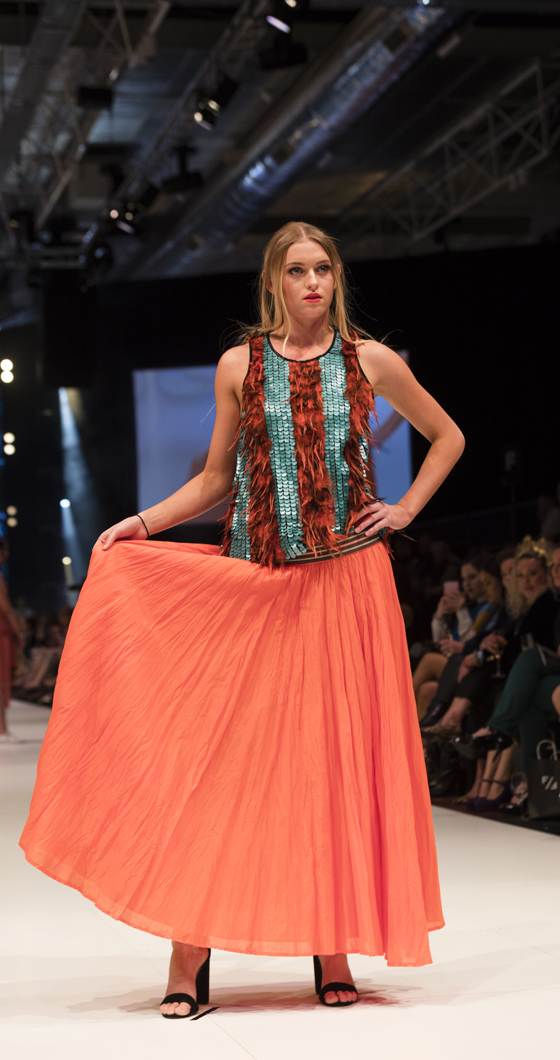 Then, it was time for a short intermission between shows. Once again, the Doughnut Department and Zaab made everyone's food dreams come true and the atmosphere in the crowd was full of energy and excitement.
Then it was time for Show Two! Kirklandd opened with an amazing performance which we've come to expect from this Canberra rapper. His stage presence truly livened the crowd and got everyone ready for the upcoming fashion. Augustine Brown performed second and was joined on stage by three flamboyant dancers. Then, the first collection emerged and immediately took the crowd's breath away. Bianca Pavlic The Label is now my go-to label for all things feminine and floaty. I loved that the delicate fabrics and quirky designs were paired with quite fierce hair and makeup. Definitely my favourite show of the night!
Next, CIT showcased their very clever collection. The stand-out for me was an outfit featuring what looked originally like a full midi-skirt but turned out to be a pair of amazing flared pants. They brought back the Canadian tuxedo of double denim in the best possible way, and one particularly beautiful black dress made people's jaws drop.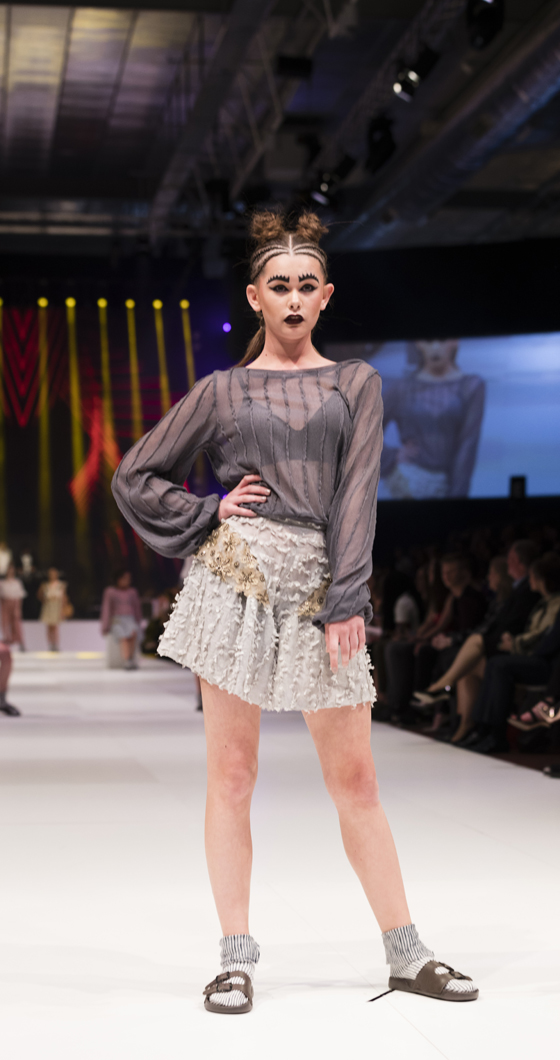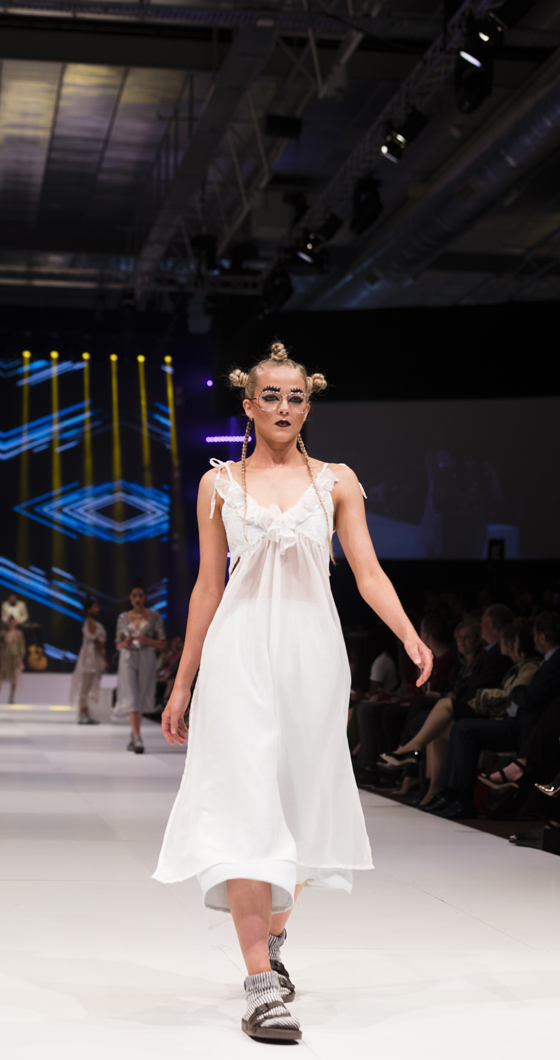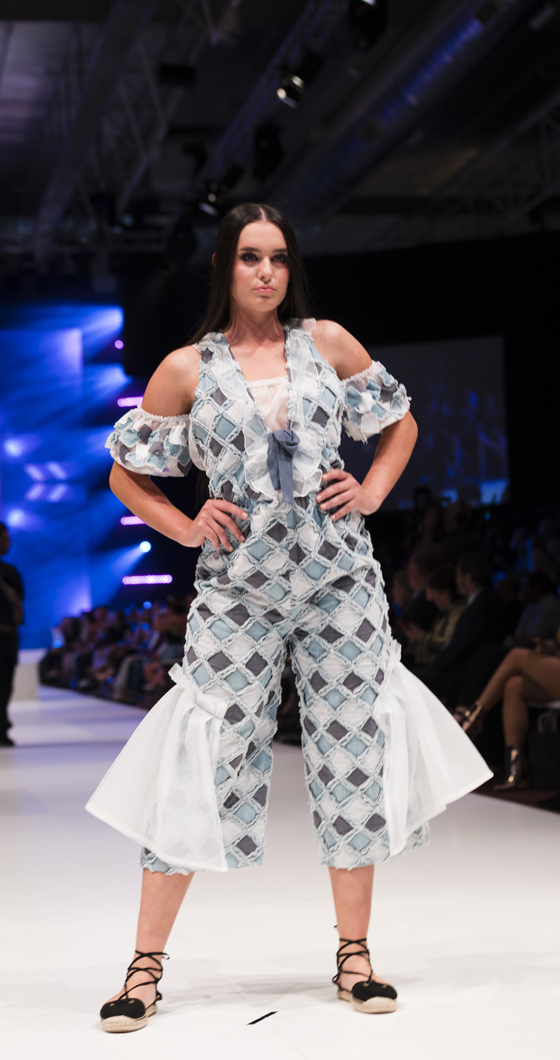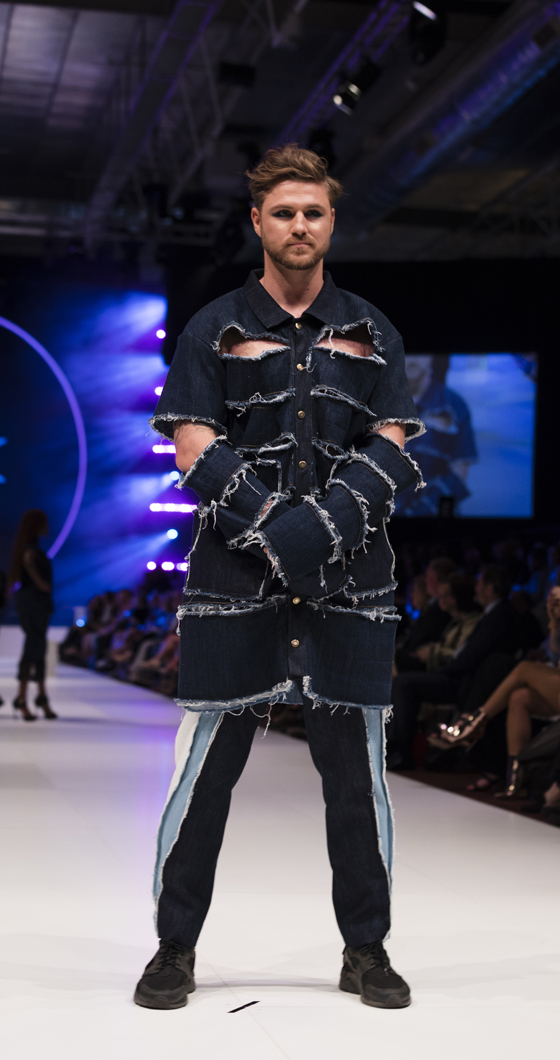 Portmans showcased my new dream work-wardrobe, which seemed to have a bit of a French influence with cute sayings printed on the t-shirts, and flowery prints on the skirts and pants. The models in MJ Bale amazed in perfect plaid suits. But, at the same time sported tropical patterned shorts and stylish button-ups which made them ready for a casual summer's day. The last collection of the night was De Challie Haute Couture and it was the perfect finale. The ball gowns were beautifully cut and looked like dresses Jane Austen would be smitten with. At the same time, there were also some slinky modern pieces, and all the fabrics looked so lush and gorgeous. I especially loved the romantic, perfectly messy plait on each model.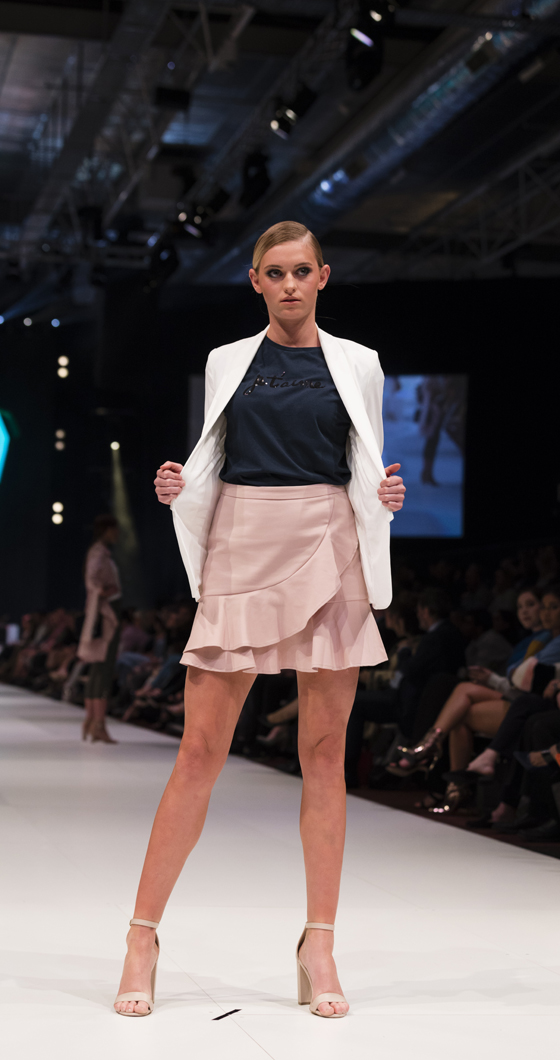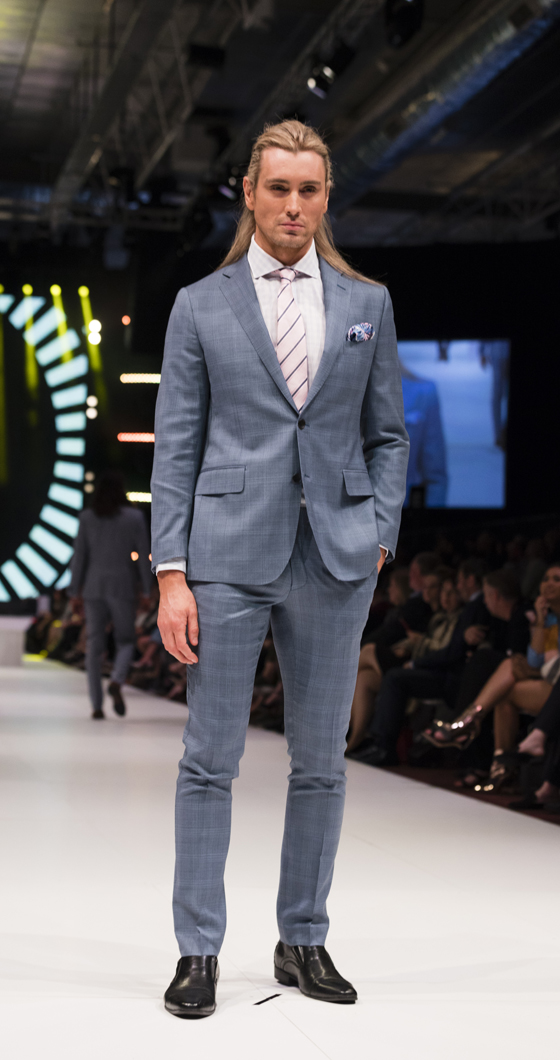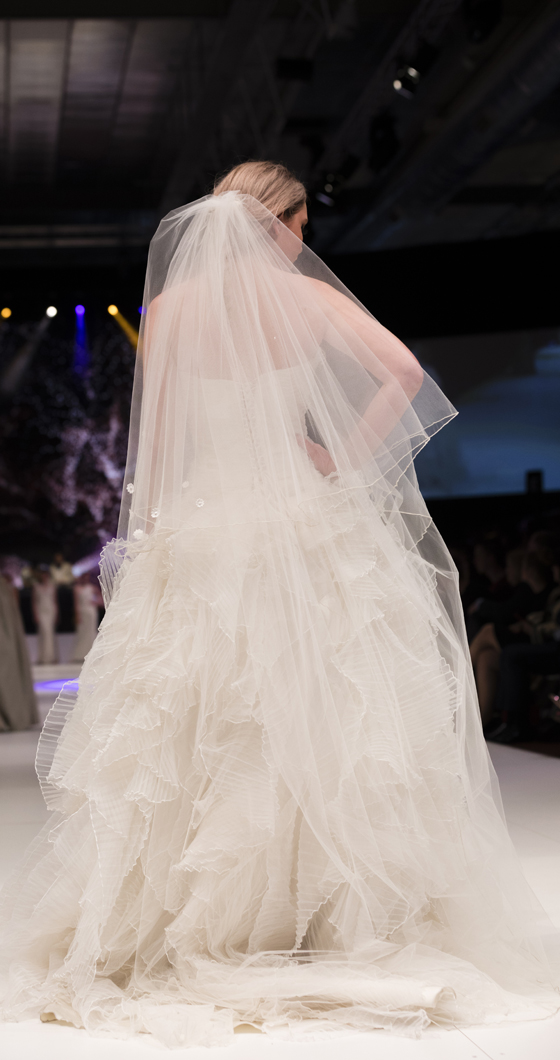 Tony Rich performed two beautiful songs on the piano which was such a lovely way to end the night. Overall, night two once again brought the goods and I would highly recommend going to the final shows of FASHFEST tonight – there are still tickets up for grabs!