When you're surrounded by a city of foodies, it makes perfect sense to create a menu that takes full advantage of all seasonal flavours, as well as the passions and skills of notable local chefs like Josh Lundy.
The Teddy Picker's new summer menu showcases humble all-day offerings – with twisted classics that have a spin on them not to be gimmicking, but instead to focus on bringing resident Teddy Picker goers' healthier options through the well-thought-out use of agreeable ingredients. This philosophy has undoubtedly been the basis of Teddy Picker's slotting seamlessly in the Campbell precinct.
We went to feast on the new menu and while we were there we came to the realisation that Canberra's best fed tradies are those working on Constitution Avenue – here is why.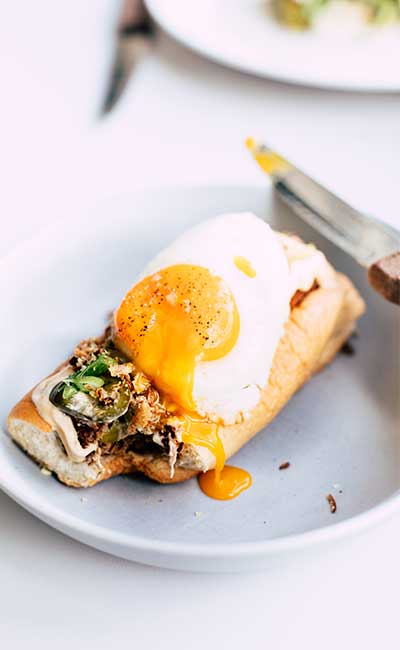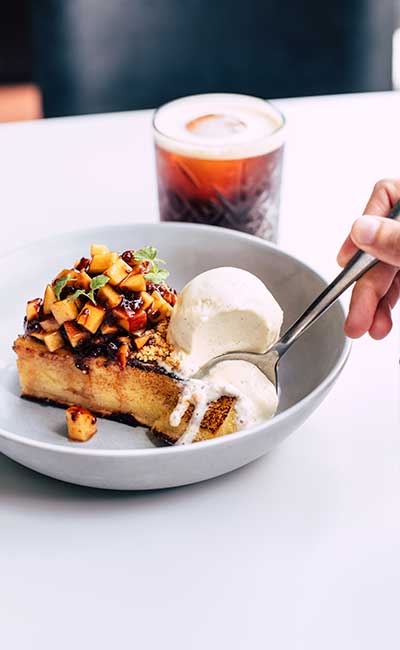 The foodie venture by local café Teddy Picker's, has both changed their diets and evolved tastes. While smoko may have started with the usual B&E roll, it has since been overruled in popularity by the Brekky Roll. Featuring slow cooked brisket pressed & panko crumbed, pickled jalapenos, crispy shallots and a fried egg; there is a reason this roll makes the cut on each menu. Topped with red-eye gravy (essentially an espresso, siracha and mayo concoction used in Southern USA) and all put together on a steamed hotdog bun – tradies could be forgiven for never eating a servo pie again.
Along with the roll, the French Toast has stood the test of time. This season it has been adapted to a Peach Melba phenomenon. When ordering this sweet gem don't expect your run-of-the-mill French toast. Instead, be pleasantly surprised at the bread and butter pudding like version with a milk crumb crunch to it, diced peach, raspberry jam and vanilla bean ice-cream. A dish highly recommended for sharing after your savoury meal, unless your plan is to service your sweet tooth with their new range of cookies and cakes which are now all made in-house.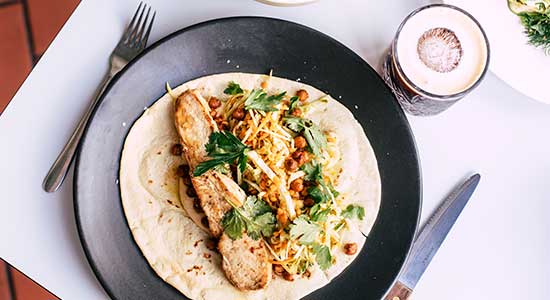 Photos by Ashley St George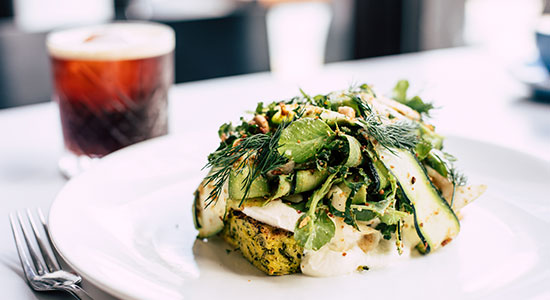 The entire menu follows that same suit. Breakfast items which by name may appear anywhere, yet somehow show up to your table with a different look, taste and smell than everyone else is doing. Take the Chicken Kebab for example. The Teddy Picker's version will change every greasy, heavy, fatty perception you have of this classic. It's your perfect salad + protein dish (with the option of subbing out the chicken for haloumi) an open pita wrap, house made hummus, crispy chickpeas, green lentil tabouli, and zhug sauce (an Israeli green hot chilli sauce).
An old favourite in the fritter has made a comeback. This gluten-free, baked zucchini and almond meal Fritter is a healthier twist on the deep-fried version. Smoked labneh is a pleasant surprise, sandwiched between a textured and fresh green salad of zucchini, kale, dill and pea tendrils.
The flavour profile of the Bircher Muesli is coconut and soy-soaked oats with lychee yogurt, kiwi fruit and mango pineapple and thyme syrup, with a sprinkling of crushed roasted almonds. A light enough guilt-free dish you could have any day of the week with no regrets or without complaint.
The start of a sweltering week meant we washed the summer menu down with a nitrogen infused cold brew from the Bellerophon tap, served cocktail style with ice sphere, needless to say it went down a treat.
With major happenings across the venue, including the likes of dinner, liquor, and the encouragement of individualised tastes through customisable food options, extensive reserve coffee lists, and an exclusive tea range it's best to keep in touch and follow Teddy Picker's every move.
Visit Teddy Picker's
67 Constitution Ave, Campbell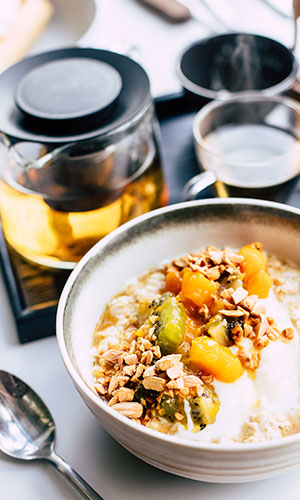 Photos by Ashley St George