Feeling like taking a step back from city life and heading inland? Take that unwinding trip you've always been thinking of and drive north west of Canberra to the country town of Griffith.
Named the 'food bowl of Australia', Griffith is home to rich terrains and has strong cultural ties from the farmland surrounds, making it a prime destination for locally produced dining. Newly opened restaurant Bull & Bell in the beautiful Gem Hotel, is making full use of the area and is now calling on diners to experience the best of the region's offerings at their restaurant.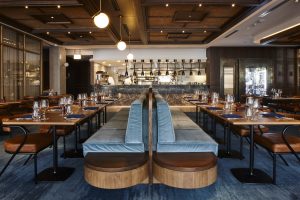 The European steakhouse marries two essential components of the perfect meal: locally sourced produce and the exceptional talent of Executive Chef, Anthony Fullerton. Fullerton's farm to table philosophy is positioned as a compelling travel guide through the region's produce with everything from beef, cod, eggs, olives, fruit, veg, small-goods and cheese sourced within a 300km radius of the restaurant. Bull & Bell have also handpicked farmers, producers and artisan crafters who align with their philosophy and use traditional farming methods.
"We visit the farms on a regular basis and get to know their practices and philosophy," Executive Chef, Anthony Fullerton says. "A trip to each farm allows you to really understand how proud the farmers are and how much care they put into their animals which ultimately follows through to our kitchen."
The menu is heavily focused around steak. Specialising in Black Angus from the finest Angus genetic lines and natural grass-fed cuts, the steak menu promises beautiful marbling, dry aging from 250-200 days and tender and rich cuts. An innovative approach to lamb and pork will also feature, ensuring only the most natural, primary cuts feature on the menu. There is even a little bit of fish, sourcing Aquna Murray Cod which makes its way to the restaurant in under 12-hours of being fished.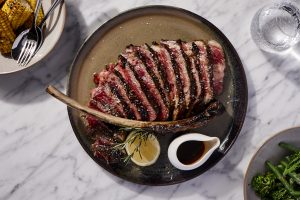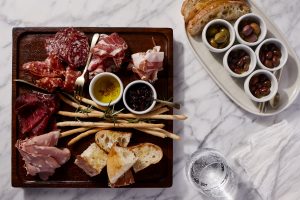 The wine list follows the same principals championing 13 Riverina wine producers with both modern and traditional flair, particularly sparkling wine.
Chef Fullerton's approach to the entire menu is uncomplicated, believing fresh quality produce speaks loud on the menu and therefore cooking techniques should be refined.
Bull & Bell is now open for dinner Tuesday to Saturday 6pm, 201-207 Banna Avenue, Griffith NSW.