Stop by the Canberra Centre before 6 September and catch the award-winning pieces from the 2023 National Indigenous Fashion Awards on display on Level 1 (outside of Zara).
Selected from over 60 nominees, only the work of six talented Indigenous artists and designers were chosen amongst six categories, including the Traditional Adornment Award, Community Collaboration Award, Business Achievement Award, Textile Design Award, Wearable Art Award and Fashion Designer Award.
Following the success of the 2022 display, this year the winner's designs stand proud on a six-metre raised 'catwalk' surrounded by Australian flora. Also on display is a large television unit, skinned in indigenous artwork by award-winning artist Kristie Peters, showcasing the Award's promotional video.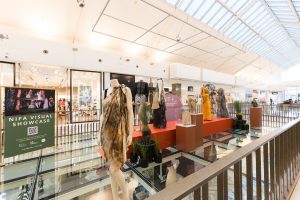 Once again, Canberra Centre proudly sponsored the Community Collaboration Award which celebrates the effective and productive relationships between Aboriginal and Torres Strait Islander communities and the textile and fashion industry. This year the winner was the Gapuwiyak Culture & Arts X Aly de Groot collaboration.
"We aim to promote Indigenous local talent, encouraging artists and designers to participate in future National Indigenous Fashion Awards and events," says Canberra Centre General Manager, Gary Stewart.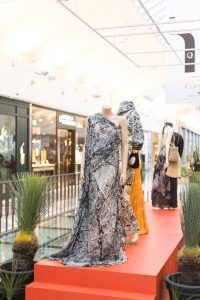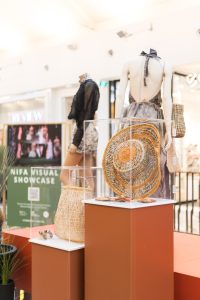 The collaborating artists found inspiration from the photographs of Donald Thompson, a photographer and journalist who fought to protect Indigenous culture in the 30s. Finalising 10 looks, the designs celebrated collaboration and drove great economic benefits to their community.
For more details on the NIFA awards and the individual winners, visit Canberra Centre's website