The National Zoo and Aquarium was bought in 1998, by the Tindale family and was to run as a big-cat breeding facility. But when the aquarium and land around the site came up for sale, a zoo evolved!
Now the National Zoo and Aquarium, is famous for its up close and personal tours and encounters. With encounters such as Meet a Cheetah and Walk on the Wildside, adventures are jam packed with exciting activities that allow you to get a hands-on experience with these exotic animals.
First on our list of encounters was Meet a Cheetah Cub, Solo is the newest and youngest member of the cheetah clan. This beautiful cheetah cub is the first of its kind to be born at the zoo and is a testament to the hard work and dedication of zoo staff. A rare single-cub birth, Solo has been hand raised and lives with his best mate Zama the Border Collie cross.
Before we enter Solo's enclosure, we freshen up with some hand sanitiser and walk through a shoe wash to keep him safe (a precaution undertaken before most encounters). Keeper's Ty, Leah and Olivia explain the do's and don'ts, and I can feel my impatience growing – wait, what was that about not booping my noise with Solo's?!
I kid, this is no ordinary cat I'm about to meet, this is a cheetah cub! A, C-H-E-E-T-A-H, here in Canberra! Bucket list item ticked.
The Cheetah Cub Encounter allows participants to come face to face with this not so little bundle of joy. The encounter costs $180 per person, includes zoo entry fee and goes for up to 15 minutes. Although the encounter may seem short it is sweet and offers many memorable moments.
The sound of Solo purring is simply mesmerising, and the passion and dedication of his handlers is heartwarming.
Keeper Ty is very knowledgeable and happy to answer any question you may have. We discuss it all – the challenges of raising a 19-day cheetah cub and conservation efforts the zoo partakes in.
He highlights that "cheetahs are the fastest disappearing big cat in Africa but here at the zoo we try to contribute to raising wild cheetah numbers through organisations like Cheetah Outreach, which is where Solo's mum and dad come from."  It was comforting to find out that most of the money raised from the animal encounters at the National Zoo and Aquarium and Jamala Wildlife Lodge go towards supporting local and overseas conservation initiatives and charities.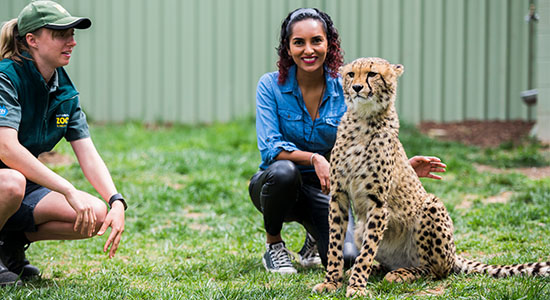 Photography by Rohan Thomson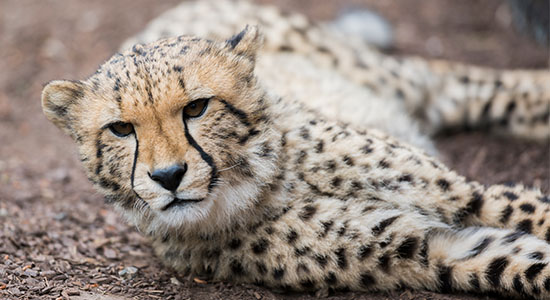 Photography by Rohan Thomson
The secret life of Simbu the Tree Kangaroo 
When you step into the world of Simbu in the Meet a Tree Kangaroo encounter, don't be surprised to find him asleep. Since arriving at the zoo in May he has built himself a reputation as a diva – he won't get out of bed for anything less than a ripe avocado.  As ambassador for his species, Simbu is happy for you to rub his butt while his keeper Brendan, enlightens you on the wonders of this rare and secretive animal.
Dedicated keeper and animal lover, Brendan has been working at the zoo on and off for the past 12 years, his favorite thing about being a keeper- "The connection and relationship you build with the animals" he said.
Like many animals in zoos Simbu was introduced to target training, which is a technique used to teach an animal to touch a predetermined body part to a particular object and in return receive a treat.
"By teaching Simbu to target to a stick, I'm building a direct line of communication with him. I'm teaching him each time he interacts with me, awesome consequences happen like avocado, but he can walk away any time, the decisions his."
One of Simbu's most noticeable features is his claws, Brendan explains this is because tree kangaroos have evolved to climb and jump through trees.  "Tree Kangaroos are so different and so unique but sadly so endangered." Like most animals in today's society Simbu's greatest threat is humans and global warming but the zoo is working hard to ensure a future for the species. While I listen to Brendan talk about the zoo's partnership with the Tree Kangaroo Conservation Program in Papua New Guinea, I am charmed by Simbu's personality and happy face while he eats.
Before participating in the Tree Kangaroo encounter I knew very little about them, but now armed with the knowledge of their plight I feel very fortunate to have met Simbu. A worthwhile encounter for the whole family! Meeting Simbu will cost $50 per person or $80 for a couple which does not include the zoo entry fee and goes for a duration of 15 minutes.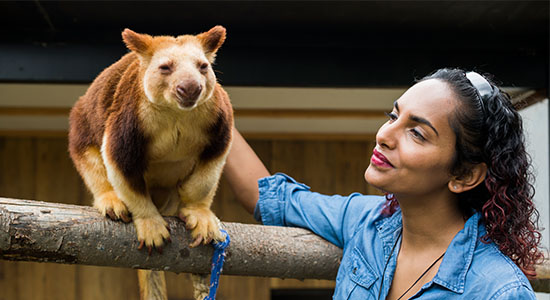 Photography by Rohan Thomson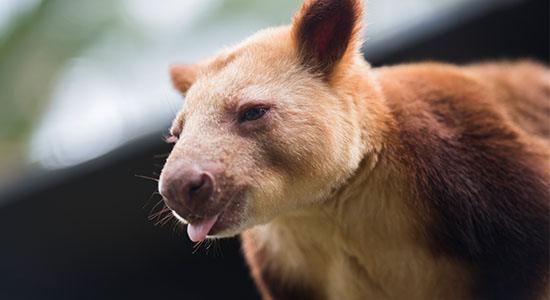 Photography by Rohan Thomson
A favourite of the young and the young at heart, the Meet a Meerkat encounter provides one of the most hands-on experiences at the zoo. Expert keeper, Michael talks me through what to expect from this mob – yep, a family of Meerkats are known as a mob, a ridiculously adorable one at that!
Because Meerkats can be a bit flighty and get under foot, I had to walk carefully through the enclosure to my seat. By now the meerkats are all excited for food and I'm excited to start patting!
Something I wasn't expecting was the noises meerkats make, little grunting and barking noises that can get quite aggressive sounding when food is involved. Once seated, I place my hands under a towel while fly pupae is sprinkled on me to entice and condition meerkats to sit on my lap or next to me – charming I know, but totally worth it!
After they get a bit of feed into them and aren't so excited I take my hand out from under the towel and begin the patting and feeding – another bucket list item ticked off! Their fur is kind of coarse and oily, I'm told they're not very fastidious in cleaning themselves. While the meerkats and I are enjoying ourselves Michael introduces me to some of the big personalities in the family.
"In this enclosure we have seven meerkats, mum, dad and two litters. Mum is a character, she occasionally spits in discontent…Saka is the pocket digger, he finds the experience riveting for some reason."
So, what do they do for fun I ask? "Luckily, it's easy to entertain meerkats, they generally keep themselves entertained with play and digging, we also provide enrichment programs – tunnel system, heated nest box, toys, new foliage and sticks all work for a day of fun."
I notice how one meerkat is always on watch looking about the enclosure, Michael explains he's on sentry duty watching out for threats – "meerkats have a sophisticated alarm system, ranking danger by high, medium or low. They tell the mob where the threat is coming from and what to do to get away."
Luckily for meerkats humans aren't their biggest threat like it is for many of the animals at the zoo.
"Meerkats are one of the few animals that aren't endangered, as they are found in dry arid regions where people don't want to live… meerkats are largely unaffected by humans"
A memorable experience to say the least this encounter costs $100 per person or $175 for a couple and does not include zoo entry fee and goes for a duration of 15 minutes.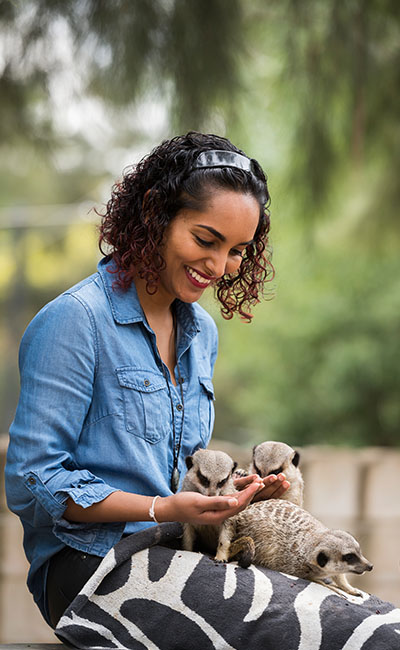 Photography by Rohan Thomson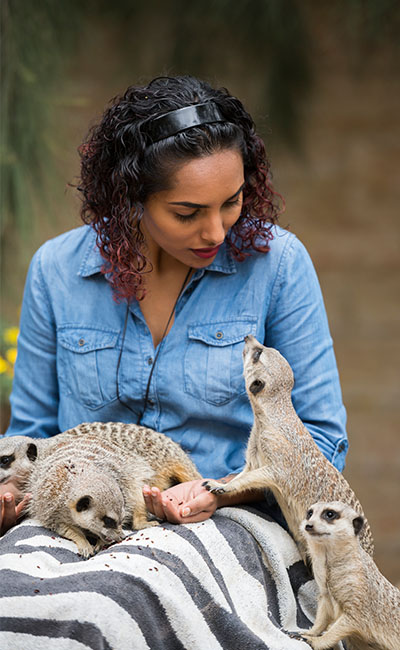 Photography by Rohan Thomson
It's a rare opportunity to have such amazing experiences right on your doorstep! I would highly recommend everyone to go and participate in any of the suite of offerings delivered by the National Zoo and Aquarium. You'll not only see these beautiful creatures up close but learn and contribute to their survival. I will definitely book in more encounters in the future.
Find out more visitor information including admission prices and the other tours and encounters at the National Zoo & Aquarium website: nationalzoo.com.au 
p.s on a side note don't forget to check out Jamala Wildlife Lodge for a taste of Africa.
Experiences in this article: Meet a Cheetah Cub, Meet a Tree Kangaroo , Meet a Meerkat.