The Duxton has been on our hit-list ever since winning 'Best Steak' at the Australian Hospitality Awards, excitingly we were invited to visit, but to our surprise we were sampling the new 7-days breakfast menu, launching Saturday 21 September.
Evidently the venue has mastered its quality pub offerings – also being recognised for the best 'Draught Beer Quality' at the AHA Awards – so making a bang-on breakfast accessible throughout the entire week appears to be their next feat. From 7am everyday you can now head to The Duxton for breakfast and coffee. The extended hours mean the venue can really encapsulate that all day dining vibe and create a place their neighbours can always rely on.
With Chef Matt Ouwerkerk leading the pack, tapping into Canberra's competitive breakfast scene doesn't seem intimidating. Matt has a knack for delivering outstanding food in a casual way. An eye over the menu will highlight some breakfast favourites, yet it's not until you take your first bite that you'll see an element of sophistication which elevates all those familiar flavours.
Take the Breakfast Bruschetta for example, sandwiched between the roasted heirloom tomatoes and toasted sourdough is a creamy whipped ricotta, while a smoked oil is drizzled over the top. This dish is colourful, wafts fresh basil and is perfectly suited to a sunny spring morning. The Smashed Avo follows in similar suit, paired with Persian feta one can assume how it will taste, however the touch of fermented chilli makes this recognisable breakfast option stand out from the crowd.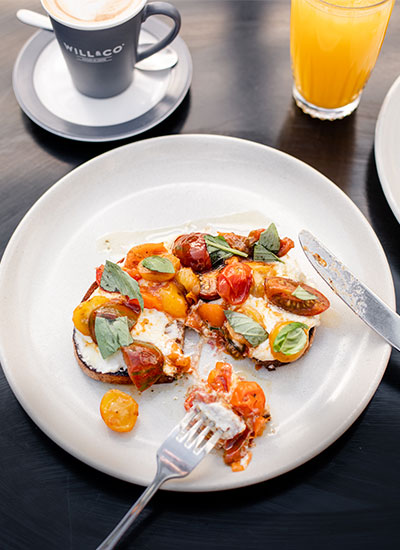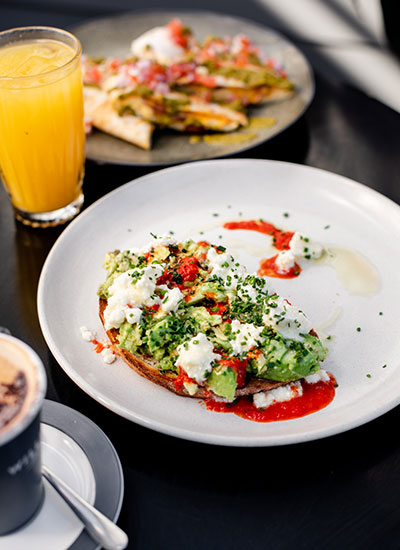 You'll learn about all those hidden flavours yourself after dining in for brekkie, though what you probably won't discover is the effort Matt puts in to upcycle in the kitchen; designing a menu which utilises every last inch of produce and works towards minimal wastage.
The two standouts in my eyes were the Mince on Toast and Corn Cake. The Mince on Toast embodies the joys of left over spag bowl. Fried eggs top the mince on toasted sourdough with parmesan melting over the plate and basil just as if you were having pasta! A fritter is a menu item I struggle to look past. For me, it's a trusty go-to and this one instilled my beliefs that a fritter never fails. A house-made herb aioli & tomato mustard seed relish make this fritter extra special in my eyes. The trick to this dish is planning each mouthful to have a little of every flavour profile in each bite.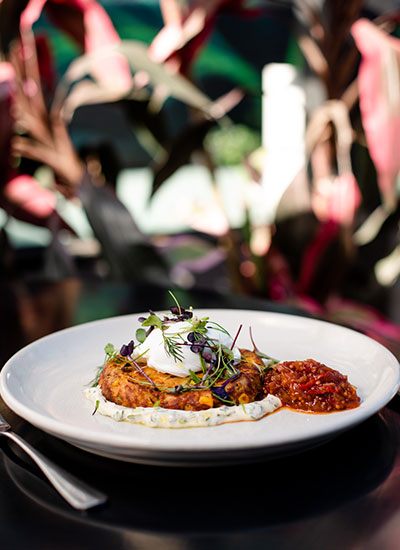 Lastly, the Quesadilla can't go unmentioned. This breakfast option is arguably the most filling, an unrivalled brekkie wrap in our eyes. Filled with scrambled egg, bacon and jack cheese (which actually works to keep the wrap intact as well as being delicious), then topped with chimmi churri, salsa and sour cream – all made especially for the Quesadilla.
It's unheard of to thoroughly enjoy everything on the menu, yet somehow we did. The 7-day breakfast menu at The Duxton is uncomplicated and designed with the local in mind. It's truly a quality offering you won't tire of, especially while enjoy an early morning feed on the outdoor seating, in the midst of spring.
All day breakfast at The Duxton at O'Connor shops launches Saturday 21 September.