From September 4 to 30, get a taste of this year's Mid-Autumn Festival at Westfield Woden, offering up delicious food, cultural experiences and lantern decorations flooding the Asian dining precinct on Corinna Street.
The Mid-Autumn Festival, also known as the Moon Festival, is a celebration of family connections and getting together, held across China, Japan, Korea, Vietnam and other East and Southeast Asian Countries. Westfield Woden is helping bring these celebrations to life, with no shortage of special events and vendors joining in on the festivities.
Whether you're doing your weekly shop or are coming down especially for the festivities, don't leave without trying the traditional Asian delicacy at the Moon Cake Stalls on 23 and 24 September from 11am till 2pm. And don't forget to get involved by scanning the QR codes hanging on Corinna Street to enter the Lantern Riddles Competition from 5-30 September. Get creative for a chance to win one of their exclusive prizes! And of course, check out the beautiful neon lights displayed throughout the festival.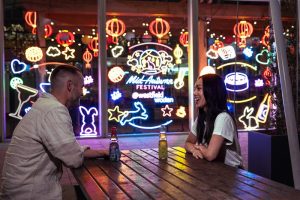 Westfield's dining retailers are also joining the celebrations with heaps of deals on offer! Get a free serve of dumplings when you spend $50 or more at the Chinese Kitchen Dumpling House. Or enjoy a free beer or soft drink when dining in at KorBQ. Get a free soft drink when you spend $30 or more at Vietnam House. And grab a complimentary wine, soft drink or beer when you order a $20 lunch special at Turkish Pide House.
If you're a ramen fanatic, get the fan-favourite chicken karaage ramen for only $12 at Edo Canteen. Finally, make sure to exploit Au Lac's sweep of bargains, where you can dine in for 10% off your entire bill. Or bring a date and enjoy the set menu for Two for $50, or et Menu for three for $85, Mondays to Wednesdays.
For the full scoop on the festival's events and food deals, go to Westfield Woden's website