Sleeping just metres away from the fastest land animal on earth is not something many people can say they've done, and while it's not the usual location people think of when they think 'Canberra staycations', it's one that is so truly unique, it would easily rank amongst the best stays in the world.
Jamala Wildlife Lodge offers a once-in-a-lifetime opportunity to experience the thrills and intrigue of close encounters with some of the world's most magnificent and endangered animals. Apart of the National Zoo and Aquarium, it pairs the up close and personal experience with five-star luxury suites and gourmet cuisine.
With the choice between Meerkat Suites, Giraffe Treehouses, Jungle Bungalows with lions, tigers, bears or cheetahs, and the uShaka Lodge, with a magnificent shark tank and private pool and dining area, each ensures you'll get to know your animal neighbours very well.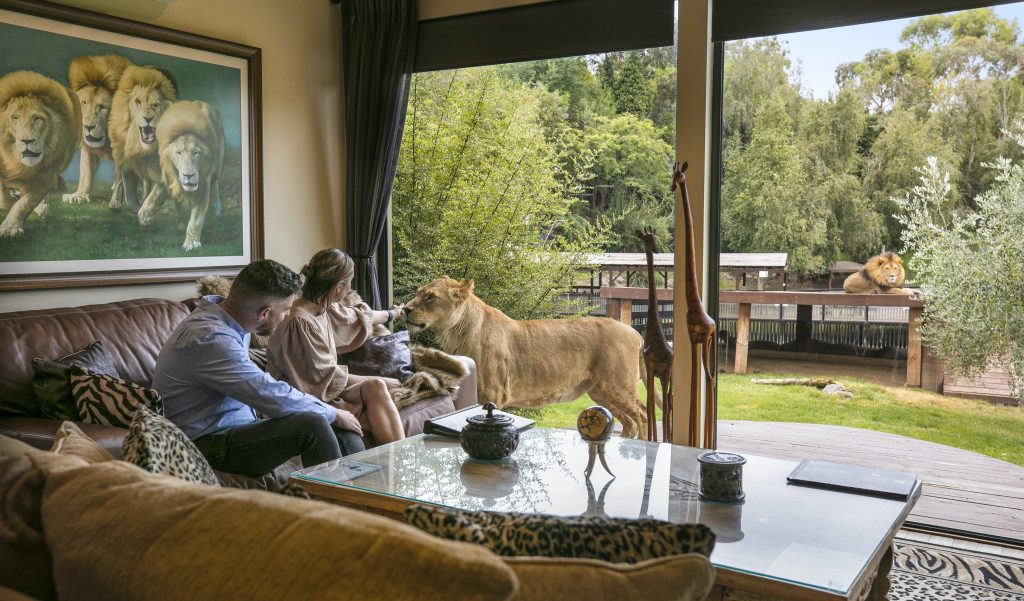 For us, knowing a glass wall was all that separated us from a group of cheetahs was a pretty cool thought we didn't want to miss out on.
Ensuring your stay is maximised, upon arrival guests receive an itinerary, kicking off with an afternoon safari. Zipping around the zoo, we got to meet, feed, and interact with giraffes, meerkats, a Sumatran tiger and our soon-to-be roommates.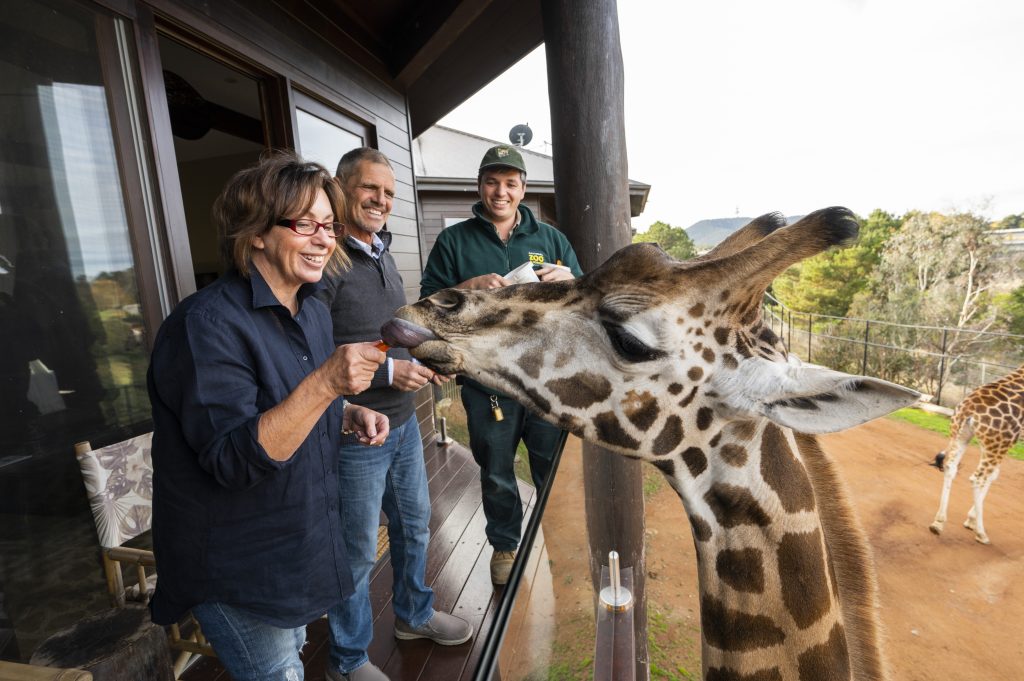 After our first animal encounter teaser, it was time to check out where we were staying. As we entered our African-inspired bungalow, it was pretty hard to miss the trio of cheetahs, with floor-to-ceiling glass walls facing the enclosure. With some free time to relax before dinner, a relaxing bath and a glass of wine were on the agenda while we watched our furry friends lounge around and tuck themselves into bed not even two metres away from where we would also be sleeping that night.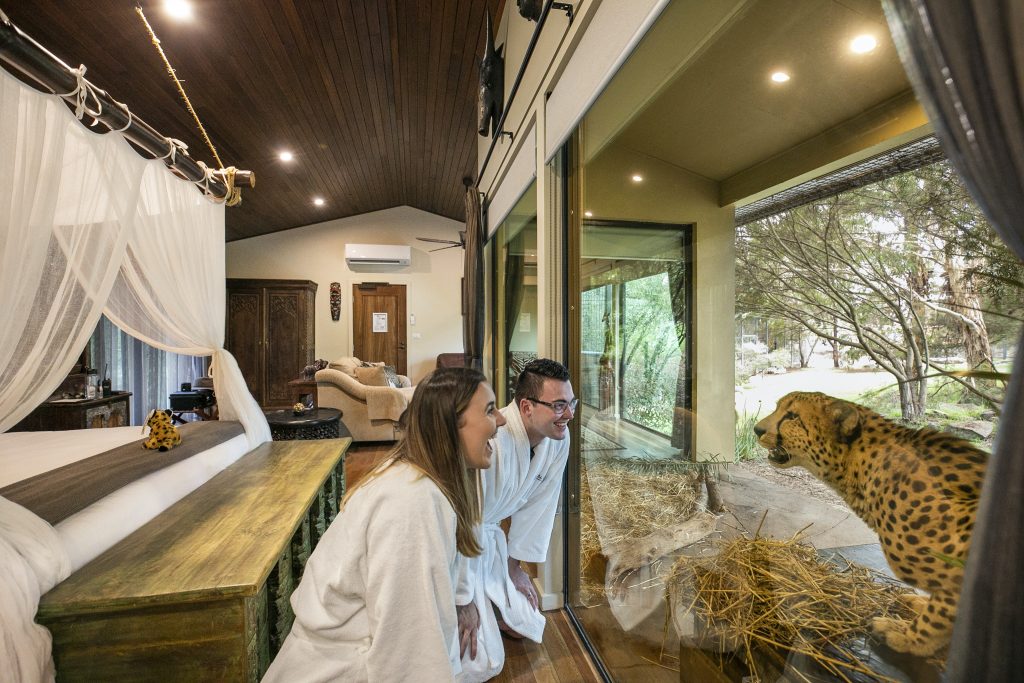 With door-to-door service, we were later picked up from our bungalow and taken to the Jamala Terrace for some pre-dinner drinks. Sipping on champagne by the fire, overlooking the lion enclosure, we got a toothy picture with lions Jake and Mischka.
Moving into the Rainforest Cave for dinner, we enjoyed an award-winning African-influenced dinner with delicious dishes including kingfish sashimi with nam jim and coconut cream, wagyu beef sosatie and a traditional African beef bobotie. And of course, it wouldn't be an all-encompassing animal experience if Jake and Mischka didn't join us for dinner themselves right next to our table!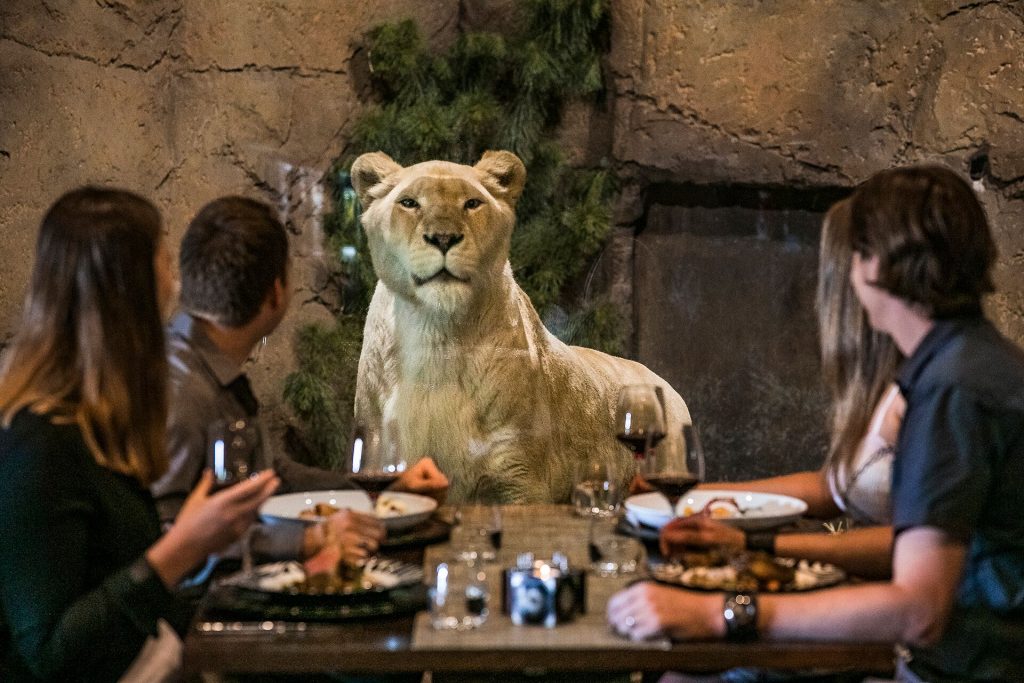 The next morning at the lodge kicked off with shakshuka and eggs benedict for breakfast and a coffee before a guided group tour where we were lucky enough to sneak in a pat with resident rhino, Ubuntu. After our bags were picked up from our bungalow, we had some free time to explore other parts of the zoo we'd missed before checkout.
An overnight stay we'll never forget, having the opportunity to get to know these incredible animals up close and personal in a luxurious setting was a truly amazing experience and only made our understanding of why it's so important they survive in the wild more apparent.
To choose your animal and book your stay at Jamala Wildlife Lodge, visit https://jamalawildlifelodge.com.au/