Put on your best winter coat, grab your sunnies and head outdoors this weekend for some sun, wine and nibblies at The Pop Inn.
This Saturday 30 July from 12pm, the pop-up wine bar is returning from their winter break with a very special event at the National Carillon.
The afternoon will see the bar's usual menu of local wines such as Gallagher Wines, Ravensworth and Kardinia Wines return, as well as Indigo Vineyard from Beechworth, Charles Melton from the Barossa Valley, champagne and everyone's winter favourite, mulled wine.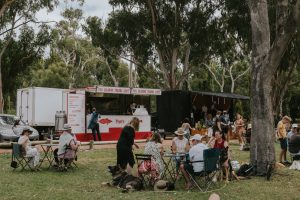 Once again, they have also partnered with Italian Traveller, who will be serving their delicious fish & chips by the lake and Mr. Michael Liu who will be performing some live DJ/violin tunes.
To learn more about The Pop Inn and their next location visit https://www.thepopinn.com/