Experience decadence that inspires and delights at every corner, at the stunning award-winning Ovolo Nishi Hotel in New Acton. Offering guests the chance to feel rejuvenated on a holiday not so far from home, join them for the perfect getaway with one of their staycation offerings. And with a new menu from newly appointed Executive Chef, Matthew Bentley at the hotel's Monster Kitchen and Bar, enjoy food that warms you from the inside out with their all-vegetarian menu.
Staycation
If you've had travel plans cancelled or are hesitant to book anything with the ongoing restriction, this is the perfect opportunity to rediscover the incredible sights of your city. Thanks to Ovolo's latest myriad of local-loving offerings, no matter the budget book a night away with their experience-driven Staycay Your Way package, or the perk-filled Friends With Benefits (For Real).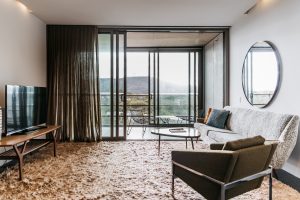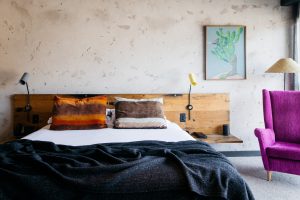 For a stay that supports local, Staycay Your Way is the perfect solution. Personally tailored to your every desire, Ovolo have collaborated with Canberra's leading creative partners to offer a range of experiences, allowing you to rediscover the city on your own terms.
Or stay two nights or more at either Ovolo Nishi or the Nishi Apartments and as apart of the Friends With Benefits (For Real) package receive 25% off your stay. To sweeten the deal, Ovolo will also throw in an additional bottle of wine or Social Hour drinks if you simply invite two of your friends.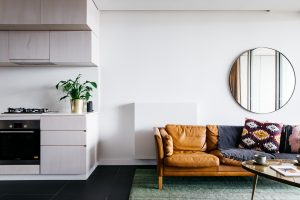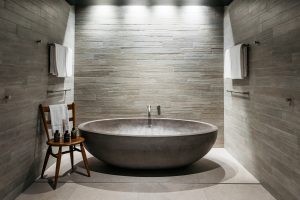 And with both packages pick a selection of additional experiences to make your stay perfectly tailor-made. Dine with a Mosaic Dinner for two or scoot away and explore the sites paired with a locally made picnic hamper designed for you.
Dining
Monster Kitchen is also changing it up, releasing a new hearty menu for winter. Evolving into a herbivore last October, the restaurant continues to progress towards conscious cuisine with their renowned plant-based menu. Driven by local and ethically sourced ingredients, Executive Chef, Mathew Bentley's mission is to find the ideal balance between expressing creativity and allowing fresh, seasonal vegetables to shine bright.
"Vegetarian food excites me; as a chef it forces you to be creative, embrace sustainability and be at the forefront of the food conversation," he says.
Optimising and minimising food waste, Mathew shows a strong initiative towards upcycling, creating a purpose and utilising the entirety of an ingredient in a meaningful way. A perfect example to this is the carrot tops from the Roast Baby Carrots are used to cross pollinate the pesto for the Roasted and Spiced Cauliflower dish.
"The Canberra food scene is intriguing," Matthew says. "There is significant opportunity here, especially surrounded locally grown ingredients to build strong relationships with farmers and design passionate menus from their produce."
Celebrating delicious root vegetables of the season, including celeriac, beetroot and Jerusalem artichokes, make your stay memorable and dine a' la carte or the set menu and see how they transform innocent veg into the life of the party. Or if you're just looking for a drink, cosy up in a corner of Monster's bar who boasts a new eclectic range of cocktails.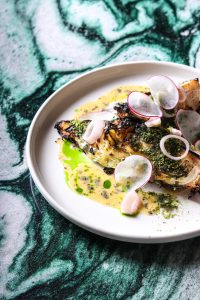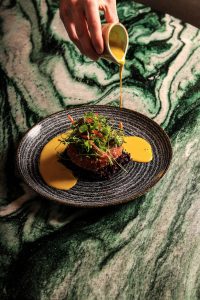 With an exciting range of packages, offers and deals designed to suit you, escape normality even for just one night and wake up in one of the stunning rooms of the Ovolo Nishi right here in Canberra.
Bookings can be made here: