Satisfy your bao cravings Canberra, Super Bao are now bringing their unique Asian street food to three locations across the ACT. Opening a new permanent stall in Westfield Woden's Bradley Street Dining Precinct, Super Bao are bringing their delicious bao-gers, baos and other tasty eats Southside.
From humble beginnings as a popular street food festival favourite, Canberrans just couldn't get enough, sparking owners to open a flagship restaurant in Dickson in 2019. After further success, they opened a bao bar in thriving food hall Verity Lane Market. Now we say hello to Super Bao Woden!
To celebrate their opening, Super Bao are giving away 100 free bao-gers at their new location from 11:30am on Friday 28 January. They will also be offering weekly specials with a buy a bao-ger and receive a free fries offer available from Monday 31 January to Sunday 6 February, and receive a free bao with any bao order from Monday 7 February to Sunday 13 February.
Known for taking a modern spin on iconic Asian favourites, owners Paul Xu and Angel Zhang are excited to bring their creative eats to Woden.
"We'd like our Woden location to be known as an Asian burger house and we're thrilled to finally give Southsiders a permanent taste of our unique and tasty creations," says Angel.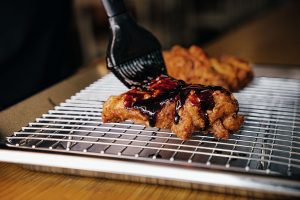 While those who've dined at their Dickson or Verity Lane location would have had the opportunity to try a select few of their famous bao-gers, Woden will be the only venue to have the full selection of bao-gers on the menu, plus eight baos.
"A Bao-ger is the lovechild of a burger and the taco shaped Gua Bao (Taiwanese steamed bun) that many people are familiar with. The bao-ger is much larger than a bao, there's more filling and instead of the steamed bread being wrapped around the filling like a taco, it's made into a burger bun and the filling is stacked in layers between the soft bun," Angel explains.
"We're one of the few places where you can find bao-gers in Canberra and we think ours are the best. Our bao-ger menu currently includes four different options and the wagyu cheese bao-ger is definitely a favourite. It features a double wagyu patty, cheese, sliced tomato, lettuce, onion rings, tonkatsu sauce and a burger sauce."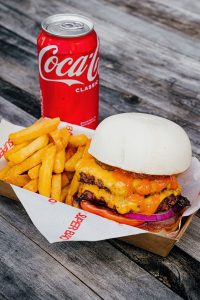 "We've also taken the elements of our popular Kungpo Chicken that's available at our Dickson restaurant to create the Kungpo Chicken Bao-ger."
Vegan options are available on request and vegetarians can enjoy the delicious fried eggplant bao-ger. For baos, think braised pork belly, crackling pork belly, Korean fried chicken, eggplant and teriyaki tofu. Diners can also order a side of the popular Taiwan-style popcorn chicken or vegetarian spring rolls.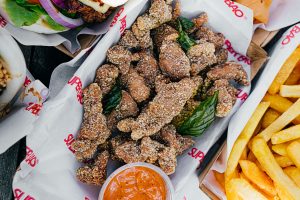 A selection of meal deals starting from $10 are also available and for Canberrans lucky enough to live in the delivery zone, a 10% off offer will be available on Menulog and Uber Eats for the first month!
Super Bao Woden is open from 11am until 8pm, 7 days from 21 January 2022. Delivery is available via Menulog and Uber Eats.