The Fortuna Spiegeltent is bigger than you've ever seen it before – and that's because it's got a full house of world-class music, comedy and cabaret to play alongside the adults-only headline act BLANC de BLANC.
 The Canberra Theatre Centre forecourt will be packed with talent from Thursday 26 April to Sunday 20 May.
In addition to the adults-only headline act, BLANC de BLANC, some of Australia's biggest touring artists including Dan Sultan, Sam Simmons, The Black Sorrows, Gawurra, Rove McManus, Trevor Ashley, Yana Alana, Livvy & Pete, and Celia Pacquola will be a part of this world-class mini-festival.
Laughter will fill the tent thanks to a strong comedic lineup to sideshow the main event. The daring Sam Simmons Radical Women of Latin American Art, 1960-1985 show is coming to turn Canberra inside out and upside down, with his take on the feminist Latin art movement of urban Puerto Rico. Household name Rove McManus brings us That' Me Talking,  returning to his roots of standup comedy, and, multi-award winning performer Celia Pacquola entertains the crowds with her sharp, frank, honest, deft and smart as hell show All Talk.
On the music front, Dan Sultan has left his band at home to strip things back to basics, with raw vocals with the star on piano and guitar the foundations of the Killer Solo Tour. Singer-songwriter and ARIA Award nominee, Gawurra Gaykamangu will be bring a heartfelt performance, with the Yolngu performing artist from Milingimbi (Yurrwi), North East Arnhem Land sure to evoke emotion with her resonant voice.
Led by powerhouse Joe Camilleri, The Black Sorrows will have you dancing in your seat. We caught up with Joe moments before he was about to listen to his 49th album for the first time – rocking out of course!
"I finished the album only yesterday, even after so many years it's still frightening to listen back for the first time no matter how much experience I have gained," Joe said.
A star in his own right, Joe is no stranger to Canberra. He has been preforming here his entire career and he shared the secret to a continuous life of non-stop rock – "Treat every show like my first and my last."
"I always come out fresh and ready to go, I am an Eveready battery, plug me in and off I go. I still love my job, my head is in the game and as long as I still have something to say I have a reason to keep on performing," he said.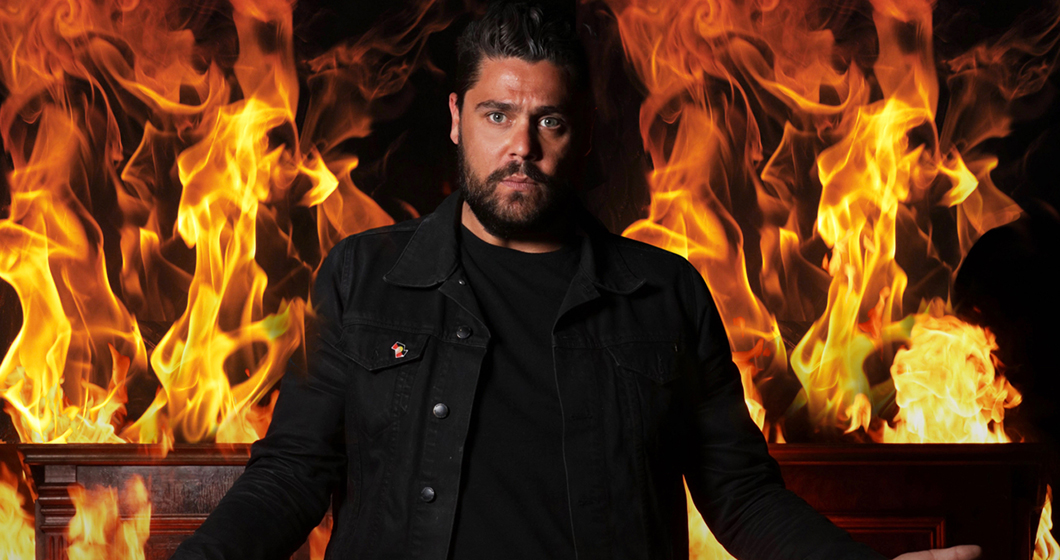 "The nice thing about the Spiegeltent is that it's a lovely environment to play, everybody is seated and you have the opportunity to be more than one-dimensional. I write a lot of different songs and this gives me the opportunity to play what I'm known for but also for me to evolve."
Joe reflects on his 70s band Jo Jo Zep & The Falcons as 'one for all, and all for one'. He lends the longevity of the Black Sorrows to learning from his past experiences.
"We drank from the same bottle and ate from the same dish, if one person was sick it was all over. My thoughts for the Black Sorrows was a band which allowed everybody to be entitled to come and go, as long as you honour the flag of the Black Sorrows and your heart's still in it, the band can continue to play, write and record music."
When the curtains are drawn it's the theatrics of the Cabaret that will have fans on the edge of their seat. Trash and Trevor, The Best of Trevor Ashley is lavish and loud, brazen and bold, TrAshley has a lineup of songs by number one divas Cher, Tina, Liza and of course Bassey. In celebration of the legendary work of Olivia Newton-John and Peter Allen, Michael Griffiths and acclaimed cabaret darling Amelia Ryan perform their segment Livvy & Pete The songs of Olivia Newton John and Peter Allen. 
Whether it's her unapologetic attitude or diva defiance, Sarah Ward's alter ego Yana Alana has gained a cult following in Canberra after performances at Between the Cracks and the Art Not Apart Festival. The queen of queer said that the capital is the perfect place to get her message across.
"People are a lot more… woke… they read more in Canberra," Sarah said. "I always say we are in a patriarchy, we are more interested in looking at where there are different genders. That's not just males and females but also gender queer or however you identify. It's not about smashing the binary, it's about recognising a place for people that identify as neither male or female or as both. That's the kind of world we would like to see ourselves move towards."
Her Spiegeltent show Yana Alana's Greatest Tits, is a compilation of the best of her shows over the past 10 years.  
"We have pulled the crowd favourites, the ones people sing along to, cheer to, the ones they are most shocked by," she joked. "There will be full theatrics, poetry, antics, Yana is not afraid to say what she thinks."
Last year, Yana made headlines for her views on marriage equality, gender politics, mental health and feminism, and is known for being ahead of the mainstream.
"Cabaret is a format where you can create your own content. If you are in music theatre you are stuck to the character and the scripts that you have been cast in. Cabaret is almost like independent theatre… you write the scripts, you decide what the message is. The kind of cabaret that I really get excited by is the kind that uses it as an opportunity to question the status quo, to challenge, to provoke, to excite to stimulate, to inspire," Sarah said.
Unless you're Liza Minnelli, Sarah is not interested in Cabaret that doesn't spark conversation. Sarah uses Yana Alana as a way of celebrating difference and diversity, performing alongside Louise Goh, a woman of colour, and Bec Matthews, a gender queer.
"We are all on stage together and proud of what we represent. We show people there is a place for people like us on the stage and we do have something to say, and we are not going to stay quiet!"
Her latest mission: challenging the bigger question of 'where we are headed as a human race, are we evolving or revolving?' In telling this story, Yana has concocted her own alter-ego Queen Kong. We are told "she's not as narcissistic because she is a mythological being -part rock and part ape".
Queen Kong will premiere next year, but after Spiegeltent Yana is headed overseas.
"Previously health held us back, but here we are ready to take on the Edinburgh Fringe Festival and a season in the SoHo in London. We are looking forward to taking Yana to world where she has access to a bigger population."
But not everyone has a world stage and a voice as loud as Yana. Sarah says these days being true to yourself is the greatest activism. Listening to minorities if you are in a place of privilege is the best way to stay informed, and she includes herself in that advice.
"That goes for me too as a cisgender, white woman with a lot to learn from gender queer, trans and particularly people of colour.
"I think you can change yourself or the world around you through simple things. Not everyone is a performer or a writer and not everybody's politics have an external outcome. Some people change the world by listening. Some people change the world by saying to their family 'this is who I am, I'm gender queer' – that is changing the world."
Canberrans can't wait to welcome the self-obsessed Yana to the stage – even if she won't be looking her best.
"Yana is an anti-glamour queen, she's not into looking her best but more into challenging what femininity means," Sarah said.
Important information 
Age Suitability: 18+. Contains adult concepts, full frontal nudity and references to alcohol consumption, as well as theatrical haze, strobe lighting and limited herbal cigarette smoking. This show has an intermission.