Slow cooker season is here! Low 'n' slow cooking is an easy way to create deliciously tender beef meals – the perfect comfort food as the weather grows cold.
Whether cooking for a dinner party or meal prepping for the week ahead, this is one trend that will save you time whilst adding heavenly meals to your weekly repertoire.
Using a slow cooker is great for anyone who is time poor, as the dishes can be cooked overnight or during the working day, and generally requires little preparation time. Slow cooking also ensures your meat is tender and juicy every time.
This style of cooking also makes it easy to keep your meals healthy and balanced, with fresh vegetables easily added to the pot alongside the beef cut of choice. All you need to do is set, forget and serve! Voila!
Osso Buco
Osso Buco, or shin bone-in as it is also known, is a cut prepared from the lower part of either the front or rear leg. As it comes from a well exercised muscle, it has little fat and abundant connective tissue.
Full of flavour from the bone, this cut is best suited to low and slow cooking methods to release a rich aromatic flavour and provide tender, fall off the bone beef.
Pat dry with a paper towel before cooking to remove any excess moisture. Browning on both sides before cooking is essential to caramelise the juices and maximise flavour.
For the best results, make sure your ingredients fill at least half your slow cooker, but no more than 3/4 capacity. You should also ensure the liquid doesn't cover the food completely, as more liquid is produced during cooking as the food steams.
Osso Buco Ragu
Preparation: 15 minutes
Cooking: 4-8 hours
Serves: 4
Ingredients
1kg osso buco (beef shin); 1/2 cup red wine; 250ml salt reduced beef stock; 1 cup passata; 1 head garlic, halved; 2 carrots, peeled, 1cm diced; 2 swedes, peeled; 1.5cm diced; 4 sprigs thyme; 500g store bought potato gnocchi; 300g green and white beans; 1/2 cup Sicilian olives; Parmesan cheese; chopped flat leaf parsley to serve
Method
Place osso buco on a plate and pat dry with paper towel. Sprinkle with cracked black pepper and place into the slow cooker. Add wine, stock, passata, garlic, carrots, swedes and thyme. Cook on low for 8-10 hours and high heat for 4 hours, adding more stock if necessary.
Remove meat to a chopping board and chop or shred meat. Mash marrow and return meat and marrow to the sauce. Mash garlic into the sauce and discard skins.
Heat a pot of boiling water and cook gnocchi until they float to the surface. Remove gnocchi with a slotted spoon and drain. Return water to the boil and cook beans in the same pot for 2-3 minutes or until tender.
Toss drained gnocchi through sauce and stir in olives and parsley if using. Check seasoning and serve with parmesan.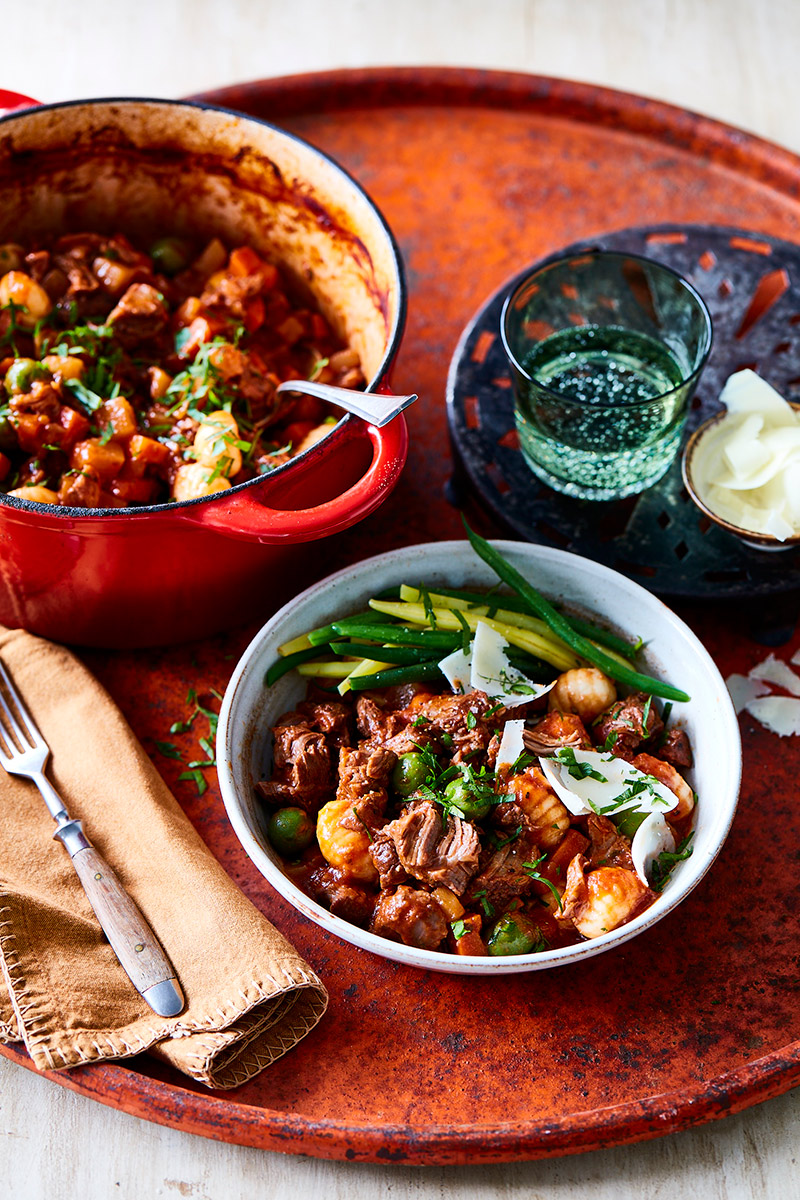 Chuck Steak
Chuck steak is derived from the neck support muscles, and as such contains a great deal of connective tissue.
Popular for its balance of meat and fat, chuck steak is best suited to low, slow cooking methods. The connective tissue gently melts, infusing a rich flavour and creating a tender fall-apart texture.
Don't rush the initial stage of browning the meat. This process will ensure your meat is rich in flavour and colour. Tossing your meat in a little flour before cooking adds colour to your dish.
When using your slow cooker, make sure to keep the lid on. Slow cookers are dependent on building up a constant heat and by removing the lid your cooking time will be interrupted.
Spicy Black Bean and Smoked Paprika Braised Chuck
Preparation: 20 minutes
Cooking: 4-8 hours
Serves: 4
Ingredients
600g chuck steak, diced; 1 onion sliced; 2 bay leaves; 3 tsp smoked paprika; 1/2 tsp dried chilli flakes; 4 cloves garlic, chopped; 1 cup beef stock; 400g tin diced tomatoes; 400g tin black beans, drained; Soft tortillas, tomato salsa, coriander leaves and sour cream (optional), to serve
Method
Place meat into a slow cooker and add the onion, bay leaves, smoked paprika, chilli flakes, garlic, stock and tomatoes.
Cook on low heat for 8-10 hours and 4 hours on high heat, or until the meat is tender.
Add the black beans and cook, covered, for a further 15 minutes. Season to taste with salt and pepper. Serve with soft tortillas, tomato salsa, coriander leaves and sour cream (optional).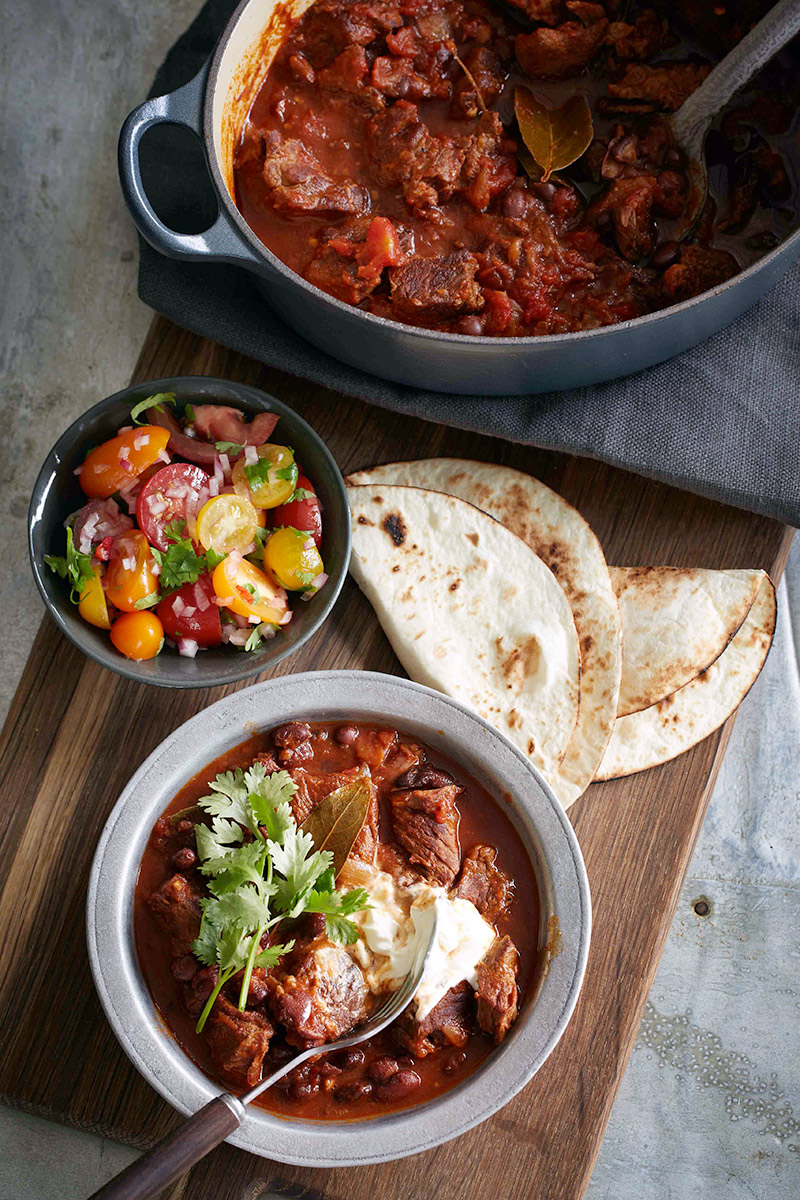 Blade Steak
Blade steak comes from the shoulder region and is made up of several muscles with layers of fat and connective tissue within them.
A versatile cut with great flavour, blade steak can be cooked as is, cut into strips for stir-fries or diced for slow cooking.
Make sure you don't over season your slow cooked dishes at the beginning, as it encourages the reduction of the liquid. This causes the sauce to become much more concentrated and can easily become too salty.
Beef, Spinach and Cashew Korma Curry
Preparation: 20 minutes
Cooking: 4-8 hours
Serves: 4
Ingredients
800g oyster blade steaks, fat trimmed, diced into 2cm pieces; 2 red onions, cut into thin wedges; 1 1/2 tbsp Korma Indian curry paste; 400g tin chopped tomatoes; 300g peeled pumpkin, cut into 2cm dice; 50g cashew nuts, finely chopped; 1 bunch English spinach, trimmed, leaves shredded; 60ml (1/4 cup) natural yoghurt, plus extra to serve; 1 tbsp lime juice; 1 tsp brown sugar; 1 cup steamed basmati race and chopped coriander, to serve
Method
Place beef in a slow cooker, add onion, curry paste, tomatoes and 180ml (1 cup) water and cook for 8-10 hours on low heat or 4 hours on high heat.
Add pumpkin and cashew nuts in the last 30 minutes until the beef is tender. Stir through the spinach, yoghurt, lime juice and sugar.
Serve curry with steamed rice and garnish with coriander.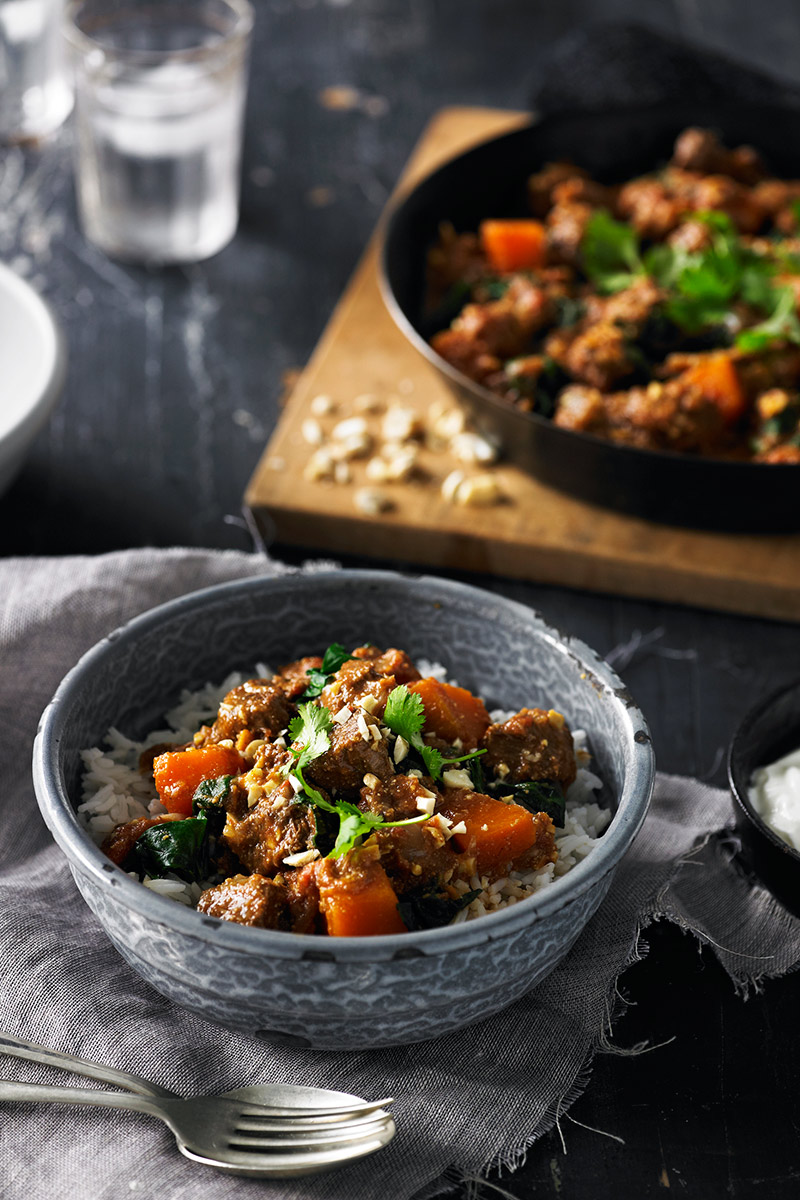 So why not break out that slow cooker your mum bought you and create a hearty meal that will keep you warm this winter!
Recipes courtesy of Australian Beef.