Highgate House has been bringing quite the night-time flavour to the ever-evolving Kingston Green Square since its opening over a year ago. Overtime they have taken on a more casual personality, where share plates have been switched out for whole meals, classics have been added to the menu with a quality twist, and prices are super affordable. The fresh light-filled space is perfect for quaffing down an exclusive Highgate cocktail – uniquely made with potentially more love than I exuded when ticking each flavour off my must-try list. A must-try is the 'Lavender-rose' with house infused lavender syrup, 'thyme after thyme' with rosemary and thyme syrup and infused hazelnut vodka.
Aside from the cocktails that can transport you to a Cali beach, there were two other things that stood out to me more than they should have. I was delightfully taken back by the use of unripened (green) mango as a hit of flavour atop the Fish Cake. Chef Matthew Ouwerkerk's unique use of the stone fruit confirmed for me that there is no such thing as a bad mango! This dish was possibly my favourite based on both taste and theory. Matt has made it a back-of-house mission to use produce in its entirety, capturing the flavour and freshness of the whole food. This is exemplified in the Fish Cake where the trims from other menu items such as the Barramundi and Salmon are used to create this wonder of a dish. Crushed with potatoes, crumbed and lightly fried, then composed with house-made elements such as the fermented chili and saffron mayo.
My second take back was after a mouthful of crisp pizza. The only word that could possibly describe this mouthful was 'refreshing,' – until now I have never described a pizza as refreshing (and this one didn't even have pineapple). Instead it highlights chili & garlic prawns, mango, mint and lime – see what I mean?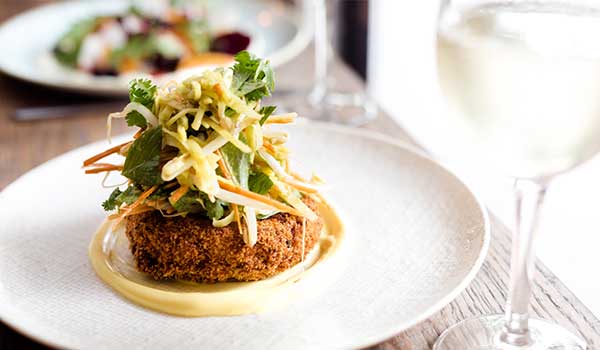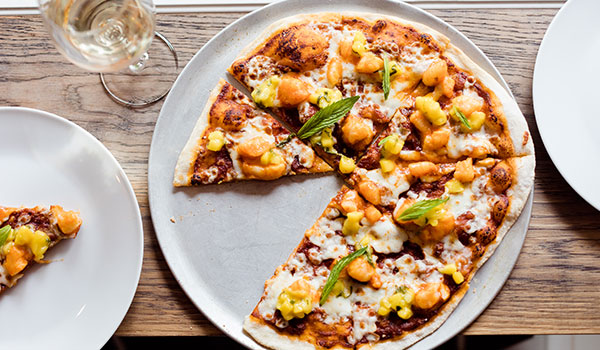 The Crumbed Chicken Breast is a taste of Hamptons style pub food with a twist. It takes a spin off a classic schnitzel with fresh lemon crushed potato and freshly-shaved asparagus. Tweaked to suit the warmer months yet still please those after a lunch-time go-to.
In keeping the menu simple and reiterating a no wastage kitchen, the Pork Belly uses just three ingredients. This menu item goes by the saying 'less is more.' Pork belly, broccolini as both its stalk and as a puree, as well as a lemon puree. Similarly, the Barramundi is served with fried cauliflower and the stalks are used to create a bed of cauliflower puree. Topped with crispy caper and house-smoked salmon roe to create depth and give the dish an added burst of flavour.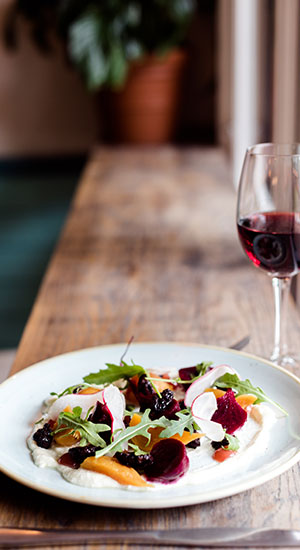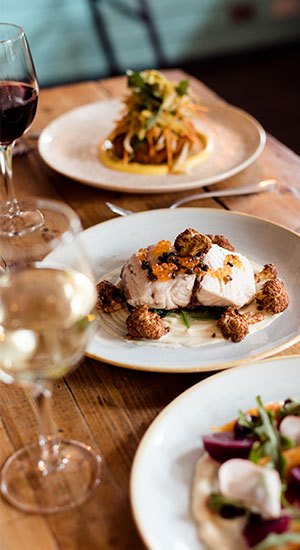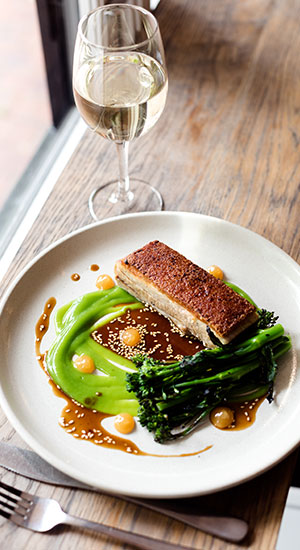 Dessert was just as impressive, a choc/ orange/ coffee number presented in mousse form. Preserved chestnuts and candied orange make this dish extra special, with a balance of textures.
As summer comes around, opt for the outdoor seating and lounges setup in front of the Bohemian Manor backdrop of the venue. Canberra may not have a beach but live the Highgate life for a touch of 'LA cool' in the inner south's impressive late-night