As you sit and enjoy the vineyard views a pure sense of serenity and an urge for summer to switch on comes over you. The sound of glass chiming as guests cheers for the obligatory boomerang felt more meaningful than a standard Instagram story.
Already counting down the days until it warms up, Pialligo Fields has reinstated just how excited we are. Located alongside Pialligo's Garden Pavillion, their latest offering is admittedly as beautiful as everything on the Estate and definitely somewhere to impress interstate visitors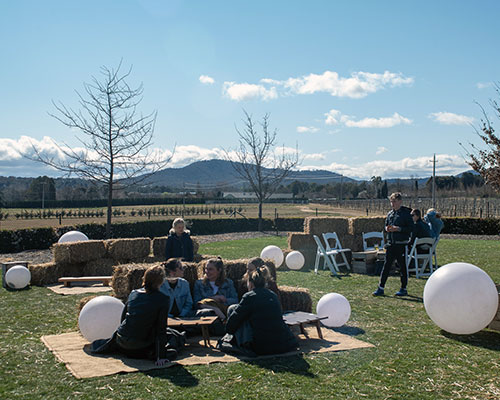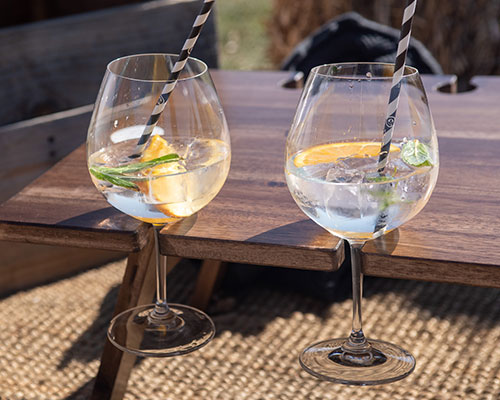 It's the type of setup you'd expect to travel some distance to experience, except it's less than 10km from the City. On quick observation it encompasses countryside, unrivalled photo opps, a real sense of paddock to plate dining and simple yet effective luxuries like picnic tables that support your glass or bottle of wine from spilling over.
The vibe is effortlessly cool, the crowd blending into the well manicured scenery.  The multipurpose space spreads across an undercover pavilion, lawns and the meadow, each area has been designed with comfort and drinking in mind, plus outdoor entertainment to keep the blood flowing – you'll have to check out for yourself!
Which leads us to the custom Gintonica Bar, which we should have lead with because it's exactly where we started our afternoon on the Fields. Classic Pialligo Estate charcuterie and a skyline sunset in the distance were the finishing touch to an overall perfect Canberra afternoon.
The Fields are available to book as an event space, designed for an afterwork, giving a wind down drink completely new substance, plus it appeals to the weekend family crowd with lots of space for kids to run around.
Visit from Wednesdays to Fridays from 3 pm until late
Saturdays for event bookings only
Sunday 12 pm until late
Book