This wasn't our first encounter at Soi Noodle, in truth we visited the week prior which inspired OutInCanberra to go back for more and pay closer attention so we could report back to platform. On our first visit it was peak time, we almost struggled getting a seat. This time around we went after the lunch craze and diners were still spilling in and out, creating that same upbeat vibe we had experienced over lunchtime.
The one cross roads you'll face with Soi is whether to dine in or out. The venue is great for an office lunch break because the food comes out within minutes and you have an insanely big eye-catching mural to keep you company if you're dining solo. On the other hand, the takeaway boxes are so pretty you'll be planning the which angle to photograph it from before you even remember to look inside and eat!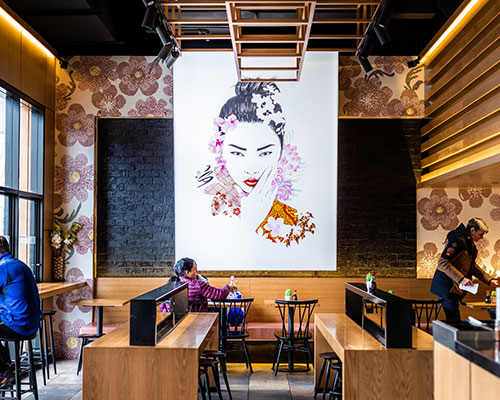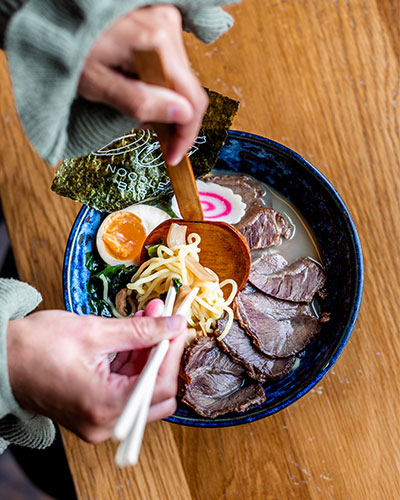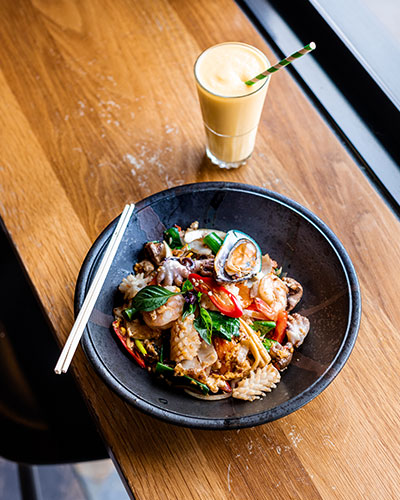 Similarly, to the attention placed into the takeaway box, Soi adds a personal touch to all their offerings. For instance, the finishing touches on the Ramen is a branded sheet of nori *camera out again. Get in and try the Ramen while there's still a chill in the air. You can choose your protein (we had beef) to join the steaming how bowl of chicken broth noodle soup, wakame, shallots, bamboo shoots, boiled egg and a fishcake.
The dishes are so large at Soi it's worth herding a group together to share bits and pieces. It's the type of place that you don't need to know what you feel like because you can easily try a little of everything, and all their food is designed to pick your base (ie, rice, hokkien, thick noodles and more) your flavour (we chose chilli jam!) your spices and your protein -making it incredibly easy to tailor to dietary requirements or preferences. We gave DYO (Design Your Own) a shot and ended up with a rice noodle, combination seafood dish which included prawns, squid, muscles and octopus – very generous on the seafood!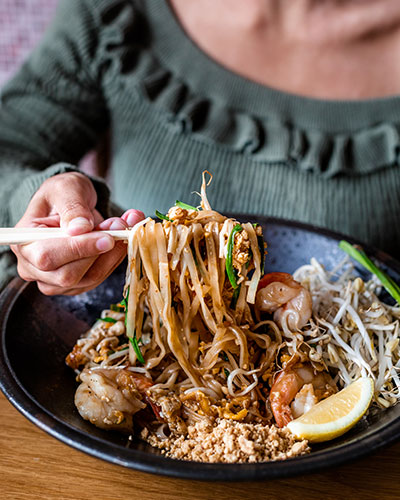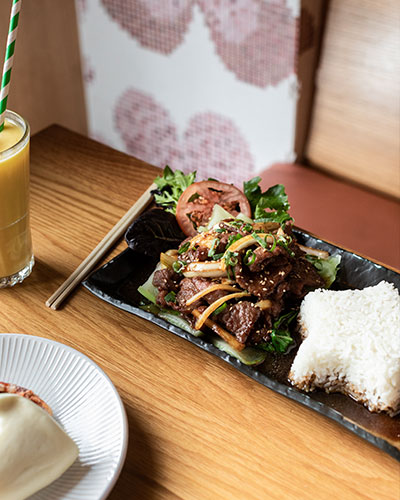 Next we happily took on a Prawn Pad Thai and Mongolian Beef, two dishes which lend themselves to having the luxury of both a Thai and a Chinese chef. Japanese, Korean and Filipino influences are present throughout the enticing Asian Fusion menu as well.
One could eat entirely off the mini dish section and be completely satisfied. Gyoza, Bao, Karage Chicken, Octopus Takoyski balls, all hot right now. There had been whispers in the office about the Soft Shell Crab Buns so we want for them, and if the wasabi mayo all over our face was anything to go by, we made the right decision.
I can confirm that you won't go hungry at Soi Noodle. Expect large servings, a mixed crowd and insane service. A day of Ramen, Bao and Pad Thai will always be a good day.