Sustainable Canberra-based sneaker company, BLAC Sneaker Co, is committing to planting five trees for every pair of sneakers sold during a month-long initiative called 'Grow Your Impact.'
As part of the initiative, BLAC consumers can add to their good deed of shopping sustainably with the added environmental benefit of five trees planted, thanks to their smart purchase throughout October. With all proceeds donated to regenerate Australia and rebuild our habitats that have been affected by fire or other deforestation challenges.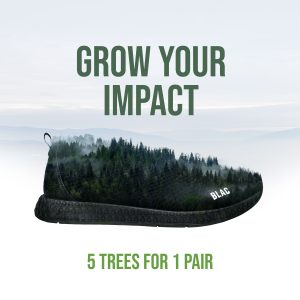 Made using hemp – an incredibly resilient and easy to grow source of natural material, all BLAC sneakers are not only stylishly designed but give back to the people and planet through a range of initiatives such as offsets and donating to charities through their Positive Steps program.
"We were inspired by September 25th which marks the Global Day of Climate Action, however we wanted to extend our cause throughout the entire month of October to really make an impact," founder of BLAC, Katherine Cymbalak says.
"Spring is the ideal time to plant trees for reforestation and do something good for our environment and climate."
BLAC will continue to set the bar high, pledging at least 2% of their turnover to charity, environmental sustainability, or community education each year.
Purchase a pair and learn more about BLAC's sustainable shoe materials and great initiatives on their website at: https://blacsneakerco.com.au/. Each purchase also comes with free shipping and free returns.
Share your sneakers with @blacsneaker