As restaurants and bars began to open their doors once again after a forced halt, foodies and Canberra's late-night crowd were left shocked as popular restaurant and bar Kokomos kept their doors closed. Boarding up the windows without a single word, signalling a closure for good.
Although it was a sad day for those who loved Kokomos tropical party vibes and summery pina coladas, not to mention Weis bar cocktails, we knew there had to be more to come from powerhouse group HARVAC (behind Akiba, Sage, Mint Garden Bar and Loquita). And they certainly have been busy, putting together a brand-new venue, that will make the mourning of Kokomo's much more bearable.
Introducing WILMA, a progressive Asian barbeque restaurant, and The Pearl, a cocktail and snacks bar.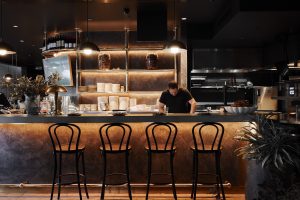 Run by esteemed Australian chef and restauranteur James Viles, known for his two-hatted Bowral restaurant Biota Dining and his commitment to sustainability and dramatic modern food, this is said to be his biggest project yet.
Opening its doors on December 3, Viles says the concept of WILMA has been a long-time coming, explaining his time as a chef overseas inspired him to create a menu celebrating the fiery and punchy flavours of Southern Asia.
"I lived and worked in Hong Kong and Shanghai for a while and I love eating and cooking Southern Asian barbeque. It's been a huge part of the last 20 years of my life," says Viles.
Becoming Culinary Director of HARVAC earlier this year, the opening comes after Viles began overseeing the cult Asian street food menu at Akiba and introducing soft tacos and mezcal to Loquita. Working alongside Viles will be head chef Brendan Hill, formerly Sydney's Aria and 12-Mircon. The pair will be using primitive cooking methods with the very best Australian ingredients to create a crowd-pleasing menu full of Asian-Australian favourites.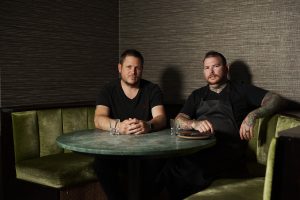 The expansive restaurant will focus on barbequing, using coals and wood fire to maximise flavour. Fitted with custom-made equipment, including a smoker and coals and a two tier konro yakitori black steel grill, it will see the likes of roasted duck, char siu pork and chili beef short rib finished over coals and then glazed. Viles will also be tracking down local Australian timbers to work with in the smoker, adding an Australian element to the well known and loved Asian flavours.
For those fussy and indecisive diners, the restaurant can best be experienced through one of the restaurant's two banquet menu options, perfect for intimate dates to large groups.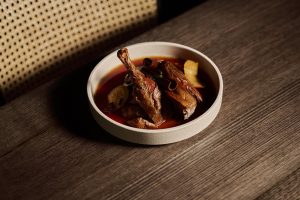 The enormous menu will also be home to a live raw bar, with chefs slicing sashimi and shucking oysters in front of diners. While the snacks menu will include some favourites such as san choy bow, prawn toast and duck pancakes, it will also capture Viles' unique style through dishes like the WILMA sausage sandwich with bulldog sauce.
However, Viles' favourite dish on the menu can be found in the wok section.
"I really love XO pippis, I don't know any chef who doesn't," he says. "We're doing ours with what we call a 'wastage XO sauce', which uses the leftover fish frames from the sashimi bar. Instead of shallots we'll serve our XO pippis with stir fried Warrigal greens and of course the fried bread on the side."
Bringing a connection to regional Australia, many native Australian and locally sourced ingredients appear on the menu, like the aforementioned Warrigal greens and Davidson plum, as well as ducks from nearby Tarago and truffles from Majura.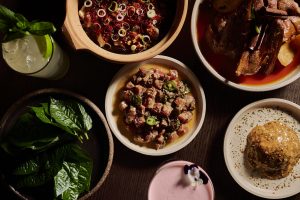 Sister bar The Pearl, situated inside the restaurant will also be following similar flavour profiles. Offering an Asian inspired cocktail and bar menu, with refreshing options such as an Osaka Old Fashioned and Lychee Dragonfruit Margarita, along with a bar menu featuring scallop prawn tartare, snag sanga and WILMA's Emperor Tarts.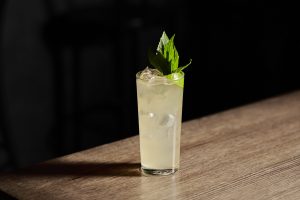 "We're not traditional Central or Southern Asian cuisine. We're taking those flavours that Australians have fallen in love with since the 1960s" says Viles.
"There's a Chinese restaurant in every regional Australian town, and the reason for that is that those flavours and those profiles, the Australian culture was adapted to them, we love them. It doesn't matter who you are, we all love it."
Open tonight from 5:30pm, WILMA is now taking bookings online.