Do you ever lack the time, energy and inspiration to cook dinner after a long day at work? Are you cooking the same old recipes on repeat or spending more money than you'd like ordering in food, just because it's easier?
To help Aussies fall back in love with home cooked dinners any night of the week, Australian Beef has partnered with MasterChef-winning chef Andy Allen, to create five delicious and easy midweek recipes. Each recipe contains beef and just four other ingredients and is packed full of flavour.
Most importantly, taking just 30 minutes or less to cook, these recipes will leave you with plenty of time to unwind and get round the table with family, flatmates or friends.
When Andy first started cooking, he used to make dinner after work for whoever was at home, such as his family and his friends.
"I quickly learnt that you don't need to spend hours in the kitchen to turn out a great midweek meal," Andy said.
"I've created five recipes that show how effortless it is to cook dinner at home, even after a hectic day. Each recipe uses a different, easy to cook cut of Australian beef (the best kind of beef out there!) which is packed full of flavour, meaning you can keep everything else simple and still create awesome flavour combos in no time."
Here are the recipes:
Weeknight Recipe #1
Grilled Flat Iron with Crispy Spuds & Chipotle Mayo
Cooking: 20-30 minutes
Serves: 4
INGREDIENTS
600g flat iron steak, cut into fillets
650g Desiree potatoes
30ml Tabasco Chipotle sauce
1 (200g) red onion
½ cup mayonnaise
Pantry items: olive oil, salt and pepper
METHOD
To start make your 'patatas bravas' style accompaniment by cutting the potatoes into small wedges and finely dicing the red onion. Heat some olive oil in a large frypan over mid-high heat, add the red onion and potatoes and cook until caramelised.
Once there's a good amount of colour on the potatoes and onions, deglaze the pan with the Tabasco Chipotle sauce. A deglaze sounds fancy, but it's easy. The idea is to add sauce to the pan to steams off any bits of flavour that are stuck to the pan (as we are only using five key ingredients, it's essential to pick up as much flavour as possible). Continue to toss the onions and potatoes in the remaining liquid until most of the liquid has evaporated. Set aside.
Heat an oiled grill pan over high heat. While you're waiting, season your steak the classic way; add salt and pepper and cook for about 2 minutes on each side.
Lastly, quickly whip up a chipotle mayonnaise to serve – it's easy. Mix the mayo and Tabasco in a small bowl to your taste. Like it hot? Add more Tabasco.
Once the steak is cooked, serve alongside the crispy patatas bravas and the chipotle mayo!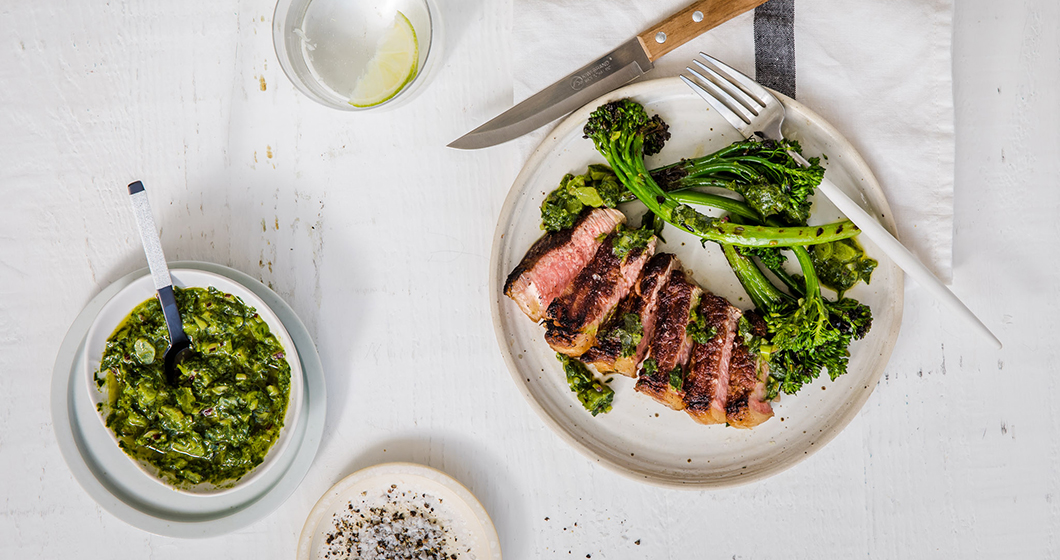 Weeknight Recipe #2
BBQ Strip Loin with Charred Broccolini & Green Sauce
Cooking: 20 minutes
Serves: 4
INGREDIENTS
600g striploin
2 bunches of broccolini
½ bunch parsley, picked
1tbsp finely diced red onion
1 ½ tsp dijon mustard
Pantry items: 1tbsp Red wine Vinegar,
1tbsp olive oil, salt and pepper
METHOD
Pull your steak out of the fridge and let it sit and come to room temperature.
This is important. Do this! While the steak is doing its thing, start with the green sauce.
First, char the Broccolini. Whack a griddle pan over a high heat, once it starts to smoke, dress the broccolini with salt, pepper and olive oil, throw into the pan and char for 1 minute each side. Don't be scared of a little colour.
Once the broccolini is cooked and cooled a little, cut an inch off each stem.
Finely slice these end bits, whack in a pestle and mortar. Finely chop the parsley and add to the mix. Add a pinch of salt and grind the broccolini and parsley together. Once combined, add dijon mustard, a tablespoon of olive oil, a good crack of black pepper and mix again with the pestle. It will start to thicken to a sauce. Finally, add a tablespoon of your diced red onion, mix through – you have your green sauce!
Now it's game time with the steak. Sprinkle with salt and olive oil and place on the searing hot griddle pan. Depending on the thickness of the steak, let it cook for 2 minutes on one side, before turning and continuing to cook for a minute and a half on the other. Remove from the pan and let it rest. The old rule of thumb is to let the meat rest for half the total cooking time…in this case 1 to 2 minutes tops.
To serve, slice the steak and arrange on the plate, top it with the broccolini and drizzle the green sauce on top.
Weeknight Recipe #3
Andy's Beef Sausage Pasta Bake
Cooking: 20-30 minutes
Serves: 4-6
INGREDIENTS
1kg beef sausages (preferably with an added flavour, e.g. Morocccan)
400g penne pasta, cooked
750g pasta sauce (preferably with some herbs and garlic included)
200g parmesan cheese, grated
75g pine nuts, toasted
Pantry items: 20ml red wine vinegar and olive oil
METHOD
We're going to use the sausages to make meatballs. Remove the skin and use around 1tbsp of sausage meat to roll into each meatball.
Heat an oiled frypan over mid-high heat, place the meatballs in the frypan, turning them occasionally so they cook evenly.
Add the red wine vinegar to deglaze the pan. A deglaze is easy. The idea is to add sauce to the pan to steams off any bits of delicious flavours that are stuck to the bottom.
Now add the pine nuts and pasta sauce, stirring to coat the meatballs. Allow some time for the sauce to heat in the pan together with the meatballs. Once the sauce has begun to simmer the cooked pasta can be stirred through.
Then, put it all in a baking tray, add the cheese on top and place it in the oven until the cheese is melted and it looks yummy to serve!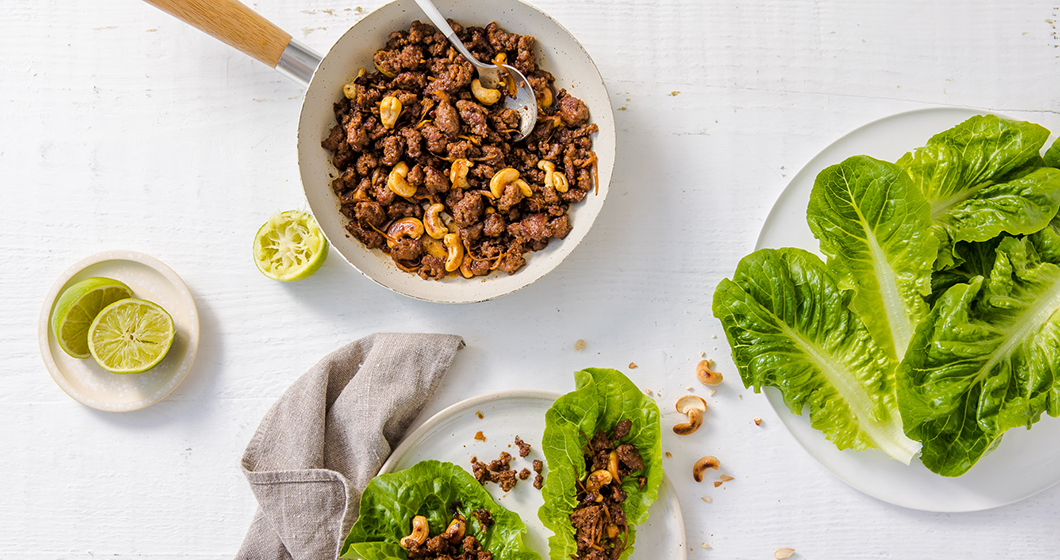 Weeknight Recipe #4
Sweet Soy Beef Lettuce Cups
Cooking: 20-30 minutes
Serves: 4
INGREDIENTS
750g beef mince
150ml sweet soy sauce
½ cup cashew nuts
5cm ginger
1 baby cos lettuce
Pantry items: vegetable oil, lime
METHOD
Throw some vegetable oil into a medium heat pan, add the beef mince and cook until brown.
Meanwhile, chuck the cashews in another pan and cook for a few minutes until brown.
Finely dice the ginger and add to the cooked mince. After a couple of minutes, pour in the sweet soy and deglaze. Deglazing simply means add sauces or liquid to your pan to steam off any bits of flavour that are stuck. As we are only using five ingredients, it's essential to pick up as much flavour as possible.
Continue to toss the ginger and mince in the remaining sweet soy until most of the liquid has evaporated. Throw the toasted cashews into the pan to collect the flavour, mix them in, put to the side.
Lastly, wash and separate baby cos leaves so that you have 8 cups, fill with the sweet soy beef and finish with a squeeze of lime!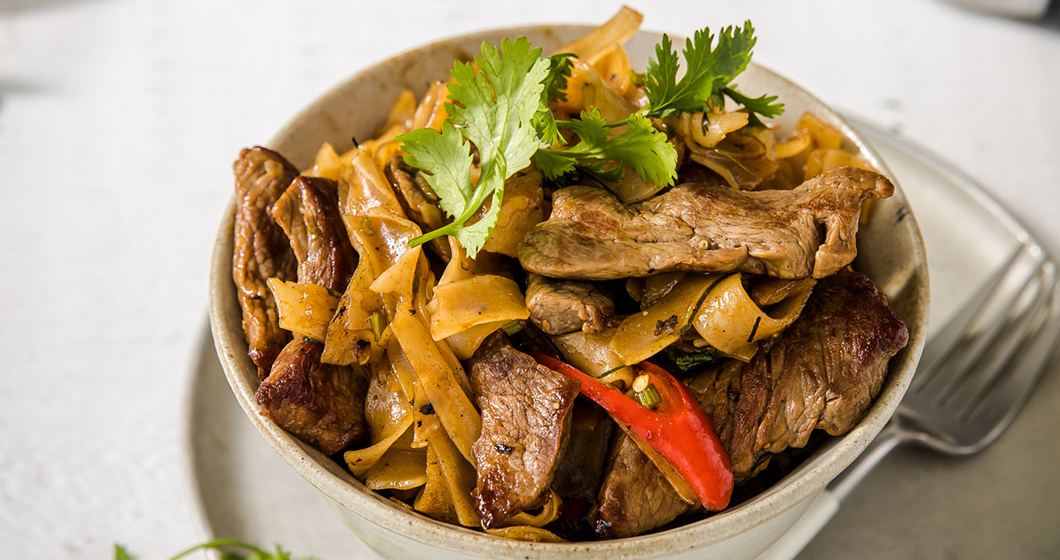 Weeknight Recipe #5
Oyster Sauce Beef Stir Fry with Kaffir Lime Leaf
Cooking: 20 minutes
Serves: 4
INGREDIENTS
600g beef strips
200ml oyster sauce
4 kaffir lime leaves
200g rice noodles
1 bunch coriander
Optional ingredient: Fresh chilli (3 chillies)
Pantry item: vegetable oil
METHOD
This is cooked in a classic stir fry method. Super easy. First, shred the kaffir lime leaves as fine as you can, and if you fancy it, chop the chilli to your liking; seeds in or seeds out, depending on how hot you and the family like (seeds in = hotter).
Now onto the coriander. Starting from the roots, finely slice the coriander until you get to the leafy part of the herb, then roughly chop the leaves so that they are quite chunky.
Put a pan on high heat, add vegetable oil and when it's good and hot, add the beef strips so they sear and sizzle. Season with salt and pepper and stir fry for no more than 2 minutes.
Next, add the coriander root and most of the chopped coriander leaves, kaffir lime leaf (and chilli if you're game). Fry for another minute before throwing in the rice noodles. Toss everything together for a further minute, before adding the oyster sauce. Mix all the ingredients together so that everything is covered with the sauce.
You're done! Remove everything from the pan, serve in a bowl garnished with the remaining fresh coriander leaves.