As someone who has an anxious appetite, constantly worried about the quality of food when making a booking for myself or to impress others, Pialligo Estate's Market Grill is one place you need not worry about the experience ahead.
With more doors opening than an advent calendar, Pialligo Estate has launched some pretty exciting opportunities for locals and interstate visitor to really get a taste of the Capital. Options are presented to you that you don't get on other menus…
Do you like your oysters sweet, creamy or briney, or would you prefer a more balanced rich type of oyster? Care to try 42-day dry aged rib-eye or open your palette to 75-day dry! You can also order per 100g of thinly sliced beef, instead of having a blanket rule on how much you will receive. It's a new way to consider dining.
Summer seafood-ing has long held a place in our hearts. Trips down to Batemans Bay for fish by the water or special family gettogethers around oysters and prawns. Fresh seafood has always been 'close enough' but never as close as you can taste it today. The Market Grill has opened just in time to turn summer on its seafood head, completely revolutionising Canberra's reach for seafood. Hiramasa kingfish from Spencer Gulf, mussels from Eden and South Coast oysters from Shoalhaven and Merimbulla is just some of the great seafood fare you can experience.
Oysters are a highlight experience, constantly changing from up to 13 estuaries, choose a flavour from the tasting notes based on your preferences or slide them all down. While the oysters had everyone whispering that they had 'never tried one this fresh before,' the chargrilled baby squid stuffed with chorizo & farsi with chimichurri is what has lured me back to the farm a few times already.
I've bragged about the stunning seafood because it tis' the season for it, though the Market Grill isn't only about the sea.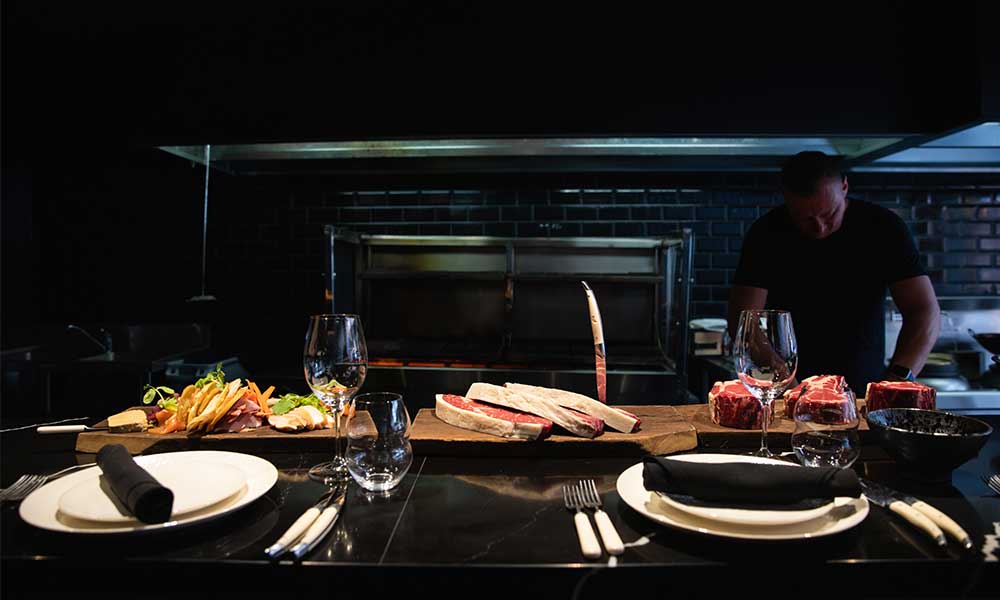 A very important purchase made by the farm was a drying room which now allows them to age-dry their own meats. This is an absolute premium product for Pialligo Estate, as well as a learning curve for diners. You can taste the difference when it's straight from the farm and into the smokehouse. As more and more people want to know where their food is coming from, Pialligo Estate is answering all those questions from fruit & veg to sustainable seafoods and premiums meats.
The menu changes daily based on what comes in, and once it's sold out, that's it for the day. The team at Pialligo Estate now run on fisherman time, waiting for 4am updates on the catch of the day.
The most important thing they are doing is forming special relationships with trawlers, growers and farmers from families who have been in the business for generations and care about sustainability. Cutting out the middle man means the produce doesn't need much dressing up or dressing down, it carries so much flavour on its own.
They also highlight these key suppliers throughout menu, so they get the recognition they deserve over good chat and wine. By the end of the night you'll be looking up at the stars and thanking farmers Jan, Dan, Jack or Graham (whose names you become familiar with on the menu) for an awesome night.
The Kitchen Table for 8 is a highlight experience and comes with a chefs menu – watch the magic as it happens right in the kitchen in front of you.