An experienced set to draw you into different dimensions and take you to alternate levels before you even get tipsy.
The National Gallery of Australia has partnered with The Balnaves Foundation to commission an annual series of intervention art by Australian contemporary artists. Launching with Maze on 4 May, the series presents large-scale disruptive artworks by Sarah Contos, as well as virtual reality by Jess Johnson and Simon Ward that will showcase contemporary arts in surprising and unexpected ways.
It all begins in the foyer; the works of contemporary artist, Sarah, hanging unexpectedly in the foyer and altering the atmosphere of the 'typical' gallery experience – instead offering a more integrated program.
"People in Canberra are really excited because the NGA is repositioning itself," said Jaklyn Babington, Senior Curator of Contemporary Art. "We are refocusing engagement with contemporary practice, bringing contemporary artists into the gallery and commissioning works that wouldn't otherwise exist."
The dynamic of the Maze series will undoubtedly generate a new audience with its ability to engage visitors with art in a new and fascinating way. Forget what you think you know about a gallery experience, Maze strays from your traditionally formal, abstract setting, instead allowing visitors to enjoy art more intimately and really come into the works.
The launch party Friday 4 May will set the scene for the exhibition. Pop-up bars, DJ's and performances will follow visitors on a journey from the foyer into the contemporary arts gallery to add an extra layer of fun.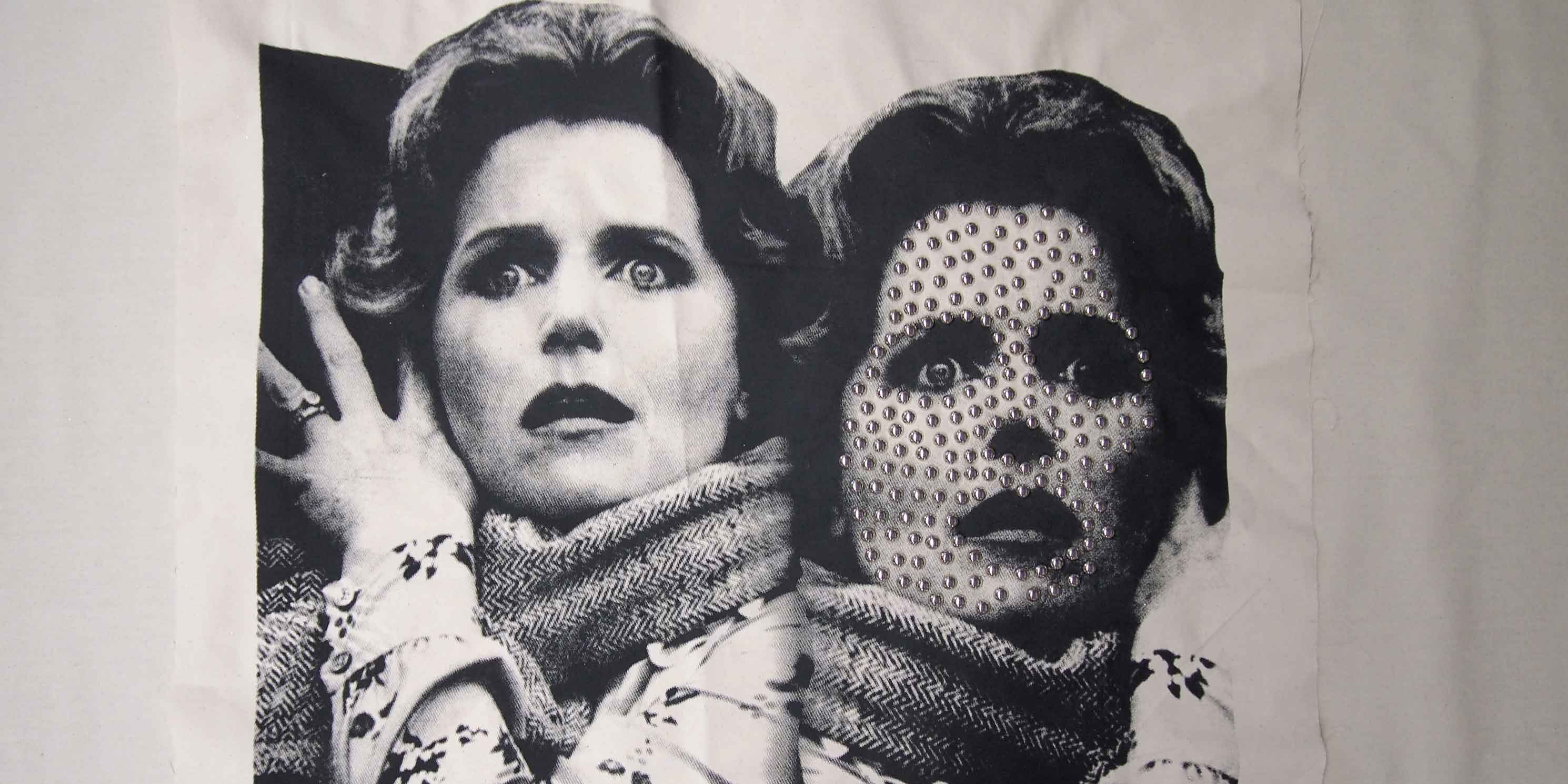 Sarah Contos  Work in progress for Balnaves Contemporary Intervention Series, February 2018
Image courtesy of the artist; Roslyn Oxley9 Gallery, Sydney and STATION, Melbourne
Jess Johnson & Simon Ward's immersive 'world within a world,' Terminus can be experienced multiple ways as it plays on space as being malleable. Jess said the installations are fitting of this space.
"This giant cavernous area really excited us, as soon as we saw it we had the idea of the floor map and containing all structures off that without touching the walls. It's like this is a little world in itself," Jess says.
From a 2D lens is a beautiful suite of drawings by Jess.
"The idea is based on a world which I have been drawing for about seven years. It's an alternate parallel universe which is documented in the floor," she said.
Apart of the parallel universe are portals and archways that cross over into other realms.
"Bringing that idea into an installation environment, the structures are portals into other universes – essentially another geographic location from the floor map – which is what you can access through the virtual reality experience," Jess says.
Simon then converts Jess' visual language into animations showcased in the video pavilion which give a glimpse into what is instore in the VR world.
"I do very old-school analogue drawings and take very hi-res scans of all my drawings which are passed onto Simon to transcend into animations and virtual reality."
The collaboration between Jess and Simon takes an incredible amount of understanding of each other's practices.
"Sometimes Jess draws really impossible shapes, so converting that into something that is 3D which you can walk around, is at times really hard," Simon explains. "From looking at her work over the years, I have slowly started to interpret how it all works. I run her art through my brain as a filter, it's my interpretation of her."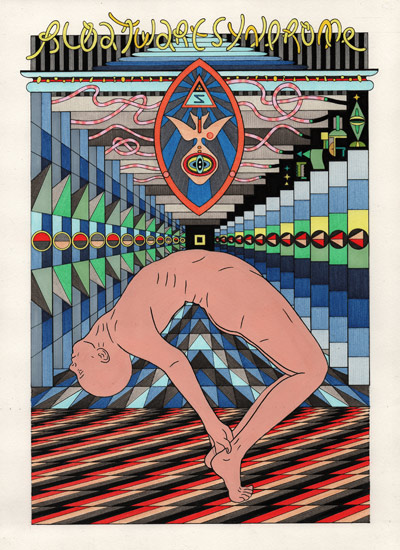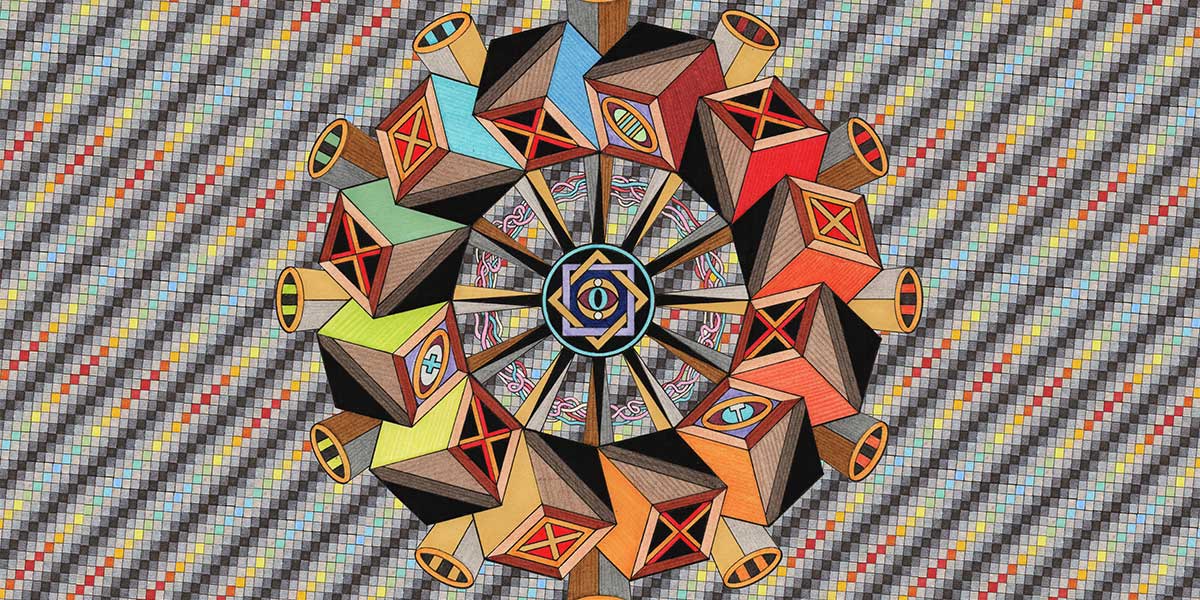 Jess Johnson Bloatware Syndrome 2018, drawing in fibre-tip pen, fibre-tip markers and gouache
National Gallery of Australia, Canberra, Purchased 2018
Image courtesy of the artist; Darren Knight Gallery, Sydney; Ivan Anthony Gallery, Auckland and Jack Hanley Gallery, New York
Jess Johnson and Simon Ward Working drawing for Terminus 2018
Image courtesy of the artists; Darren Knight Gallery, Sydney; Ivan Anthony Gallery, Auckland and Jack Hanley Gallery, New York
VR art needs a multifaceted approach, an artist is required to work on the aesthetics followed by someone who can turn that into animations and someone to code. It's a collaborative form of art which sees artists working with people that can provide technical support and bring their own element to the production, in this case allowing Terminus to be a multipart virtual reality experience.
"It's a transformative journey that we are sending people on, we made the VR with a sequence in mind where you could follow the chapters. We want people to have a much more visceral experience of the world that I show in my drawings and VR is a great conduit to be able to send people into different worlds," Jess said.
Essentially, Jess' drawing are still windows into the world within her mind. Simon's job is to digest her art – with no other form of meaning or judgments – and allow other people to cross into it and experience her work on a more intense platform.
"I'm documenting something that is much more vivid and involved in my head and when Simon translates them into whole environments he is enabling other people to see that."
Information: Balnaves Contemporary Intervention Series: Sarah Contos runs from 4 May to 24 September, NGA Foyer. Balnaves Contemporary Intervention Series: Jess Johnson and Simon Ward runs from 4 May to 26 August, Contemporary Galleries.
Feature Image: Jess Johnson and Simon Ward 
Working drawing for Terminus 2018
Image courtesy of the artists; Darren Knight Gallery, Sydney; Ivan Anthony Gallery, Auckland and Jack Hanley Gallery, New York