Set to join Gungahlin's food scene next month, Ikigai Ramen is your new go-to restaurant for satisfying your ramen cravings.
Serving all-time Japanese staples like creamy pork broth ramen and teriyaki unagi, the heart-warming dishes are essential during these cool Canberra months. Also serving a selection of share plates, it's perfect for dining with friends over a bottle of sake or two!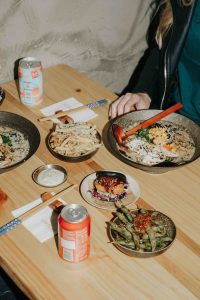 Head chef and part-owner, Angeline Sulit, explains the Japanese concept 'Ikigai' means 'the reason you wake up every morning. It's the passion that brings value and joy to life'.
Starting out as a dream project between four sisters and their parents, together they have transformed Ikigai from a vision into reality.
Anj says her own inspiration came from a hole-in-the-wall ramen restaurant she visited in Tokyo where she had life-changing Tonkotsu ramen.
"It sparked something in me that I haven't really experienced before,"she says.
"I tried to replicate that by eating around and looking for the perfect bowl. But I couldn't do it. So, I started to experiment from time to time, not to replicate the dish itself but to replicate what I felt."
After six years of experimenting, Angeline finally perfected her Tonkotsu recipe, finding that feeling again that she had long been searching for.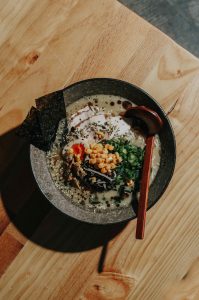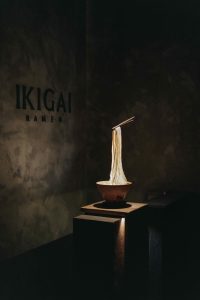 A cosy and warming space, fit with dim lighting and contemporary interiors, it will no doubt be a space you'll want to come back to, time and time again.
"We were going for more of a modern Japanese feel. Ramen is traditionally meant to be eaten fast, but we wanted to provide a space for people to commune and enjoy with a group of friends," says Anj.
Finding joy and care in the details, Angeline's father personally ingrained 'Ikigai' into each table, upholstered every chair and handmade the incredible moving ramen sculpture displayed as you walk through the door.
To follow Ikigai's opening and plan your first ramen date, visit https://www.ikigairamen.au/